Short Review: Night Shift Anthology by Nalini Singh, Ilona Andrews, Lisa Shearin and Milla Vane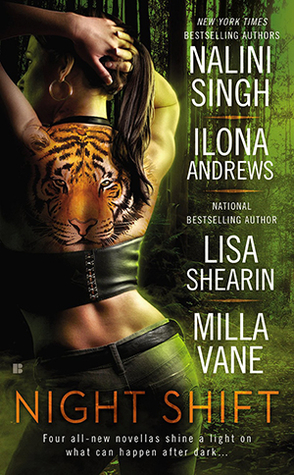 Night Shift
by
Ilona Andrews
,
Lisa Shearin
,
Milla Vane
,
Nalini Singh
Published by
Penguin Group (USA) Incorporated
on November 25th 2014
Genres:
Anthologies (multiple authors)
,
Fantasy
,
Fiction
,
Paranormal
,
Romance
,
Urban
Pages:
384

Four masters of urban fantasy and paranormal romance plunge readers into the dangerous, captivating world unearthed beyond the dark . . . New York Times bestselling author Nalini Singh delivers a smoldering story with Secrets at Midnight, as the scent of Bastien Smith's elusive lover ignites a possessiveness in him that's as feral as it is ecstatic. And now that he's found his mate, he'll do anything to keep her.
In #1 New York Times bestselling author Ilona Andrews' novella, Magic Steals, when people start going missing, shapeshifting tigress Dali Harimau and jaguar shifter Jim Shrapshire must uncover the truth about the mysterious creatures responsible.
From Milla Vane--a warrior princess must tame The Beast of Blackmoor to earn a place among her people. But she quickly discovers that the beast isn't a monster, but a barbarian warrior who intends to do some taming himself.
It's seer Makenna Frazier's first day on the job at Supernatural Protection and Investigations, and her first assignment is more than she bargained for when bodyguard duty for a leprechaun prince's bachelor party goes every which way but right in national bestselling author Lisa Shearin's Lucky Charms.
Secrets at Midnight by Nalini Singh
Rating~4.5 Stars
This book is part of the Psy-changeling series by Nalini Singh. We return to the Dark River (a leopard pack). The story is about Bastien (also known as Frenchie) a leopord changeling and Kirby, a seemingly human though she does smell awful lot like a cat shifter. I really enjoyed this book, it was sweet and adorable. I really liked Bastien and Kirby together. There was not any real conflict in the novella which meant the novella was focused on the couple and we got a lot of Bastien and Kirby scenes which I personally liked.  We also get a few scenes of the pack and I loved revisiting them. The book has both protagonist POV's.
Magic Steals by Ilona Andrews
Rating~ 4.5 stars
This book is part of Kate Daniels series by Ilona Andrews. I haven't read the series but this did not effect my enjoyment of the book. I love tigers specifically white tigers so I was excited to read about one since Dali, the heroine in the book is a white tiger shifter. Jim is the alpha of the pack and is a werejaguar. Dali and Jim are completely opposites to each other, from their personalities to their eating habits. This book was quite a lovely surprise, the book has some suspense (who is casting the curses on the local shop owners?) , alot of humor (due to Dali's internal monologue and her & Jim's antics), romance, wit and action. Jim and Dali were great together.  The book is told from Dali's POV.
The beast of Blackmoor by Milla Vane
Rating~ 3.75 stars
This is book is written by Meljean Brook under her Pseudonym Milla Vane. This book is unlike the others in the anthology is not a light read. The hero is the beast of Blackmoor also known as Kavik, who in the prologue disrespects a goddess (disrespect is a understatement here) and the heroine Mala is on a quest to gain favor from the above mentioned goddess. While I really liked Mala, she was a warrior yet not cold or hard, I did not like Kavik that much; it wasn't even because of his behavior in the prologue, it was how he treated Mala later and how much she suffered because of him. Nevertheless the world its set in is interesting with its darkness, vile creatures and cruel characters. The book is told from both the protagonists POV's.
Overall: I really enjoyed the anthology. I think it has something for everybody since the stories range from light to dark and funny to sweet. Happy Reading!
Please note: I did not read Lucky charms by Lisa Shearin and hence the average rating is based on the novella's I read!
Izy.
Related Posts