Book Tour and Giveaway: Never judge a Lady by her cover by Sarah Maclean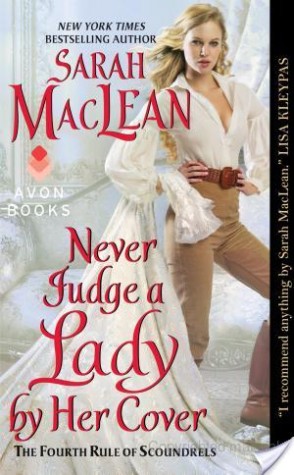 Never Judge a Lady by Her Cover
by
Sarah MacLean
Series:
Rules of Scoundrels #4
Published by
Avon
,
Harper Collins
on November 25th 2014
Genres:
Fiction
,
General
,
Historical
,
Romance
Pages:
384
Format:
eARC

RITA® Award-winning author Sarah MacLean reveals the identity of The Fallen Angel's final scoundrel in the spectacular conclusion to her New York Times bestselling Rules of Scoundrels series . . .
By day, she is Lady Georgiana, sister to a duke, ruined before her first season in the worst kind of scandal. But the truth is far more shocking—in London's darkest corners, she is Chase, the mysterious, unknown founder of the city's most legendary gaming hell. For years, her double identity has gone undiscovered . . . until now.Brilliant, driven, handsome-as-sin Duncan West is intrigued by the beautiful, ruined woman who is somehow connected to a world of darkness and sin. He knows she is more than she seems, and he vows to uncover all of Georgiana's secrets, laying bare her past, threatening her present, and risking all she holds dear . . . including her heart.
Buy Links: Amazon | Barnes | iTunes | Kobo
My Review:
Rating~ 3.75 stars
This is fourth and final book of the Rules of Scoundrels series. Many people including myself were well shocked to say the least when in end of the last book No Good Duke Goes Unpunished (Rules of Scoundrels)
 it is revealed that Chase is a women. I did not see one that coming at all. This book is about Chase and her love Mr.West
Lady Gerogiana aka Chase aka Anna, is the sister of Duke of Leighton from  Eleven Scandals to Start to Win a Duke's Heart
. She at the age of seventeen and unmarried gave birth to a girl (Caroline). The society shunned her yet Gerogiana never was bothered by their behavior. She truly did not care because she had her daughter with her after all and later she become the 'King' of the underground. Now, she has the ability to crush society at her will. So she had no need for society and its hypocritical ways. That is, till she sees how her 'scandal' will threaten her child's future happiness. Gerogiana is a very powerful and strong woman. She is epitome of opposites in a person: As Chase, she is the ruler of Fallen Angel, a legend, a mystery, a manipulative and ruthless owner. As Anna she is the charming flirt and acts like a experienced lover while Gerogiana is softer, a girl whose entire world changed because of an impulsive act and somewhat vulnerable in the matters of the heart.
Duncan West aka Newspaperman is a very handsome man who rose from nothing and now has his own empire. He is as powerful as Chase, with several different types of newspapers under his control that could make and break a person's future. Duncan and Chase have been partners in business for years, Chase provides the information and Duncan writes about it in his paper leading to disgrace of members of nobility. Duncan is also very complicated man,  he is a mystery since he has no past  and he has secrets that could not only ruin him if found but also result in his death. He is quite intrigued by Lady Gerogiana from the moment he meets her.
What I loved: The book is written exceptionally well, not only does it show how much power our protagonist hold in their world but also how easily they can manipulate and sway the opinions of those around by just a stroke of their pen. The plot is also very interesting, how can Gerogiana and Duncan both achieve what they want and still end up together? The way that Ms. Maclean achieved this, was done quite well, with some twists and turns along the way of-course. 
Gerogiana and Duncan's romance which was very teasing and slow building yet very satisfying to read. Their connection from the start was also undeniable which is something I always like in my couples. I liked them together, maybe it was because they held a similar power, they would so anything to protect their families, were both in need of love yet they both didn't want it and are so vulnerable to each other. The are both stubborn and don't really believe in giving control over to someone else especially because they both have so much to hide and too much too lose.
I also loved the scenes of the other founders of the Fallen Angel and how they doing in their 'wedded bliss'.
Quibbles: My only quibble is how Gerogiana behaved till about the half of the book, she acted like well a young woman to be fair she is a woman but I guess I excepted her to act more like Chase or atleast not behaving like a foolish girl in her dealings with Duncan. This no one's fault but my own because I thought she was someone when she wasn't which just made it difficult for me sometimes enjoy as a character.  
Overall: It was satisfying to see Chase finally get his happy ending.This is a good end to a series that I have loved and I would re-read the whole series many times in the years to come. Happy Reading!
ARC was generously provided by Avon via Edelweiss in exchange for an honest review. 
Excerpt:
Her daughter. Growing older by the second. Ten years old, soon twelve, soon twenty. And the reason Georgiana was here. She looked up at her hulking partner, this man who had saved her as many times as she had saved him. Told him the truth. "I thought I could keep her from it," she said quietly. "I steered clear of her."
For years. To the detriment of them both.
"I know," he said quietly, and she was grateful for the dance that kept her from having to meet his gaze too often. She didn't know that she could.
"I tried to keep her safe," she repeated. But a mother could keep a child safe for only so long. "But it wasn't enough. She'll need more if she's to climb out of our swill."
Georgiana had done her best, sending Caroline to live at her brother's home, doing her best to never sully her with the circumstances of her birth.
And it had worked, until it hadn't.
Until last month.
"You can't be talking about the cartoon," he said.
"Of course I'm talking about the cartoon."
"No one gives a damn about scandal sheets."
She cut Temple a look. "That isn't true and you of all people know it."
The rumors had abounded—that her brother had told her she could not have a season, that she'd begged him. That he'd insisted that, as an unwed mother, she remain indoors. That she'd pleaded with him. That neighbors had heard screaming. Wailing. Cursing. That the duke had exiled her and she'd returned without his permission.
The gossip pages had gone wild, each trying to outdo the other with tales of the return of Georgiana Pearson, Lady Disrepute.
The most popular of the rags, The Scandal Sheet, had run the legendary cartoon—scandalizing and somewhat blasphemous, Georgiana high atop a horse, wrapped only her hair, holding a swaddled baby. Part Lady Godiva, part Virgin Mary, with the disdainful Duke of Leighton standing by, watching, horrified.
She'd ignored the cartoon, as one did, until one week prior, when an uncommonly warm day had tempted half of London into Hyde Park. Caroline had begged for a ride, and Georgiana had reluctantly left her work to join her. It had not been the first time they'd appeared in public, but it had been the first time since the cartoon, and Caroline had noticed the stares.
They'd dismounted on a rise leading down to the Serpentine, grey and muddy with late winter, and led the horses down toward the lake where a group of girls barely older than Caroline stood the way girls did—in a cluster of whispers and barbs. Georgiana had seen it enough times to know that no group of girls like this one would bring any good.
But Caroline's hope had shone on her bright young face, and Georgiana hadn't had the heart to pull her away. Even as she was desperate to do just that.
Caroline had moved closer to the girls, all while attempting to look as though her movement was unintentional. Unplanned. How was it that all girls everywhere knew this movement? The quiet sidle that hinted of simultaneous optimism and fear? The silent request for notice?
It was a miracle of courage born of youth and folly.
Author Info
Sarah MacLean grew up in Rhode Island, obsessed with historical romance and bemoaning the fact that she was born far too late for her own season. Her love of all things historical helped to earn her degrees from Smith College and Harvard University before she finally set pen to paper and wrote her first book.
Sarah now lives in New York City with her husband, baby daughter, their dog, and a ridiculously large collection of romance novels. She loves to hear from readers. Please visit her at www.macleanspace.com
Author Links: Website | Facebook | Twitter | Goodreads
Onto the GIVEAWAY
Rafflecopter Giveaway ($50.00 Gift Card to Choice Book Seller and Print Set of Rules of Scoundrels Books 1-3)
a Rafflecopter giveaway

Related Posts