Review: Wolf Rain by Nalini Singh
I received this book for free in exchange for an honest review. This does not affect my opinion of the book or the content of my review.
Wolf Rain
by
Nalini Singh
Published by
gollancz
on 6th June 2019
Genres:
Fantasy
,
Paranormal
Format:
Hardback
Source:
the publisher
Buy on Amazon US
, 
Buy on Amazon UK

The fate of millions of lives hangs in the balance in this new Psy-Changeling Trinity novel from New York Times bestselling author Nalini Singh...
Kidnapped as a young girl, her psychic powers harnessed by a madman, Memory lives a caged and isolated existence . . . until she comes face-to-face with a wolf. Labelled an empath by her bad-tempered rescuer, Memory knows that her 'gift' is nothing so bright. It is a terrible darkness that means she will always be hunted.
But Memory is free now and she intends to live. A certain growly wolf can just deal with it.
Alexei prefers to keep his packmates at bay, the bleak history of his family a constant reminder that mating, love, hope is not for him. But Memory, this defiant and fearless woman who stands toe-to-toe with him awakens the most primal part of his nature - and soon, he must make a choice: risk everything or lose Memory to a murderous darkness that wants to annihilate her from existence . . .
Wolf Rain is the 18th book in the PsyChangeling Series by Nalini Singh. One of my all time favourite PNR series to date.
There is such a comfort and warm feeling in coming back to this series and especially going back to visit the SnowDancers. I adore the wolves and I really adored this book! This review would have been posted sooner had I not decided to reread the book when I opened the book to select the quotes I'd highlighted (no regrets though).
We met Alexei couple of books ago, he is the youngest lieutenant of the SnowDancer  pack. The death of Alexei's brother, a year ago changed his personality on a fundamental level. He is no longer the laughing and open wolf he was but instead has become a grumpy wolf, trying to avoid his well meaning but nosy packmates.  Alexei finds Memory and frees her from captivity. Memory is an E-psy, taken hostage at a young age, has spend her life under the thumb of psychopath. 
"Love made people crazy. Love.
It was a word he wasn't supposed to know, an emotion he couldn't afford to feel. Not for a woman who made him wish for the impossible" ~Alexei.
I loved loved Memory and Alexei together, they are so adorable. We get to see them from strangers to falling in love. They are so sweet, I liked that they didn't let each other wallow. Memory would poke at the grumpy wolf to stop him from being sad.
"She'd love him with fierce devotion and raw honesty—and she'd hunt for ways to disprove his belief in the family curse."  ~Memory 
They made each other laugh and really completed each other. Doesn't hurt that they had great chemistry and from the get go you could see how much they cared for each other. 
"I always dreamed about the sun, but I never realized the loveliness of the moonlight."
"I'm a wolf….Howling up at the moon is a favorite leisure activity."  
Memory is such a strong character, she had a brutal childhood with only a pet cat for company. She's made to feel like she's bad and you can see how insecure and afraid she is of psychic abilities. You get her journey to becoming her own person, recognising her own worth and getting her happy ending. She's pretty fearless, at first its because she has nothing to loose. 
"That was his E with the heart of a lioness."~Alexei
Alexei was a great hero, his family history and his current outlook in life is very much affected by the recent death of his brother. He is determined to not form attachments no matter what but he really didn't count on the a small E-psy whose vulnerability along with fearlessness spoke to everything inside. She challenged him, made him feel alive.
Memory was color and light and a primal joy in life. ~Alexei.
We also to get more of the couples from previous book; Kaleb and Sahara, Sascha and Lucas (and Naya) and Hawke and Sienna. It was really great seeing them, I really love so much. I also really like the fact that they weren't shoved into the book, it was organic in the parts they were included.
The aspects of being an E is explored, along with the consequences of silence that are still coming into play and how they affect the PsyNet and their world. I really liked how that all came into play, it was filled with twists and turns and some surprising things for our favs in the series but this book also felt like the calm before the storm. Some of the elements that are mentioned in the book promise to show possible devastation in the psychangeling world, very much the start of the bad things yet to come and the remaining problem to how to incorporate the humans into the PsyNet to save it when the humans hate the Psy. Also there wasn't consortium/architect business in this one. 
My only quibble is I wanted Memory to do something, that she plays a part in of course but I wanted her do it. Purely from a more closure point of view.
Overall, I really enjoyed and loved the book and the characters, its sweet, well written, has great romance with slight angst along with the interesting suspense elements to make it a fab read! 
!!!WARNING SPOILERS!!!!
Find below some of the notes I made while reading the book. I also wrote a longer thread for twitter but its difficult to copy and I'm feeling lazy.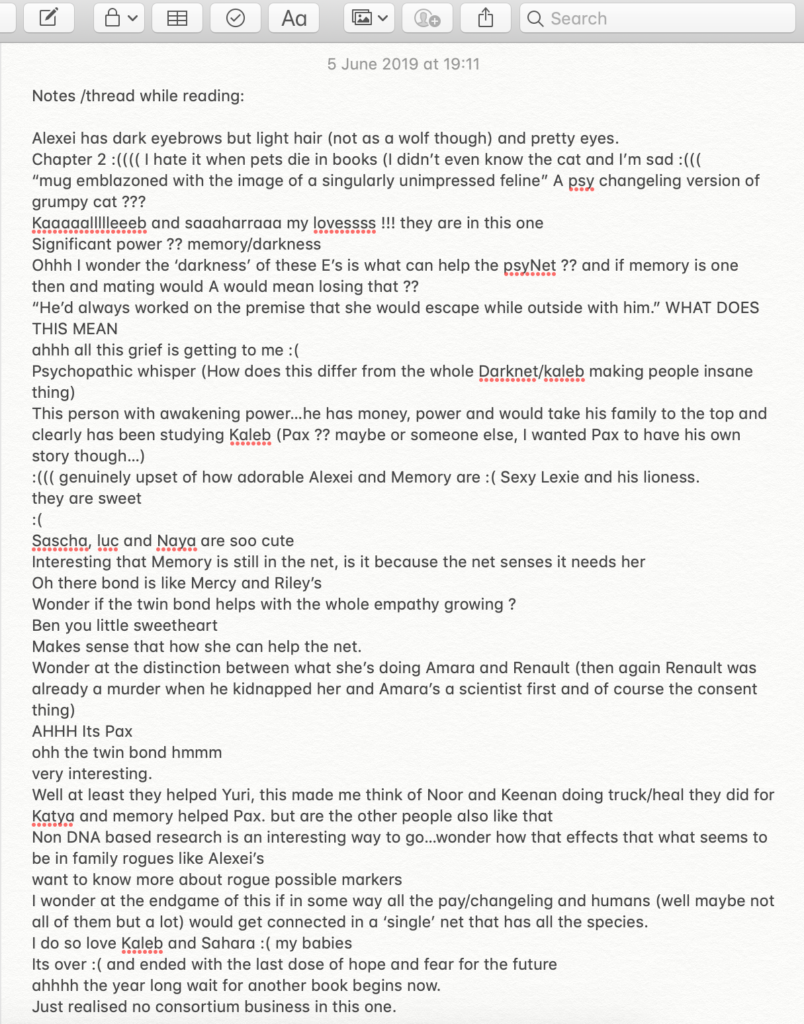 Related Posts