Review and Excerpt: The Prince by Jennifer L. Armentrout
I received this book for free in exchange for an honest review. This does not affect my opinion of the book or the content of my review.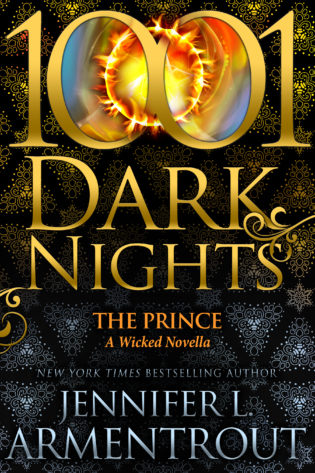 The Prince
by
Jennifer L. Armentrout
Series:
A Wicked Trilogy #3.5
,
1001 Dark Nights #85
Published by
Evil Eye Concepts, Incorporated
on 14th August 2018
Genres:
Paranormal
,
Romance
Pages:
191
Format:
eARC
Source:
the publisher
Buy on Amazon US
, 
Buy on Amazon UK

From New York Times and USA Today bestselling author Jennifer L. Armentrout comes a new story in her Wicked series…
She's everything he wants….
Cold. Heartless. Deadly. Whispers of his name alone bring fear to fae and mortals alike. The Prince. There is nothing in the mortal world more dangerous than him. Haunted by a past he couldn't control, all Caden desires is revenge against those who'd wronged him, trapping him in never-ending nightmare. And there is one person he knows can help him.
She's everything he can't have…
Raised within the Order, Brighton Jussier knows just how dangerous the Prince is, reformed or not. She'd seen firsthand what atrocities he could be capable of. The last thing she wants to do is help him, but he leaves her little choice. Forced to work alongside him, she begins to see the man under the bitter ice. Yearning for him feels like the definition of insanity, but there's no denying the heat in his touch and the wicked promise is his stare.
She's everything he'll take….
But there's someone out there who wants to return the Prince to his former self. A walking, breathing nightmare that is hell bent on destroying the world and everyone close to him. The last thing either of them needs is a distraction, but with the attraction growing between them each now, the one thing he wants more than anything may be the one thing that will be his undoing.
She's everything he'd die for….
**Every 1001 Dark Nights novella is a standalone story. For new readers, it's an introduction to an author's world. And for fans, it's a bonus book in the author's series. We hope you'll enjoy each one as much as we do.**
Brighton Jussier is a girl on a mission, wanting revenge for the death of my mother. She's longer the girl she used to be. Prince Caden committed atrocities under the control of the evil fae Queen but remembers each act and wants nothing more than to find the person responsible that caused him to be under the Queen's control.
Brighton and Caden are unlikely allies, they are both after the same individual. After a chance encounter when they both on their revenge quest, they begin working alongside each other. Which only flames the attraction they feel towards each other, as they begin to get closer so does their enemy.
I really liked Bri and Caden together, they had great chemistry! Also they both shared the helplessness at the hands of others and now they were both after the same guy, it gave them the opportunity to get close. Even though its a a small novella, it packs a punch with its action, romance and easy to connect characters. It has a tortured hero, a determined heroine, a fast-paced plot sprinkled in with heartfelt and some funny moments to make it a very enjoyable read. 
I do think this will be a treat for the Wicked Trilogy readers but even you hadn't read the series, it can still be read without prior knowledge of the series, since it doesn't follow the same couple and it's after the events of the trilogy.
I'm slightly bummed out that it wasn't made clear that this wasn't a standalone, even though the whole premise of the 1001 series is that they are standalone. So while I enjoyed the book I was hoping for a happy ending and not a cliffhanger. I was getting worried when it was around 90% and like there didn't seem to be anything that would suggest that they'll be a solution to their problems or a conclusion (happy or not). It just should have been made clear, even in the blurb for this book its says "Every 1001 Dark Nights novella is a standalone story.." but this is clearly not. At the end of the book, it just said they'll be book called 'The King' which I thought is to be the continuation at the time I finished it (IT IS!!). Which will be releasing next year in June.
Regardless of that, this is a good introduction to the Wicked Trilogy and to Jennifer Armentrout's writing if one is not familiar with her which you should be because her books are amazing!!! 
I opened my eyes, but I didn't see the sun. I saw a form… a shape of a man. The features blurred, but I knew the man. It was him.
The Prince….
But that also didn't make sense. None of this made sense. Confusion crept into the fuzz crowding my thoughts. Something was off. I tried to lift my hand, but my arm felt like it was weighted down. Something was wrong, very badly wrong, and I needed to remember—
Sleep.
The desire to slip away hit me hard and fast, obliterating the confusion and consciousness, and I slept. I slept for what felt like years and then I heard a steady beeping. It intruded on wherever I was, becoming so loud, so obnoxious to me, that I had to pay attention to it. A part of my consciousness zeroed in on the sound, clung to it, and I followed it back, tethering myself to the rhythm. With each passing second, my surroundings became clearer. Footsteps. I heard footsteps. Whispers. There was the sound of hushed voices. I dragged in a deep breath, and a shock hit my system. The breath hurt. Like my chest and ribs were too tight and a simple deep breath was too much to take—
Mom.
I saw her in my mind, as clear as day.
I saw her lying on her back in the darkness, her eyes wide and fixed on mine. There was nothing behind those eyes. No life. Nothing.
The beeping sound sped up.
The horrifying image of my mom faded like smoke, replaced by luminous skin and bloody smiles and taunts and…
Pools of blood. Actual pools of it. The ruby-red liquid spilled across stone, forming rivulets that ran between the spacing in the pavers. Why had there been so much blood? A vague feeling of wet warmth bubbling up my throat and choking me swept through me.
"Bri? Are you awake? Brighton?"
Related Posts