Review: The Problem with Forever by Jennifer L. Armentrout
I received this book for free in exchange for an honest review. This does not affect my opinion of the book or the content of my review.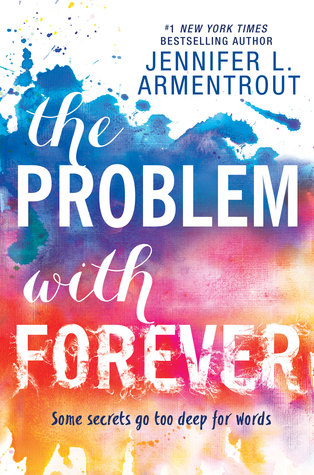 The Problem with Forever
by
Jennifer L. Armentrout
Published by
MIRA Ink
on May 31st 2016
Genres:
Contemporary
,
Young adult
Pages:
384
Format:
eARC
Source:
Netgalley

For some people, silence is a weapon. For Mallory "Mouse" Dodge, it's a shield. Growing up, she learned that the best way to survive was to say nothing. And even though it's been four years since her nightmare ended, she's beginning to worry that the fear that holds her back will last a lifetime.
Now, after years of homeschooling with loving adoptive parents, Mallory must face a new milestone—spending her senior year at public high school. But of all the terrifying and exhilarating scenarios she's imagined, there's one she never dreamed of—that she'd run into Rider Stark, the friend and protector she hasn't seen since childhood, on her very first day.
It doesn't take long for Mallory to realize that the connection she shared with Rider never really faded. Yet the deeper their bond grows, the more it becomes apparent that she's not the only one grappling with the lingering scars from the past. And as she watches Rider's life spiral out of control, Mallory faces a choice between staying silent and speaking out—for the people she loves, the life she wants, and the truths that need to be heard.
Rating ~ 3.5 – 4 stars
I havn't read YA in more than a year if not longer, but when I saw that JLA had written this book I had to give it a try. 
Mallory "Mouse" Dodge has been homeschooled for the past few years and has now decided to join her local public school as a new chapter in her life before she decides to tackle on an even bigger one, college. 
Rider Stark was Mallory's protector growing up, only a few months older than her, he took care of her and took the beating in Mallory's stead. He also goes to the same high school that Mallory joins. 
The story is about Mallory and Rider two kids who only had each other when their world was hell, they had a bond and a connection and friendship when they were children which grows in adult (or young adult in this case) love. It is also about Mallory trying and succeeding to find herself, coming out of her shelf and being able to freely speak whats in her mind and her thoughts. 
Mallory and Rider grew up together in a foster home, it left them both with emotional and physical scars. Their harsh childhood made them the individuals they are today. They are both struggling but in different ways. Mallory has difficulty expressing her thoughts, let alone make connections with other people than her adoptive parents and her friend who was also homeschooled. Rider on the other had is just kind of drifting in life, doesn't feel like he belongs or that people actually do care for him like his current foster family.
Rider and I were a lot like the little boy and the rabbit who wanted to be real. ~ Mallory's internal Monologue. 
The two never thought they would actually see each other again or if the other was even alive but they always remembered and thought about the other. Their reunion is sweet and all sorts of adorable. I thought they had a very cute and sweet relationship. They were very protective and supportive of each other. Those moments where its just the two of them are the best moments in the book, they are just so light and made me happy and smile. 
"I never stopped thinking about you," he said in a low voice. "Not one day, Mallory." ~Rider Stark.
Mallory goes through quite a development during the book, from the very introverted shy girl who was afraid of disappointing her adoptive parents and scared of public speaking to the girl who finally got her voice and told her adoptive parents what she wanted ,managed to make some new friends, gain confidence and finally able to help/save Rider as he had saved her years ago. 
The book showcases the harsh reality of some of the foster children whose life is just filled with pain where no one seems to care. I think JLA did a good job of showcasing that, along with that she showed not all adoptive parents or foster families are bad and cruel. But it also made me feel that it kind of comes down to blind luck of which child gets a better home and life which is equally saddening. 
Forever was something we all took for granted, but the problem with forever was that it really didn't exist. ~ Mallory's internal monologue. 
Quibbles: The book is long and hence I felt that maybe parts should have been cut out because it did dragged on in some bits where nothing in particular was happening. I know a lot of YA books are written from the heroines POV and its one the issues why I don't read it much of it anymore because I feel like the story was left incomplete especially in romance. And I felt we should have gotten a bit more of Mallory and Rider being together as couple because I felt it we didn't get to see them much in the actual relationship phase. 
This was going to be an okay read with interesting characters untill the last 10% those were like a punch to the gut and heartbreaking but I was happy that Mallory came out of her shell, tired to be more than just being stuck in one place and got her happy ending. 
Forever wasn't a problem….forever was a work in progress. And I couldn't wait for forever. ~ Mallory's internal monologue.
Overall, I enjoyed it and since we don't know what happens to Mallory's best friend Ainsley and Hector maybe they will be getting their own book ?? because I'd like to know more about them. 
Related Posts