Review: Tangled by Rebecca Zanetti
I received this book for free in exchange for an honest review. This does not affect my opinion of the book or the content of my review.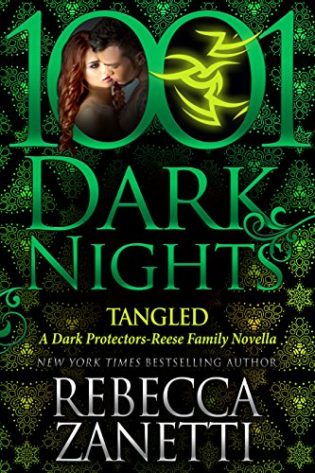 Tangled
by
Rebecca Zanetti
Series:
Dark Protectors #7.8
on May 9, 2017
Pages:
171
Buy on Amazon US
, 
Buy on Amazon UK
Now that her mask has finally slipped…
Ginny O'Toole has spent a lifetime repaying her family's debt, and she's finally at the end of her servitude with one last job. Of course, it couldn't be easy. After stealing the computer files that will free her once and for all, she finds herself on the run from a pissed off vampire who has never fallen for her helpless act. A deadly predator too sexy for his own good. If he doesn't knock it off, he's going to see just how powerful she can really be.
He won't be satisfied until she's completely bare.
Theo Reese had been more than irritated at the beautiful yet helpless witch he'd known a century ago, thinking she was just useless fluff who enjoyed messing with men's heads. The second he discovers she's a ruthless thief determined to bring down his family, his blood burns and his interest peaks, sending his true nature into hunting mode. When he finds her, and he will, she'll understand the real meaning of helpless.
Rating ~ 3.5- 4 stars
Ginny O'Toole is a thief, she's on the run trying to save herself and the only remaining family she has. Theo Reese never brought the sweet and helpless act Ginny presented to the world and now she's disappeared with the flash drive that would cause a lot harm to his family. Finding her and getting the drive back is Theo's goal alas emotions are a little difficult to turn off when he finally finds Ginny.
I really liked Theo, I wish we had gotten to know him and his brothers a bit more but I digress. Theo and Ginny used to be friends and their attraction to each other is clear. Both of them see each other without the masks they present to the world and it can be extremely aggravating (in Ginny's case).  I liked them together, they were cute, Theo didn't take any of Ginny's bullshit and saw straight through her. And Theo never thought he'd want to mate with someone so *early* in his life but what can a guy do when he ends up falling for a complex and fascinating  woman like Ginny.
An enjoyable novella of a world that I have come to really enjoy and look forward to much more which is hinted by the author. It has action, romance, humour and stubborn people. What's not to like?
Related Posts