Review: Tricked by Rebecca Zanetti
I received this book for free in exchange for an honest review. This does not affect my opinion of the book or the content of my review.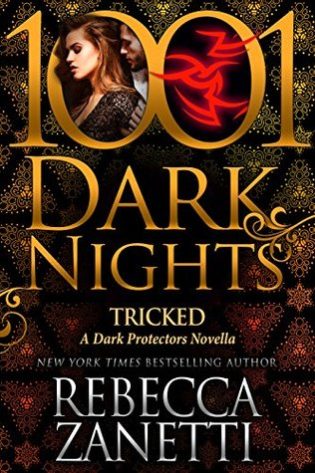 Tricked
by
Rebecca Zanetti
Series:
Dark Protectors #7.75
Published by
Evil Eye Concepts
,
Incorporated
on October 25th 2016
Genres:
Fantasy
,
Paranormal
,
Romance
Format:
eARC
Source:
the publisher
Buy on Amazon US
, 
Buy on Amazon UK
He Might Save HerFormer police psychologist Ronni Alexander had it all before a poison attacked her heart and gave her a death sentence. Now, on her last leg, she has an opportunity to live if she mates a vampire. A real vampire. One night of sex and a good bite, and she'd live forever with no more weaknesses. Well, except for the vampire whose dominance is over the top, and who has no clue how to deal with a modern woman who can take care of herself.She Might Kill Him Jared Reese, who has no intention of ever mating for anything other than convenience, agrees to help out his new sister in law by saving her friend's life with a quick tussle in bed. The plan seems so simple. They'd mate, and he move on with his life and take risks as a modern pirate should. Except after one night with Ronni, one moment of her sighing his name, and he wants more than a mating of convenience. Now all he has to do is convince Ronni she wants the same thing. Good thing he's up for a good battle.
In teased we met Chalton Reese and his mate Olivia, in that we find out about Olivia's sister like best friend Ronni Alexander dying due to a heart condition and Chalton's brother Jared who agrees to mate Ronni to save her life.
Jared Reese is a former pirate. Long ago when he was young and in love he wanted a different kind of life than he has now. Of course the girl broke his heart and so he figures since he won't be mating for love why not help his sister in law save her best friend. He will have a mate and eventually children in a few hundred years down the line so what does he have to lose.
Ronni's health has been slowly declining ever since she was poisoned and now it seems she has less than few days to live. So when she founds out about vampires and other creatures, she's intrigued she's even more intrigued that mating with a vampire would have save her life and make her immortal. She agrees to mating Jared but thinks it will be more of one-night stand and then they will go their separate ways. Which couldn't be much further than the truth.
Jared and Ronni while were becoming mates for different reasons, they were both really attracted to each other which always complicates matters. They were both so stubborn, they had plans of how their mating life would be and so it's no surprise that they clashed and argued. After the first night, they are both shocked over what they feel and the lust they had grows into something deeper.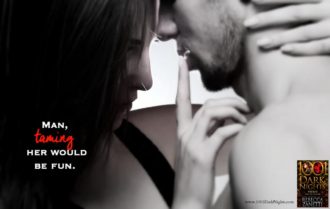 Ronni wants to find the man who poisoned her and between that the sudden appearance of Jared's flame and the assassination attempts on their life. The book has no shortage of action, angst and danger with romance to make it an exciting read. As always the couple has great chemistry and banter along with an alpha hero and a feisty heroine. It was fun short to read!
Quibbles: View Spoiler »I do wish at times that Jared has slightly toned down his alpha behaviour because it was like going from 0 to 100 in a very short time. « Hide Spoiler
The book also sets up for the upcoming novella of Jared's brother which I'm looking forward to reading because of how interesting Ginny seemed form the book and Theo who never fell for her act. Another good read by Rebecca Zanetti!
Trailer

Related Posts