Blog Tour: The Perfect Illusion by Winter Renshaw
The Perfect Illusion
by
Winter Renshaw
Genres:
Contemporary Romance
,
Romance
Format:
eARC
Buy on Amazon US
, 
Buy on Amazon UK
It's only pretend…
And it's only three months.
I'm in the midst of scrawling "I QUIT!" onto his fancy cardstock letterhead when my boss corners me. He needs a favor, he says. And then he asks how well I can act …
Hudson Rutherford needs a fiancée.
With his old-moneyed parents forcing him to marry some bratty hotel heiress and his hedonistic, playboy lifestyle at stake, the only way to get them to back off is to make them think he's truly, madly, deeply in love … with me—his third personal assistant this year.
But I can hardly stand working for him as it is.
Hudson is crazy hot and well-aware. He's arrogant, spoiled, and silver-spooned. He checks me out when he thinks I'm not looking, and his life is a revolving door of beautiful women. Plus, he can't even pronounce my name correctly—how's he going to convince his family he's in love with me?!
I'm seconds from giving him a resounding "no" when he flashes his signature dimpled smirk and gives me a number that happens to contain a whole mess of zeroes …
On second thought, I think I can swallow my pride.
But, oh baby, there's one thing I haven't told him, one teensy-tiny thing that could make this just a hair complicated …
Here's hoping this entire thing doesn't explode in our faces.
Nawww! This book is so freaking sweet.
Well, the ending is. The rest of the book is sorta twisted. I am genuinely surprised by how fantastic this book was. The Perfect Illusion is a great read for a pick me up. It grabs your attention from the first chapter right to the last. I enjoyed every second of this book. Winter Renshaw, you have done a fantastic job.
The Perfect Illusion is about Maribel Collins and Hudson Rutherford. It starts off with Mari trying to find the best way to let her asshole of a boss down when quitting. I mean Hudson sounds like such a douche. He is a fantastic architect known to go through assistants like no one's business. It's probably got to do with his broody and arrogant persona. And to me…. Sigh. I think I feel in love with Mr Rutherford right from the beginning. His macho ways sorta had me fanning myself 😛
""Can you not?" I lift my hand to my right hip.
"Not what?"
"Can you not be so patronizing. It never ends with you.""
Hudson ends up offering a deal Mari would be stupid to refuse. I mean from the get go it feels like a trap but you feel for her situation. Mari has just had some big news hit her and is trying to find her footing. And agreeing to Hudson's deal seems like the right thing to do. So, they fake it until they make it. It's the dodgiest marriage proposal of the season. And it is everything.
"I'm sure you're wondering what the f*ck I'm about to propose, and rightfully so. But believe me when I tell you it's going to change your life. And mine – because I'm a self-serving bastard and we both know that. "
They are forced together and we watch Hudson drop his ice exterior and really see Mari. She is beautiful, smart and witty. She is so down to earth and I think that is what really speaks to him the most. Everything about her calls to him. And Mari feels the same. They both develop feelings they know they shouldn't;
"We did this to ourselves. We were careless, frivolous with our emotions. Too generous with our hearts when we had no business doing so. It's no wonder we wound up in a free-fall spiraling back down to the earth only to crash and burn.
You can't come back from that."
It all ends too soon. Everything falls apart almost too quickly. You go through gobbling up the pages to wanting to scream. Seriously. At that moment I was like "noooo". It took a while for them to realize their faults and the forgive each other, but what we get in the ending…The love they find, it is so sweet. Both Hudson and Marie have changed. They have matured and learnt to forgive. They have true strength and true love. It is so sweet to read. Nawww seriously. So sweet. The sweet can't be contained.
I really enjoyed this book. It was fast paced, with fantastic characters. It really left me wanting more. I wish all the best for Mari and Hudson and their families. *Raises glass*
4.5 Stars!!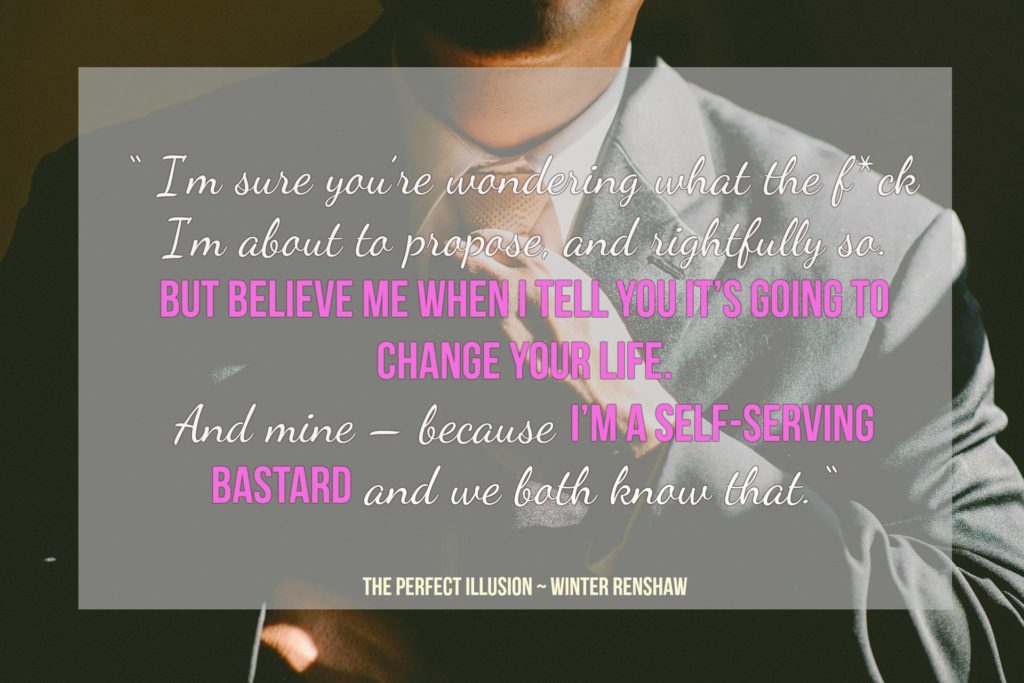 Related Posts