ARC Review: Broken by Cynthia Eden + Giveaway
I received this book for free in exchange for an honest review. This does not affect my opinion of the book or the content of my review.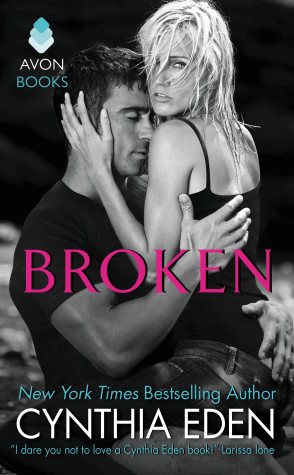 Broken
on March 31st, 2015
Pages:
384 pages
Format:
eARC
The first novel in New York Times bestselling author Cynthia Eden's sizzling LOST series introduces the Last Option Search Team, an elite unit that must protect the only surviving victim of a serial killer.
Ex-SEAL and LOST founder Gabe Spencer is accustomed to the unusual in his job. But when knockout Eve Gray steps into his office, he's rattled. For the mysterious woman is a dead ringer for the heiress thought to be the latest prey of the serial killer who goes by the name Lady Killer.
When Eve awoke in an Atlanta hospital, her past was a blank slate. Then she recognized her own face in the newspaper and vowed to learn the truth. Determined to confront the nightmares hidden in her mind, she never expects to find a partner in Gabe.
As Gabe and Eve work together, their explosive attraction becomes irresistible. Gabe knows that his desire for Eve is growing too strong, bordering on a dangerous obsession, but nothing pulls him away from her. And when another Eve lookalike disappears, Gabe vows to protect Eve at all costs. While Eve may have forgotten the killer in her past, it's clear he hasn't forgotten her.
Review
Rating: 4.25 stars
Gabe Spencer is the founder of LOST and an ex-Seal. He is a pure Cynthia eden hero, by that I mean he's possessive, protective and not to mention badass. Gabe and his team find missing people, doesn't matter how long it has been since they disappeared. Gabe found LOST after the death of his younger sister. 
Eve Grey is a woman without a past and an identity. All she remembers is waking up in a hospital and being in pain. Seeing no other option, she decides to go to LOST to ask them to help her find herself. She believes that she escaped from the notorious serial killer called 'Lady Killer' after seeing the newspapers which happens to have the picture of one of his victims (Jessica Montgomery) who looks exactly like Eve.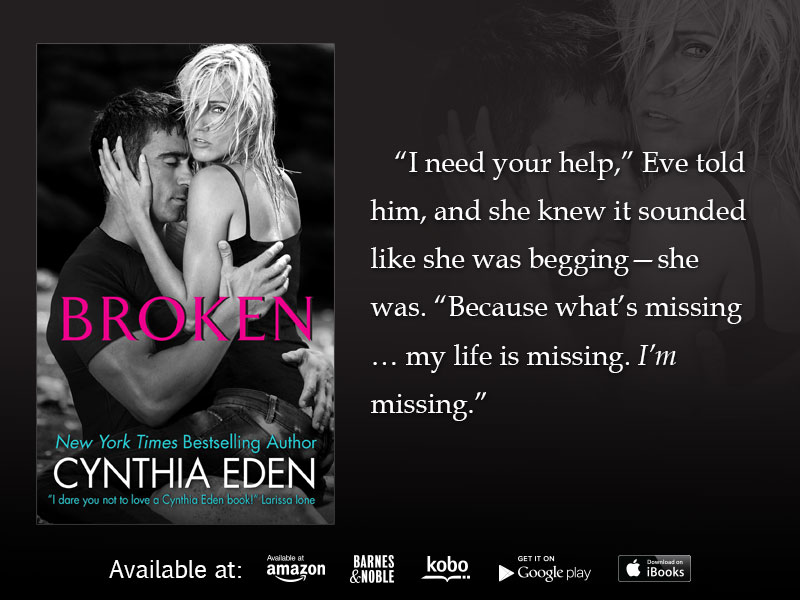 Eve was a wonderful character, she was trying to be strong, she had grit and determination to find out who she was even if meant coming face to face with a past that coould potentially be fatal. Eve was also vulnerable and afraid yet she never gave into a pity party. She meets Gabe when she goes to their head office and instantly feels attracted towards. I really liked Gabe and Eve together. He was wonderful with her, he was supportive and understanding of what she needed. He also didn't know he to quite deal with some of emotions Eve bought in him. 
Quibbles: While I did like Eve and Gabe's relationship, it was just that it developed all to fast (in a matter of days I believe) and also there was a point where Eve did something rash which though seemed like the right thing to do for her, it didn't make me happy as her supporter. Lastly Gabe, I wanted to know more about him and how be become the man he was. There wasn't much about him the book maybe because of all the focus on Eve's backstory. 
Through the course of the book, we find more information about who Eve was, about her family, her past and her connection to the Lady Killer. I really liked the storyline, it kept me guessing of who exactly was Eve Gray. 
I suspected the killer from the start but obviously there wasn't any proof and the book had so twists and turn that even I doubted myself. The suspense part of the book was also done brilliantly. People who love darker romantic suspense books would love this book (as I did).  
Overall, this was a great romantic suspense story and a great start to a new series. We also get to know to the members of LOST, who all seem pretty darn interesting and I can't wait to read to Dean's book . Happy Reading!
Rafflecopter Giveaway (Three Print Copies of BROKEN (US/Canada))
Author Info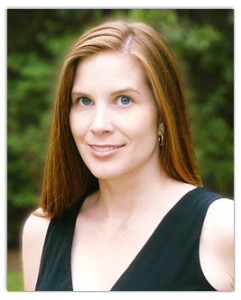 Award-winning author CYNTHIA EDEN writes dark tales of paranormal romance and romantic suspense. She is a New York Times, USA Today, Digital Book World, and IndieReader best-seller. Cynthia is also a two-time finalist for the RITA® award (she was a finalist both in the romantic suspense category and in the paranormal romance category). Since she began writing full-time in 2005, Cynthia has written over thirty novels and novellas. Cynthia lives along the Alabama Gulf Coast. She loves romance novels, horror movies, and chocolate. Her favorite hobbies include hiking in the mountains (searching for waterfalls) and spelunking.
Author Links: Website | Facebook | Twitter | Goodreads
Related Posts