ARC Review: Watch Me by Cynthia Eden
I received this book for free in exchange for an honest review. This does not affect my opinion of the book or the content of my review.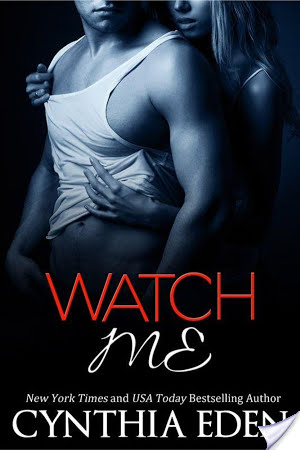 Watch Me
by
Cynthia Eden
Series:
Dark Obsession #1
Published by
Hocus Pocus Publishing, Inc.
on December 4th 2014
Genres:
Fiction
,
General
,
Military
,
Romance
,
Suspense
Pages:
125
Format:
eARC
Source:
Netgalley
He was hired to protect her.
Watching gorgeous Gwen Hawthorne wasn't a hard job—but it certainly was tempting. Chance Valentine had tried to keep his distance from the sexy socialite for years, but when her father hired him to keep watch on her—as a twenty-four, seven bodyguard—Chance knew his control was about to be pushed to the limit.
He'd never wanted another woman the way he desired her. Hot. Intense. Consuming.  Being so close to Gwen, Chance knew that he wouldn't be able to resist her.  So he gave into his need, her need, and he took them both to the edge of a dark and consuming desire.
But Chance soon realizes that he isn't the only one watching Gwen.  Someone else is out there, a stalker who won't rest until Gwen is destroyed.  Every day, every moment…Gwen is in danger.   And Chance knows that if he can't unmask the stalker, then he may just lose the only woman he has ever loved.
Gwen Hawthorne is a heiress and Chance Valentine used to be father's bodyguard. Now he's a partner in a security agency, when Gwen's father hires him to be Gwen's bodyguard for a while.
Gwen and Chance both have in love with each other for years back when Chance still used to work for Gwen's father. Chance's rejection led Gwen into an arms of another man which turned put to be the biggest mistake Gwen has ever made and resulted in the two parting ways. Now Gwen's in danger and Chance would do anything to protect her and maybe finally get a second chance to be with her.
Quibbles: It felt a little too easy and the suspense part which is usually really good in Cynthia's books fell a little off mark for me. I just felt that the book was missing something, it was good but not great and missing that something extra that I have come to expect from Cynthia.
It makes for good light romantic suspense if you are looking for nothing too dark or just starting getting into this genre.
Overall, Cynthia Eden is a must read author for me and this is a good addition to her romantic suspense books.
Related Posts