Review: Then You Happened by K. Bromberg
I received this book for free in exchange for an honest review. This does not affect my opinion of the book or the content of my review.
Then You Happened
by
K. Bromberg
Published by
LLC
on 3rd February 2020
Genres:
Contemporary Romance
Format:
eARC
Source:
the Author
Buy on Amazon US
, 
Buy on Amazon UK
From New York Times Bestselling author K. Bromberg comes a standalone contemporary romance about trusting fate and finding yourself again.
Jack Sutton was the man I didn't want to need.His know-it-all attitude. His annoying suggestions. His outlook on life.He was determined to help me while I had resolved to figure it out on my own.But he taught me things I'd forgotten.How to trust. How to believe in myself. Who I was.The problem?I went and fell in love with him.---Tatum Knox was the disaster I should have walked away from.Her ruined reputation. Her failing business. Her chaotic life.She hated me at first sight and yet intrigued me all at the same time.I was only supposed to be there six months.I was supposed to use that time to make amends for things I'd done wrong.Instead I fell in love with her.---They say it's better to have loved and lost, than not to have loved at all. Does that hold true when the love is based on a lie to begin with?
Then You Happened by K. Bromberg introduces us to Tatum Knox, a widow and owner of a ranch in a small town where everybody hates her. Enter Jack Sutton, the new ranch manager to answer her problems, except he's the one thats adding to her problems.
Have to be honest, I struggled with this at the start. I was so confused, I was intrigued but very confused. As the book went on it got better.
Tatum and Jack from the moment they meet in person, it's an antagonist relationship. They are attracted to each other but hate each others guts, doesn't help that Jack looks like he believes every single rumour about Tate from the townspeople (who btw I hated). As time goes, Tate and Jack work together to save their ranch, they start to see each other in a newer and better light. Both are very resistant to giving into their feelings or attraction because of hurts and the damage their past relationships have cost them. Which adds the additional delicious push and pull between them. They are very closed off at the start of the book but as their relationship develops we start to learn more about them as people and see them a great couple.
Tate and Jack had great chemistry, with the added drama of losing the ranch, the god awful towns people and secrets that Jack hid added a bit more depth to the story. It is a different to what I've read from K. Bromberg but its no less entertaining!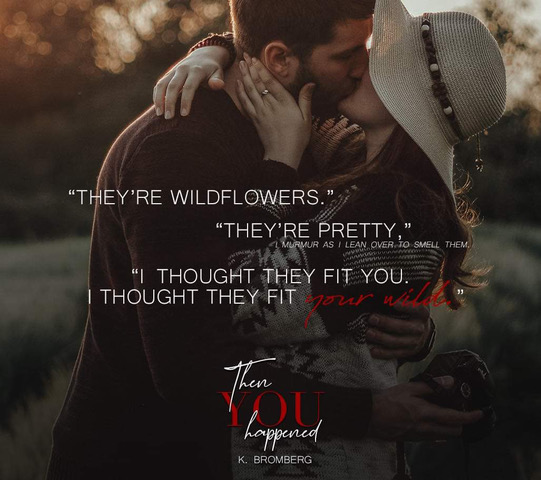 Quibbles: Some of the insulting things Jack says Tate were just ?? especially because he himself knows thats not exactly the truth, he doesn't even really know the woman but I would have loved loved some actual grovelling from Jack, at the time they reunite it just gets brushed over because of spoiler-y reasons but it just didn't give me the reunion or the grovelling from Jack I needed. Also Tate's only friend in town, wasn't much of a friend. She knew what was happening yet she didn't do anything to help Tate out or let her know. How was it that Fletcher let her be friends with a townsperson when he was completely against her even going or seeing anyone there. There were also little bits and pieces of Tate and Fletcher's marriage that needed more attention because they didn't sound right at all but got brushed over. Also thought how it was hypocritical of Jack to constantly want Tate to be honest with him all the while he's not which brings me back to the grovelling.
Overall, I enjoyed it! The story might have been predictable but it was done well and I literally felt all the emotions from frustration to anger to love that Tate and Jack both really resisted to feel.
Related Posts