Blog Tour: The Cad and the Co-ed by L.H. Cosway and Penny Reid
I received this book for free in exchange for an honest review. This does not affect my opinion of the book or the content of my review.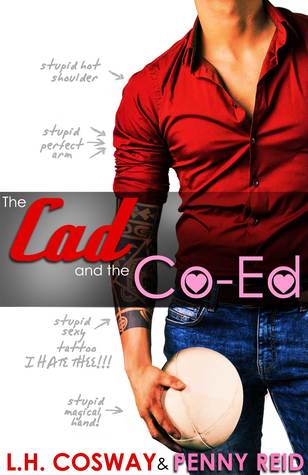 The Cad and the Co-Ed
by
L.H. Cosway
,
Penny Reid
Series:
Rugby #3
on February 12th 2017
Genres:
Contemporary
,
Romance
,
Romantic Comedy
Format:
eARC
Source:
the Author
Buy on Amazon US
, 
Buy on Amazon UK

Keeping a secret this big is going to take lots of balls. Specifically, rugby balls.
THE CAD Bryan Leech is a cad. Or, he *was* a cad. No one is quite certain.
Once the quintessential playboy, Bryan claims he's done with wild parties and weekend benders. No more one night stands leading to mornings he can't remember; no more binges and blackouts; no more exploits plastered all over the tabloids and rag sheets. According to Bryan, he's cleaning up his act.
The only problem is, no one believes him.
THE CO-ED Eilish Cassidy never thought she'd be a mother at nineteen or still in college at twenty-four. Cut off from every member of her family except her favorite cousin, she's finally managed put her life back together. Stronger and wiser, Eilish enters her last semester of university determined to stand on her own. Now she just needs to find an internship.
The only problem is, her best option—by far—places her directly in the path of her son's father, and he doesn't remember her at all.
THE PLAN Bryan is determined to prove he's changed. Eager to settle down with the right woman, he's got his sights set on the gorgeous redhead who seems terribly familiar.
Eilish is determined to hide her secret. She'll do anything to keep her child safe, even if that means ignoring her own wishes and desires.
But what happens when Bryan starts to remember? And what will it take for Bryan to convince the girl he forgot that she's unforgettable?
This book is about Eilish Cassidy (we met her in the Player and the Pixie), she is Sean Cassidy's cousin, and a one night mistake with someone she thought was amazing who turned out to be a complete douche changed her entire life. Now years later, Eilish, a single mother with her son from US. Eilish after struggling but staying determined and strong for her son with the her the help of her cousin finished university while working three jobs is now coming back home. And it would be great, if not for the fact that her son's father is there.
Bryan Leech, recovering alcoholic and perhaps a recovering ass as well is trying to get his act together. He has completely changed, no more drinking or partying he has become a homebody with his tea and reading in his robe. Seeing Eilish he is instantly attracted to her and feels a connection with her even though she seems to really indifferent to him.
Eilish is conflicted and doesn't really know how to act or tell Bryan about *them* or that they have a son especially after seeing how much Bryan has changed.
"What would it feel like to be on the receiving end of being forgotten? She didn't deserve to be forgotten. She deserved to be treasured. And I was going to do everything in my power to make up for what I'd done."
While I fell in love with Eilish from the get go (how could I not??), my initial reaction to Bryan was just no but rest assured he won me and more importantly Eilish over. You get see them both grow and develop their relationship and see Bryan with his son! The book is cute, funny and I ended really liking Bryan and Eilish together.
The book has the trade mark Penny Reid and L.H. Cosway humour, chemistry and a very unique couple. A great addition to a fantastic series. It was also wonderful seeing the other couples/cast from the first two books of the series. I really enjoyed the new instalment and I hope we get more books from the duo together!  
Related Posts