Review: Every Little Thing by Samantha Young
I received this book for free in exchange for an honest review. This does not affect my opinion of the book or the content of my review.
Every Little Thing
by
Samantha Young
Series:
Hart's Boardwalk #2
Published by
Piatkus
on March 7th 2017
Genres:
Contemporary
,
Romance
Pages:
352
Format:
ARC
Source:
the publisher
Buy on Amazon US
, 
Buy on Amazon UK

Hartwell, Delaware—the perfect place to get away from it all, and find what you never knew you needed…
Bailey Hartwell has many reasons to feel content—her successful business, a close circle of friends, and her steady boyfriend…even if their romance feels staid after ten years without a serious commitment. The only challenge in her life comes in the form of sexy businessman Vaughn Tremaine. She thinks the ex-New Yorker acts superior and that he considers her a small-town nobody. But when Bailey's blindsided by a betrayal, she's shocked to discover Vaughn is actually a decent guy.
Vaughn admires Bailey's free spirit, independence, and loyalty. As his passion for her has grown, his antagonism toward her has only worsened. Every little thing Bailey does seduces him. But when Vaughn's painful emotional past makes him walk away in fear he will hurt her, it opens an old wound in Bailey, and she uncharacteristically retreats.
Once Vaughn begins to realize he's made the biggest mistake of his life, he has no choice but to fight like he's never fought before to convince Bailey that the love they've found together only comes around once in a lifetime.
Every Little Thing is the second book in the Hart's boardwalk series and is about Bailey and Vaughn, both of whom we met in the first book "The One Real Thing" where we see them arguing and mostly trying to ignore their attraction towards each other. I had been waiting for this book ever since we find out that Vaughn is not immune to charming Bailey as everyone thinks and it was worth the wait!
Bailey Hartwell is the owner of the Hartwell's inn and the descendent of the founding members of the town. She has  also  has been in a relationship with for the last 10 years  with someone who she thought was safe and had  a content life with. After finding out that why her relationship has been feeling so stale lately and the betrayal that came with it, Bailey isn't sure of where to start on the dating front.
Vaughn Tremaine is a hotelier and is the owner of the Boardwalk hotel in Hartwell. He came to Hartwell trying to escape his life and the events in Manhattan but ends up really falling for the place (and of course a certain redhead) and decides to stay a bit longer which turns into years.
Bailey and Vaughn have had antagonistic relationship every since Vaughn came to town, which has been years in the timeline of the book. They both feel a connection towards each other, not to mention the attraction that messes up their heads. Vaughn ends up blurting out things he doesn't mean in Bailey's presence and Bailey in turn feels very defensive around him. There is quite a lot of angst in the book especially from Vaughn's end, he drove me (and Bailey) slightly crazy with his behaviour at times but mixed with sexual tension and the plot, it worked pretty well.
I really enjoyed Bailey and Vaughn together, we get to see them develop from enemies to lovers and as a fan of that genre it gets A from me. Their relationship was filled with witty banter, undeniable chemistry and later on sweetness. Individually speaking both Bailey and Vaughn are very strong and independent characters they also happen to be very stubborn. They are both very protective of what they consider theirs! It was amusing to see how oblivious Bailey was to the fact Vaughn was into her was at the start.
Quibbles: I do wish that Vaughn had vocalised more of how he found Bailee amazing and what more actually he thought of her when they were together compared to their relationship as *enemies* and he was an ass to her.
Samantha Young did a great job at making this enemies to lovers trop book a unique and enthralling read, with the charming secondary characters, an amazing couple and the lovely town of HartWell. I can't wait for the next book in the series! There's a quite a few characters I hope get there own books especially Dahlia and Emery's, I adore Emery with her shy bookish nature and I hope she gets her happy ending. 
See other reviews in the Blog Tour!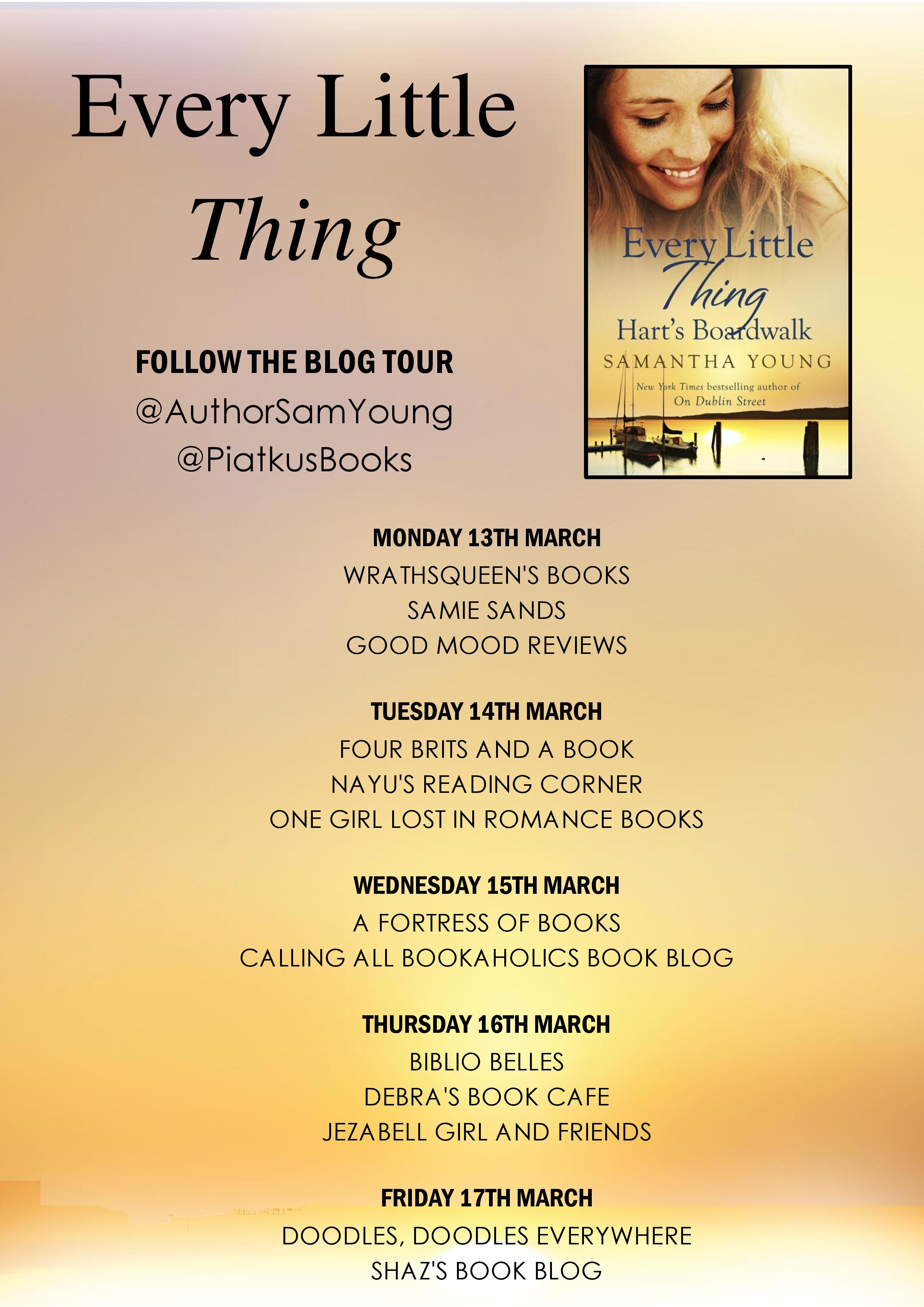 Related Posts