Review and Giveaway: The player and the Pixie by L. H. Cosway and Penny Reid
I received this book for free in exchange for an honest review. This does not affect my opinion of the book or the content of my review.
The Player and the Pixie
by
L.H. Cosway
,
Penny Reid
Series:
Rugby #2
Published by
Self Published
on April 12th 2016
Genres:
Contemporary
,
Romance
,
Romantic Comedy
Pages:
326
Format:
eARC
Source:
the Author
Buy on Amazon US
, 
Buy on Amazon UK
, 
Buy on Kobo
, 
Buy on itunes
, 
Buy on B&N
How can someone so smokin' hot be so bad in bed? I mean, Sean Cassidy is absolute rubbish. RUBBISH. He is the epitome of walking, talking false advertising and I want a refund! Plus he's an arsehole. So… what is wrong with me that I can't stop thinking about him?
The Pixie and the Player is a full-length, romantic comedy novel, can be read as a standalone, and is the second book in the Rugby Series.
THE PIXIE
Lucy Fitzpatrick doesn't like rugby.
As the little sister of Ireland's most infamous rugby player, Lucy can't seem to escape the championship-sized shadow cast by her big brother, or her mother's frequent attempts to micromanage her future. Her rainbow hair is as free-spirited as her quest for inner peace, yet overbearing expectations keep bringing her down. And when she's down, her compulsive little problem lands her in seriously big trouble.
THE PLAYER
Sean Cassidy is a cold-hearted brute… or so he's been told. Frequently. By everyone.
His blonde locks, baby blues, and rock hard bod make ladies the world over drool with desire. As the rugby world's second most infamous player, he should be basking in his success. But Sean has never been content settling for second place, and his frequent confrontations with Lucy's big brother leave him cold. And when he's cold, his compulsive little problem lands him in the lap of Lucy Fitzpatrick.
THE PLAN
Sean has a problem only Lucy can solve. Lucy has a problem only Sean can fix. The solution seems obvious: you scratch my back, and I'll bail you out of jail. But when their business arrangement unexpectedly leaves Sean scorching hot and Lucy on the precipice of inner peace, can they convince the world—and Lucy's big brother in particular—that this is the real deal?
Either way, both the Player and the Pixie are about to teach each other some pretty monumental lessons about family, life, but most importantly, love.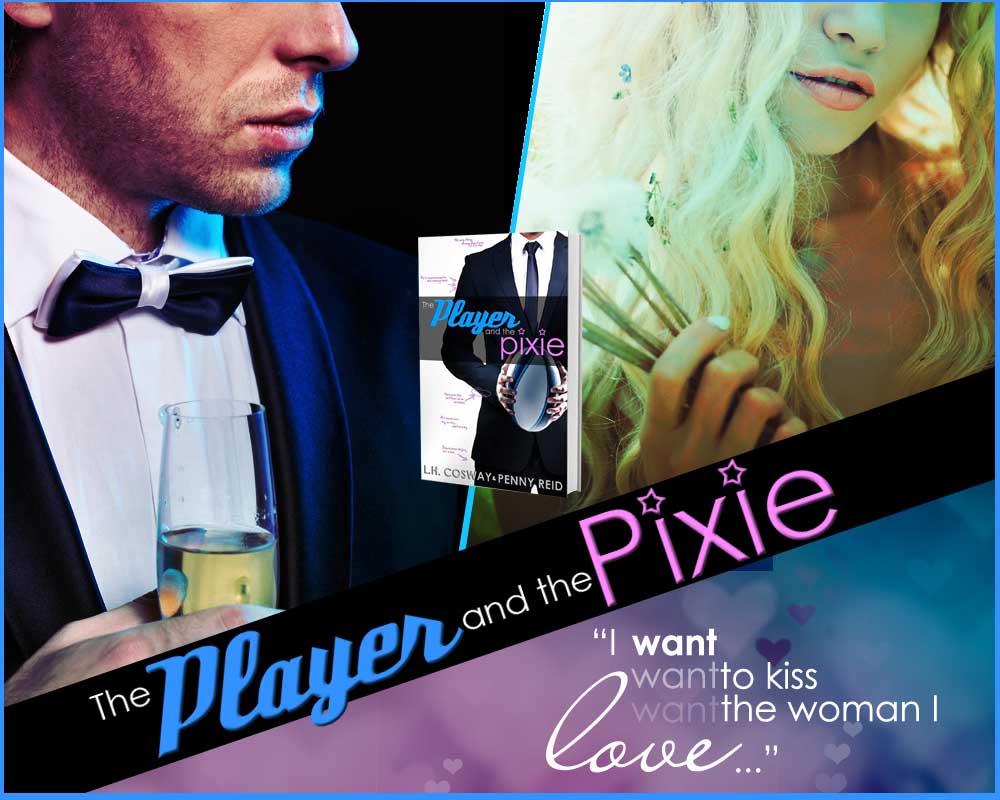 Review
This is one of those books that is just fun to read! You know those feel good kind of books that leave a huge smile on your face. One thing you can always count on from these lovely authors is that their books are unique and the characters are fantastic, complex individuals.  
Who is it about?
Mini Fitzpatrick and bubbs also known as Lucy Fitzpatrick and Sean Cassidy.  
Lucy is Ronan's sister from The hooker and the Hermit. She is a very lovely, bright young woman with a few quirks. Who is independent and equally strong except when it comes to her mother. Lucy has a bit of compulsion issue with petty theft whenever she feel stressed or under pressure due to her mother's constant nagging and passive-aggressive behavior. 
Sean is a rugby player and is the rival of Ronan. You know the one that was involved with Ronan's ex-fiancee. He comes across as a complete arse and doesn't seem to really care about anything which is not true at all. He is also charming and flirty when he doesn't mean to be, really the man is self-absorbed and arrogant most of the time but somehow you can't help but love him. Sean has insecurities due to his birth and his upbringing by his aunt and uncle, he is a loner with no real friends or family except Eilish his cousin. He also happens to really love grooming products especially the ones he steals from his ex-bedmates. 
There was something about Sean Cassidy that reminded me of the dogs that came into the shelter in New York, abused and mistreated, barking at everyone because they didn't know who to trust.
What is it about?
Lucy and Sean meet at the rugby teams party and it doesn't end well. Lucy despite being the person who always sees the best in people comes out of their conversation thinking he's an awful person while Sean later realises that she had been trying to be nice and thinks of Lucy as a fairy. 
They meet again later when Sean catches Lucy stealing and blackmails her into having dinner with him. Things happen and Sean ends in the hippie camp (his words) to meet Lucy because he wants to seduce her and ofcourse get one up on Ronan the ape. The joke is on Sean though because Lucy makes him feel all spectrum of emotions. This is where things really picked up. 
"You have this incredible way of showing me new ways to look at things, do you know that, Lucy Fitzpatrick?" ~Sean Cassidy
This story is about taking chances, not judging people because of their cold if beautiful exterior in Sean's case and sometimes outside help is needed for things getting out of control and it's never late to try to be a better person. It's about two people who are imperfect being perfect for each other. 
The moment you walk into a room you brighten it, Lucy Fitzpatrick, and I for one feel like the luckiest bastard in the world for having known you. ~ Sean Cassidy. 
I loved how not only did Lucy teach Sean about sex but also how to be more than what anyone excepted him to be and be a better person because he wasn't happy with who he was and he was aware that he was arse and his flaws. It was just no one had ever given him a chance to be more or even try to understand him. 
"He was such a dunderhead; such a wonderful, sweet, funny, impossible, thoughtful, sexy eejit." ~ Lucy Fitzpatrick. 
I think this quote describes their relationship quite well to me:
Whats a soulmate?

It's like a best friend, but more. It's the one person in the world that knows you better than anyone else. It's someone who makes you a better person, well, actually they don't make you a better person… you do that yourself– because they inspire you. A soulmate is someone who you carry with you forever. It's the one person who knew you, and accepted you, and believed in you before anyone else did or when no one else would. And no matter what happens.. you'll always love them.
Random thoughts
What is deal with Richard I would really like to know more about him even though he isn't a rugby player. He seems like a very interesting character.
I loved little snippets we get to see of Annie and Ronan's relationship.
Sean's compliment to Ronan made me laugh so much. I loved the humour in this book.
I loved Lucy, her openness and her love for her brother who she didn't want to hurt at the expense of her happiness. 
I also adored that Sean didn't want to put Lucy in a bad position with her brother and that it was always Lucy's choice on how things progressed. 
You know when theres a moment in the book that absolutely love the character and their character development for me it was at 56% Sean Cassidy's note to Lucy was gahh makes me feel mushy inside. At that stage you knew that man sooo far gone for Lucy…it was lovely. 
My lovely Lucy, Thank you. For everything. You are magnificent. Now you have two people in all the world who will always be there for you. Yours, Sean. 
Overall
This book has a lovely sweet romance along with humour, some quirky endearing behavior, little dashes of drama and two people who belong together. I loved it! It was just what I needed since I was feeling down. It's a wonderful treat for any contemporary fans out there! This turned out to be extremely long anyhooo… So what are you waiting for? Go read the book!!
Giveaway
Related Posts