Q&A with Rebecca Zanetti and a giveaway!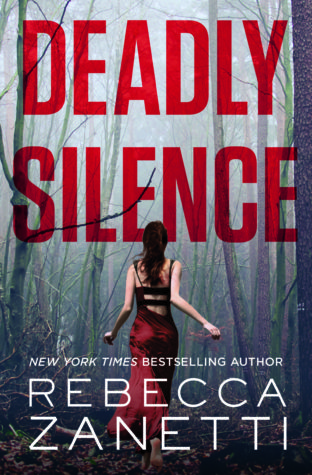 Deadly Silence
by
Rebecca Zanetti
Series:
Blood Brothers #1
Published by
Grand Central Publishing
on October 4th 2016
Genres:
Fiction
,
Romance
,
Suspense
,
Thrillers
,
Military
,
Action & Adventure
Pages:
400
Buy on Amazon US
, 
Buy on Amazon UK
, 
Buy on Kobo
, 
Buy on itunes
, 
Buy on B&N
The first book in a breathtaking new romantic suspense series that will appeal to fans of New York Times bestsellers Maya Banks, Lisa Gardner, and Lisa Jackson.
DON'T LOOK BACK
Under siege. That's how Ryker Jones feels. The Lost Bastards Investigative Agency he opened up with his blood brothers has lost a client in a brutal way. The past he can't outrun is resurfacing, threatening to drag him down in the undertow. And the beautiful woman he's been trying to keep at arm's length is in danger...and he'll destroy anything and anyone to keep her safe.
Paralegal Zara Remington is in over her head. She's making risky moves at work by day and indulging in an affair with a darkly dangerous PI by night. There's a lot Ryker isn't telling her and the more she uncovers, the less she wants to know. But when all hell breaks loose, Ryker may be the only one to save her. If his past doesn't catch up to them first...
Q & A with Author of 'Deadly Silence' Rebecca Zanetti. 
Q: What was the most challenging part of writing Deadly Silence?
Even though Deadly Silence is the first book in a spinoff series from the Sin Brother series, it needed to stand on its own for accounts as well as new readers.  So the challenge was creating a whole new world while still incorporating the Sin Brother world and some of the characters without overwhelming a brand new reader with what came before.  It took several drafts and tweaking, but I think we accomplished it in a way that will appeal to fans of the earlier series as well as new fans.
Q. Can you tell us more about The Lost Bastards Investigative Agency? How as it started? 
The three heroes in the Blood Brother series were thrown together in a horrible boy's home as kids, and they were lost until they found each other.  They each have a piece of their own past they want to track down, yet they're fine with their new created family.  They were lost, and now they aren't, so they create the detective agency to find the lost for other people while still investigating their pasts.
Q. What's one thing that you enjoy most about writing?
There are so many good things about this job; it's hard to pick just one.  I like wearing yoga pants to work, I like creating worlds, and I like meeting with fans who are struck by the characters.  Editorially, I just love the first chapter of a book when anything can happen and there are no limits.
Q. Jaws or Jurassic Park?
Fun question!  Well, I'd go with Jaws for the dialogue and overall story, and Jurassic Park (the new one) because of Chris Pratt without his shirt on.
Q. What are your writing habits?
My habits include comfy socks, coffee or tea, and music playing all the time.  Each book has its own playlist, and I'm fine sharing those, but usually people are confused.  Many times the songs don't have much to do with the book itself.  I like the tone or rhythm or just the song and will listen as I write.  I have found that if a book seems slow and I play a fast song, the pace instantly picks up as I write.
Q. You are in a bookstore. Where do you head first? 
I head right to the new releases and see what's out and what I need to read right away.  Then I stroll through all the shelves looking for something new to catch my eye.  I love bookstores.
Q. Is there a genre you haven't written that you would like to try?
I imagine this question is like tossing a cat into a car wash.  Authors love to write, and I think there's no limit to that.  I'd love to write a thriller, a legal thriller, a middle grade series, a sci phi book…
Q. Did you have to do a lot of research?
I always do some research.  For Deadly Silence, I looked into the Dark Web, current communication possibilities, and genetic manipulation.  It's all so fascinating, really!
Q. How do you keep your writing different from all the others that write in this particular genre?
I'm not sure how to answer this except to say that everyone has a different voice.  We're automatically different from each other.  I will say that I do take a moment and think…okay.  If this usually happens, let's go a different direction completely.  That's a lot of fun, actually.
Q. Describe Deadly Silence in 5 words:
Dangerous, Sexy, Wounded, Funny, and Dark.
Giveaway
Related Posts