Review: Deadly Silence by Rebecca Zanetti
I received this book for free in exchange for an honest review. This does not affect my opinion of the book or the content of my review.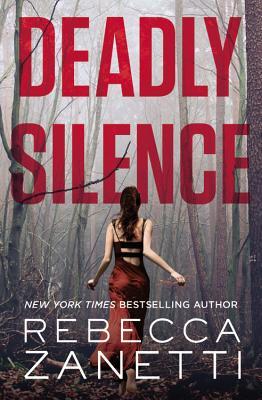 Deadly Silence
by
Rebecca Zanetti
Series:
Blood Brothers #1
Published by
Grand Central Publishing
on October 4th 2016
Genres:
Fiction
,
Romance
,
Suspense
,
Thrillers
,
Military
,
Action & Adventure
Pages:
400
Buy on Amazon US
, 
Buy on Amazon UK
, 
Buy on Kobo
, 
Buy on itunes
, 
Buy on B&N
The first book in a breathtaking new romantic suspense series that will appeal to fans of New York Times bestsellers Maya Banks, Lisa Gardner, and Lisa Jackson.
**THE PRINT EDITION CONTAINS EXTRA BONUS SCENES NOT AVAILABLE ANYWHERE ELSE!DON'T LOOK BACK
Under siege. That's how Ryker Jones feels. The Lost Bastards Investigative Agency he opened up with his blood brothers has lost a client in a brutal way. The past he can't outrun is resurfacing, threatening to drag him down in the undertow. And the beautiful woman he's been trying to keep at arm's length is in danger...and he'll destroy anything and anyone to keep her safe.
Paralegal Zara Remington is in over her head. She's making risky moves at work by day and indulging in an affair with a darkly dangerous PI by night. There's a lot Ryker isn't telling her and the more she uncovers, the less she wants to know. But when all hell breaks loose, Ryker may be the only one to save her. If his past doesn't catch up to them first...
Full of twists and turns you won't see coming, DEADLY SILENCE is New York Times bestselling author Rebecca Zanetti at her suspenseful best.A Blood Brothers Novel
I was really excited to read this one, Sin brothers happens to be one of my favourite romantic series and Rebecca Zanetti is a phenomenal writer so there was no question about picking this one up. He and his brothers have banded together, after a difficult childhood (an understatement) they help people in need.
Ryder Jones along with his brother owns the Lost Brothers investigative agency, finding those who are lost. Zara Remington is a paralegal at a law firm that ends up hiring the Lost Bastards investigative agency. Zara also has her own issues.
Ryder and Zara embark on a causal only sexual relationship after they meet and though they say only sexual, their feelings are very much involved especially when Ryder finds out that Zara is hurt and then well the alpha is him goes all caveman.
I really liked Zara, she was a great heroine and as she doesn't know much about the whole who Ryder and his brothers really are and where they came from, it gives anyone who hasn't read the Sin brother's series to get to know more about them.
The suspense/mystery aspect was done well. The humour and banter with Ryder and his brothers kept me entertained as did Zara and Ryder's relationship.
Quibbles: I do wish we could have gotten a  bit more of how they met, just a few scenes/flashbacks to when they were together before the book starts…I also had like a feeling of deja vu with certain aspects of the book with the Sin brothers series, it made me feel like I'd already read that part even though this was a new story.
But apart from that I really enjoyed it, I'm looking forward to seeing more of the series and of course any glimpses we get of the dean brothers and co in the books.
Related Posts