Review: Backfire by Keri Lake + Giveaway
I received this book for free in exchange for an honest review. This does not affect my opinion of the book or the content of my review.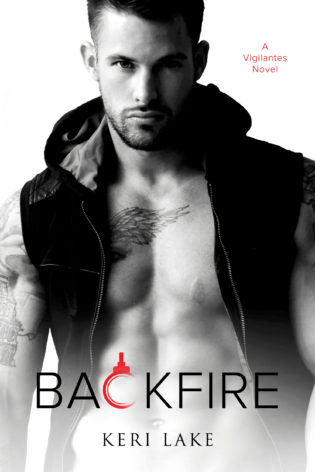 Backfire
by
Keri Lake
Series:
Vigilantes #2
Published by
Self Published
Genres:
Contemporary
,
Dark
,
Romance
,
Suspense
Pages:
442
Format:
eARC
Source:
the Author
Buy on Amazon US
, 
Buy on Amazon UK
, 
Buy on itunes
, 
Buy on B&N
No matter how unbreakable he may seem, every man has a weakness.
A year ago, my home became a bloodstained crime scene. That night marked the beginning of my hell—the same night I was tortured by my enemies and tossed into an underground prison to die.
They failed. I survived.
Now that I'm free, only one motive burns in my soul: revenge.
Lucky for me, they think Jase Hawkins is dead. Maybe I am. I've got nothing but a cold, merciless rage, and Black Betty, the sharp steel blade that never leaves my side.
Then she drifts into my life.
Lucia wants answers—so much so, she's willing to fall into the darkness where my enemies lie in wait, to kill her for what she knows.
Or to take her for the depraved fantasies her body alone can rouse in a man's mind.
Me? I want her for the fire in her touch that feeds my addiction, forces me to feel what has become numb, but my appetite for bloodshed runs deeper than flesh.
For my own sanity, I've vowed to stay away from her. Because she's my only weakness, an obsession that leaves me craving more—one that could make even the most steadfast plan backfire.
Review
So I'm writing this having finished the book couple of hours ago, I'm still in kind of that place where your semi aware of your real life and than the other part is still thinking about the book. I'm not sure why exactly but this book felt even darker than the last. I'm going to try and keep this one to the point and less spoilery stuff because to fully enjoy this ride, its better to not know all the ups and downs.
Jase Hawkins has had a literal hell of year, seeing his family die and then being a prisoner for a year has made him more than ready to avenge his family and destroy the bastard responsible. He gets his chance by a man who is a mystery and seems to know quite a lot but is unwilling to share. All he knows is now he can finally get the man who did this to him and his family. A man that seems to live in the shadows, to find him he joins albeit reluctantly a cult, seven circle that is into the most deprived and grievous crimes against citizens of Detroit. Jase is by no means a good guy even before being subjected to being a prisoner. 
Lucia is a photographer/journalist for a local newspaper who takes images of broken down Detroit but as with all characters in the book she is not what she seems. She seems to have the bad case of being in the wrong place at the wrong time at the start of the book, witnessing a crime that leads to her getting in the crosshairs of the cult Seven circle. She also happens to be more than slightly obsessed with a photographer from the wrong side of the net. 
Jase meets Lucy and is instantly attracted to her, only to find out she may be working for the guy that is responsible for his family's death and his current situation. 
It's very gritty, intense, raw and no other word than dark. Jase describes Lucia as his light and in the book only the moments where they are together is when you actually see the light. The rest of the time between the deceptions, the deaths, the mind games and torture of soul and body you feel battered. The whole book is filled with moral grey, with some splashes of pure black thrown in for good measure. No one is exactly a good person. We find out that the acts and the past shapes us in a way that makes it difficult for some to be good. Both Lucy and Jase, especially Jase had pretty tough childhood, which is putting it mildly and makes you sympathise with their pain and suffering. 
"Everyday is like fucking chaos inside my head. Constantly pushing me. Driving me to this invisible edge where I'm always wired, ready to jump if I have to. But when I'm with you, it's quiet. It's like that edge disappears and I can just enjoy the view for a little while. I can deal with the world again, without all that anger and violence in my head. You're like a beam of light breaking through, and for the first time, I'm opening my eyes to it." ~ Jase to Lucy.
Some of the, okay alot of the parts the book are hard to read not only because of the what is happening but how the characters feel is just painful to read and understand that there are humans who are so deprived and commit unforgivable acts without any repercussions and enjoy them. Some of stuff is heartbreaking but at the end Keri lake manages to make our heart feel mended. And the love between Jase and Lucy is as raw, dark and passionate as the book. They had explosive chemistry from their first scene together which only seemed to increase as the story went on. Keri does put the reader and her characters (which I've now come to expect from her) through the bender with her characters.  
"Do you know what I'd do if something happened to you?" 

"I'd lose my mind and burn this whole goddamn city to the ground" ~ Jase to Lucy
You feel just about a tiny flicker of light that maybe everything will turn out right because I know Keri wouldn't end a book without HEA if I hadn't known that I'd probably would have needed some help to even go through the book. The book has some huge twists and turns to keep the reader intrigued about the plot and the characters. 
Fans and readers of the first book will recognise the elements and the plot coming together as well a little a bit about what Nick is upto. 
The book does end with a cliffhangerish about certain elements which will be explored in the next book I believe. I'm looking forward to the next book which is going to be about Dax, the tortured best friend of Jase whose loss of a sister has made him more than capable of getting revenge on the people responsible. 
Bottomline, Keri Lake is phenomenal author, capable of leaving the reader as raw and anguished at times as the character and I did. Her characters are so complex, multidimensional and especially her heroes who are unapologetic in who they are but Keri writes them in a way that make you understand their thoughts, actions and beliefs. The book is beautifully written from the dark to light parts where you see hope and happiness to all the ugliness in the world.
I'm still in hangover mode after reading so I'm going to end here because my mind is definitely messed up. I wanted to make some graphic cards but I'm exhausted so maybe later. Hope ya'll give this one a try, it's worth seeing Jase and Lucy get their HEA. 
Giveaway:
Prize #1: A $50 Amazon gift card AND a tote filled with Backfire swag!
Prize #2: Leave an honest review on Amazon or Barnes & Noble and enter the form below for a chance to win:
***SIGNED PAPERBACK COPY OF BACKFIRE (signed by author and cover model, Johnny Kane) to 5 readers who submit a review*
*You must submit review link in the Google doc. Winners will be randomly drawn from the Google doc list.
Google doc link: https://docs.google.com/forms/d/1gJ_YGlXrN1SDoRduSVQlAUvCewLfqcSOhWi6xzz6Hjw/viewform?usp=send_form
Related Posts