Review: Ricochet by Keri Lake
I received this book for free in exchange for an honest review. This does not affect my opinion of the book or the content of my review.
Ricochet
by
Keri Lake
Series:
Vigilantes #1
Published by
Self Published
on July 9th 2015
Genres:
Contemporary
,
Dark
,
Erotica
,
Fiction
,
Romance
,
Thrillers
Format:
eARC
Source:
the Author
Buy on Amazon US
, 
Buy on Amazon UK
, 
Buy on Kobo
, 
Buy on itunes
, 
Buy on B&N

The only sure way to destroy a man is to take what he cannot live without.The only sure way to destroy a man is to take what he cannot live without.
Three years ago, I had everything.
A beautiful wife.
A son.
A reason for living.
Until a ruthless task force, assembled under Mayor Michael Culling, with a brutal strategy to make the streets of Detroit 'safe', ripped away everything I loved in a deadly hunt called The Culling.
They tried to kill me, too. I wish they had. Now I'm cursed by the memories of that night, and the words I whispered to my dying wife.
A promise—to avenge the wrong and set it right.
I'm no longer Nick Ryder. I'm a masked vigilante. Faceless. Loveless. Fearless. A man with nothing left to lose—one who's seen the dark and violent truth behind the city's flawless veneer.
Michael Culling doesn't know who I am. Or what I want. All he knows is that I've kidnapped his beautiful wife.
An eye for an eye—isn't that how the saying goes? And Aubree Culling is the perfect pawn to destroy him.
If she doesn't destroy me first.
WARNING: **Not recommended for readers under the age of 18 due to graphic violence, sex and strong language. Trigger warning for self harm.
Where to start…This was my first ever dark contemporary romance. I have been shying away from this genre for a quite a while now, so when I found out that Keri was writing Ricochet obviously as a fan of her I decided when it comes out I'll give this genre a go.
I don't want to give away too much, that said man are you in for some things that will make you feel fucked up but that's alright cause there's Happily Ever After at the end of the twisted, upside down tunnel. It's dark obviously but it has other elements that make it even more special, some unexpected turn of events that make you look at characters and events in completely new light and I loved that aspect because it was unique and unexpected especially when it all comes together. At the moment I was like, ah wow! hindsight can be a bitch.
Keri Lake does a wonderful job at giving a story that makes you cry, cringe, smile, brawl, hate the effing world, laugh, cruse and at the end makes you happy.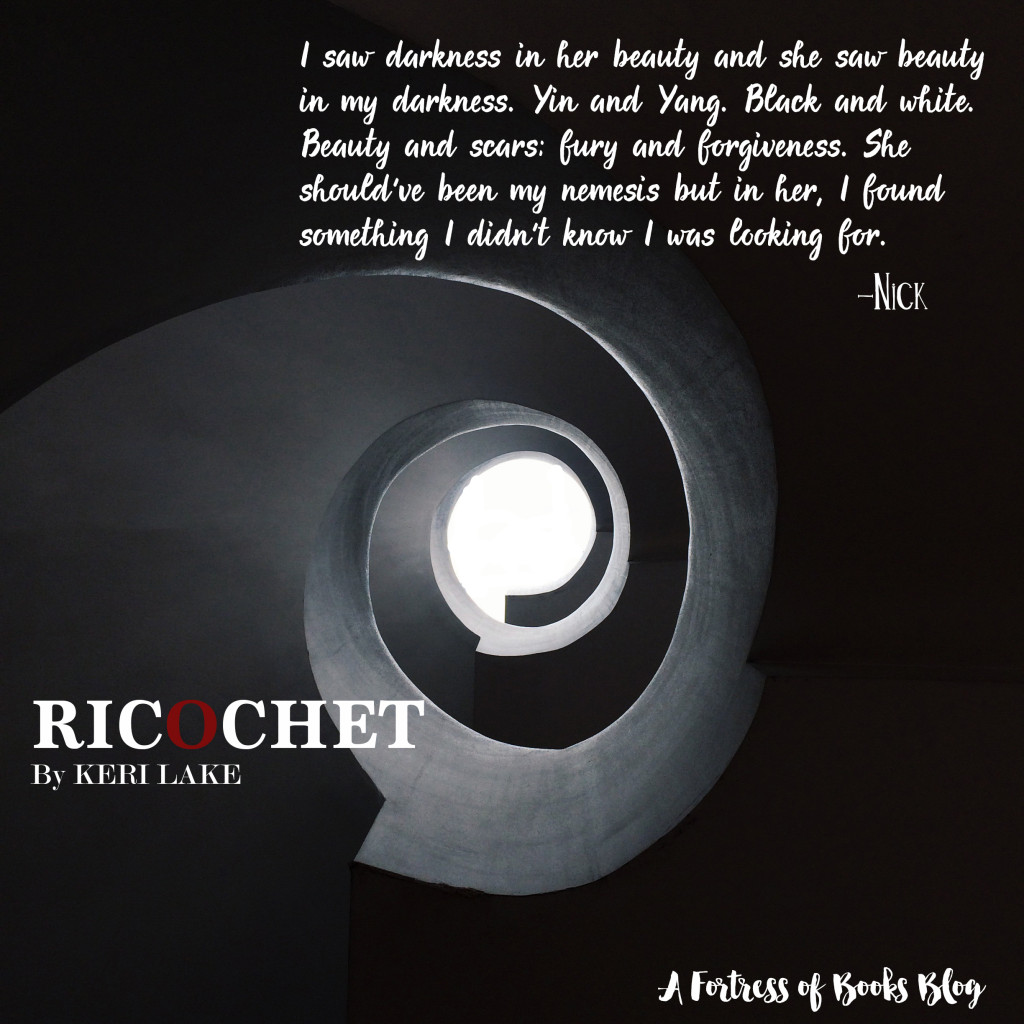 Nick Ryder was very interesting, his relentless pursuit of revenge because of the vow he made to his dying wife and the man he is now was different to the guy that had it all, including a beautiful family. Aubree is a married woman, how her life actually is as heart breaking as Nick's story. She's a quite strong woman with a equally strong will power to have gone through so much and still have that fire burning inside of her. Nick's kidnapping his enemies wife leads him to experiencing things he never wanted to feel again especially not with her. They are both quite damaged and I think that made me enjoy them more, because of how they love and cared for each other even when knowing all the scars that they both carried.
I really loved them together and how they both were with each other, it was great to read the dynamic and the development of their relationship from the time when they first meet and how it ends.
Two broken halves, with jagged edges that seemed to fit together in some messed up way. -Aubree's internal monologue.
Random thoughts: I really liked the fact that how the author treated both his marriage and his current relationship in a balanced way, it didn't show that Nick loved one woman more than the other.
I guess I like dark romance they are like my thrillers/romantic suspense with a more erotic and edgier/twisted stuff.
I loved this book! And I hope Keri writes more dark contemporaries cause was awesome. If you still have not read read any of her books, I suggest you get on with it and if you like PNR do try her Sons of Wrath series. Happy Reading everyone!
P.s Also excuse the picture/teaser, I finally got photoshop alas I need a lot of practice for which I don't have time for right now.
Giveaway
Bonus Giveaway:
Leave an honest review on Amazon or Barnes & Noble and enter the form below for a chance to win:
***SIGNED PAPERBACK COPY OF RICOCHET to the first 10 readers who submit a review
***SIGNED POST CARD to the first 50 people who submit a review
The first 50 submissions will receive an email containing a password for a chance to win a $50 Amazon gift card!
NOTE: You MUST submit the link to your review in this form to be eligible. Winners will NOT be drawn from the various sites (they will be chosen based on this form): REVIEW SUBMISSION FORM.
Playlist:
Related Posts