Release Day: Backfire by Keri Lake + Giveaway
Backfire
by
Keri Lake
Series:
Vigilantes #2
Published by
Self Published
on 9 June 2016
Genres:
Contemporary
,
Dark
,
Romance
,
Suspense
,
Thrillers
Pages:
442 pages
Buy on Amazon US
, 
Buy on Amazon UK
, 
Buy on itunes
, 
Buy on B&N
No matter how unbreakable he may seem, every man has a weakness.
A year ago, my home became a bloodstained crime scene. That night marked the beginning of my hell—the same night I was tortured by my enemies and tossed into an underground prison to die.
They failed. I survived.
Now that I'm free, only one motive burns in my soul: revenge.
Lucky for me, they think Jase Hawkins is dead. Maybe I am. I've got nothing but a cold, merciless rage, and Black Betty, the sharp steel blade that never leaves my side.
Then she drifts into my life.
Lucia wants answers—so much so, she's willing to fall into the darkness where my enemies lie in wait, to kill her for what she knows.
Or to take her for the depraved fantasies her body alone can rouse in a man's mind.
Me? I want her for the fire in her touch that feeds my addiction, forces me to feel what has become numb, but my appetite for bloodshed runs deeper than flesh.
For my own sanity, I've vowed to stay away from her. Because she's my only weakness, an obsession that leaves me craving more—one that could make even the most steadfast plan backfire.
Happy Release Day to BACKFIRE BY Keri Lake!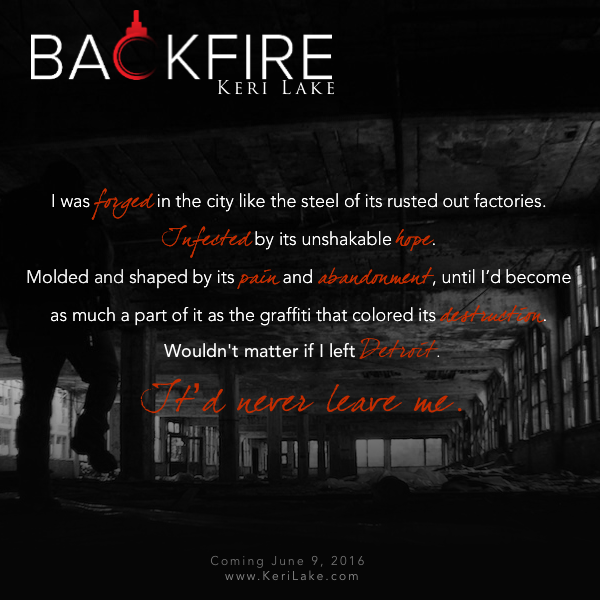 Playlist:

Trailer

Giveaway:
Prize #1: A $50 Amazon gift card AND a tote filled with Backfire swag!
Prize #2: Leave an honest review on Amazon or Barnes & Noble and enter the form below for a chance to win:
***SIGNED PAPERBACK COPY OF BACKFIRE (signed by author and cover model, Johnny Kane) to 5 readers who submit a review*
*You must submit review link in the Google doc. Winners will be randomly drawn from the Google doc list.
Google doc link: https://docs.google.com/forms/d/1gJ_YGlXrN1SDoRduSVQlAUvCewLfqcSOhWi6xzz6Hjw/viewform?usp=send_form

Related Posts