Review: Capture (EOC #3) by Penny Reid + Giveaway!
I received this book for free in exchange for an honest review. This does not affect my opinion of the book or the content of my review.
Capture
by
Penny Reid
Series:
Elements of Chemistry #2
Published by
Cipher-Naught
on May 16th 2015
Genres:
Contemporary
,
Fiction
,
New Adult
,
Romance
,
Romantic Comedy
Format:
eARC
Source:
the Author

One week.
Manhattan apartment.
Super-hot ex-boyfriend.
…What's the worst that could happen?
It's been nine months since Kaitlyn Parker has seen or heard from Martin Sandeke—nine months and five stages of matter. She's lived through the worst of first-love heartbreak, and is most certainly stronger (and less likely to hide in science cabinets) than ever before.
But now Martin is back. And he wants to be friends. But he's sending mixed signals to the Bunsen burner in Kaitlyn's pants.
Will Martin re-capture Kaitlyn's heart? Can Kaitlyn and Martin ever be just friends? Or, despite an abundance of chemistry, are some bonds just too unstable to endure?
Buy Links: Amazon US | Amazon UK | Kobo | iBooks | B&N
Elements of Chemistry: CAPTURE is the third part in a three part series; it is 70k words.
Part 1 (ATTRACTION) released April 9, 2015
Part 2 (HEAT) released April 30, 2015.
Part 3 (CAPTURE) will be released May 16, 2015.
Review
Rating ~3.75- 4 stars.
This is the review of Part 3: Capture from the three part book called Elements of Chemistry. It is the story of Kaitlyn Parker and her Lab partner Martin Sandeke. This book starts off from the cliffhanger from the last book you know where everything went to hell and I wanted to scream in frustration.
I've kept this short and spoiler free since it's the last book in the series (p.s it's also kind of all over the place).
Kaitlyn Parker is the girl, who doesn't like standing out. Martin Sandeke on the other hand is the golden (bad) boy, is that a thing? I don't know, if it isn't it should be. He's the campus hottest bachelor and Kaitlyn thinks she's nothing special. Though I'm sure me, martin and everyone else who gets to know her disagrees.
This book takes place 9 months after the last book, everything has changed.
Kaitlyn has changed her major from chemical engineering to music. She's finally being open about what she wants, trying new things, she's in a band and even though the last few months have been brutal on her; she matured. She's happy and the blight in the happy hour is the man she was/is in love with.
Martin left university to work on his investment project in New York and it seems he got what he wanted.  Well, apart from Kaitlyn that is.
Martin and Kaitlyn meet on one of Kaitlyn's band performances and it seems like Martin wants Kaitlyn to be his friend, the friend who told him she was always going to be there for him, no matter what. And Kaitlyn is Kaitlyn she wants to help, she wants to be his friend, to this guy that has no one to talk to and understand or care about him.
So Kaitlyn and Martin try to be friends, where Kaitlyn pretends she's ok with thinking he might be dating someone, didn't like her anymore while she was stupid in love with him and Martin tries to make Kaitlyn see (unsuccessfully, I might add) that he's not over her but as we know Kaitlyn can be completely oblivious to what is going around her.
I did love them together, they make each other so much more. They are both very smart and wonderful in their own way but their being together, brings out the best, e.g. Martin tries to be not be a huge Jerk-Face and Kaitlyn is more open to feeling and saying what she's feeling than hiding.
There were a couple of parallel and references made to the other books in the series which I found sweet and I suppose as nostalgic as Martin and Kaitlyn did.
Random Quote that I liked: Kaitlyn: 'Love, I decided, is being a sidekick.'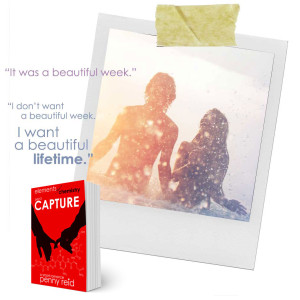 While I enjoyed the book, it was just different than the others in the series; more serious and had more angst than the others. I missed the humor from the other two books in the series. But I'm happy that Martin and Kaitlyn finally found their happily ever after.
Quibbles: View Spoiler »Martin, I mean the guy has been in love with Kaitlyn at the end of the book maybe about two years? Anyways I just didn't understand why he left it so long (9 months) to just talk to Kaitlyn, just tell her how he felt and what he did…he took the step when Kaitlyn told him to in the last book so why just not tell her what he planned to do even after what had happened at the end of the last book, since he said you had fight for what you want, why didn't he? I mean Kaitlyn didn't want to deal with the pain and was ignoring everything but Martin had months to say even 'Hi' to her but he never did….it just bugged me. Another issue I had was Kaitlyn and Martin were both in their early twenties but this book felt a lot more adult like they were in their late twenties to mid thirties. Lastly, I don't know but the conversations that they had in the later half of the book could have easily happened while Kaitlyn was staying with him in his apartment. « Hide Spoiler
I'm looking forward to reading about Abrams book, he seems interesting.
Overall, it was great end to a wonderful series. I love Martin and Kaitlyn together. They are so unique and especial which made reading this very bittersweet. Happy Reading!
Giveaway
Related Posts