Blog barrage: Hunted by a Jaguar by Felicity Heaton + 2 Giveaways!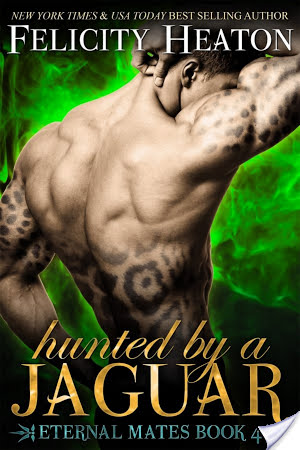 Hunted by a Jaguar
by
Felicity Heaton
Series:
Eternal Mates #4
Published by
Felicity Heaton
on January 6th 2015
Genres:
Fantasy
,
Fiction
,
Paranormal
,
Romance
Pages:
298
A jaguar shifter with a dark secret, Kyter has spent his entire life running from his demons. When a tragedy takes him back to his pride's village, he is set on a path of vengeance that will see him collide with the terrible ghosts of his past and a beautiful vision of his future.
Iolanthe deals in finding artefacts for discerning clients, but this time her client is one of the deadliest men in Hell and her mission has the highest stakes imaginable. Failure is not an option when your life is on the line, but things take a dangerous turn when she crosses paths with a handsome and mysterious male on the hunt for the same artefact—a male who declares she is his eternal mate.
Can Iolanthe resist Kyter's wicked allure and find the artefact before he does? Can Kyter face his demons and win the heart of his fated female? Or will this deadly game of cat and mouse claim both of their lives?
Available from Amazon Kindle, Kobo Books, Barnes and Noble Nook, Apple iBooks stores and other retailers. Also available in paperback. Find the links to your preferred retailer at: http://www.felicityheaton.co.uk/hunted-by-a-jaguar-paranormal-romance-novel.php
Hunted by a Jaguar, the fourth book in New York Times best-seller Felicity Heaton's hot paranormal romance series, Eternal Mates, is now available in ebook and paperback. To celebrate the release, she's holding a FANTASTIC GIVEAWAY at her website and sharing sneak peeks of the book.
To enter the Hunted by a Jaguar international giveaway (ends January 18th) and be in with a shot of winning a $75, $50 or $25 gift certificate at her website, where you can also download a 7 chapter sample of the novel: http://www.felicityheaton.co.uk/hunted-by-a-jaguar-paranormal-romance-novel.php. And Enter my giveaway at the end of the post (ends January 19th)
Excerpt
Iolanthe appeared at the edge of the ruins and couldn't stop herself from looking back. She couldn't see the male, but she could feel him, and she knew he would be coming for her. She cursed him for wanting what she was after. He couldn't have it. She needed it. Fernandez wasn't the sort of male who changed his mind once he had set it on something. He wanted the item and she had promised to deliver it, and she meant to keep that promise.
She stepped forwards to leave but hesitated, looking back again.
She wasn't sure what Kyter was, other than irritating and too handsome for his own good. She had tried several times to piece together all the clues he had given to her about his breed, but she had failed to draw a solid conclusion. The evidence was too scattered. She couldn't scent or sense it on him either.
He was against her though, and that made him an enemy.
She turned on her heel to face the ruins. Moonlight bathed it, turning the crumbling buildings cold pale blue.
He wouldn't leave the ruins. She knew that much. He seemed a rather stubborn man.
A rather gorgeous stubborn man.
She couldn't get his image out of her head, how he had looked at her with intense golden eyes that shimmered with banked heat and had held her immobile. Those eyes had spoken to her of desire, setting her blood alight. She had been too entranced by him before he had poured the water over his fair, softly spiked hair, and it had run over his sculpted cheekbones, down the fine slope of his straight nose, and rolled along the sharp strong line of his jaw. It had been impossible to stop herself from tracking those beads of moisture over his honed body, watching them as they darted down the hard square slabs of his pectorals and rippled over the powerful muscles of his abdomen, marking his golden skin.
Just thinking about it heated her blood and had her breathing harder, her heart beating quicker.
Iolanthe shoved him out of her mind and shut down her sudden flush of arousal, mastering herself once more.
She picked out the building where they had talked.
Her control slipped again.
She didn't like how she had felt in that moment when they had been against each other. She rubbed her hands over her bare arms and swallowed her racing heart. It unsettled her. She hadn't felt in control of herself. She had experienced an overwhelming compulsion to drop her lips to his throat and run her tongue over the slender red line that marked it, tasting his strong blood. It had an intoxicating scent. He had an intoxicating scent.
And a seriously powerful physique that had felt better beneath her hands than she had thought possible.
Iolanthe cleared her throat and pushed that thought and the images of him pouring water over his sandy hair from her head. They persisted, replaying again how the drops had trickled down his chest, curling around his left nipple before skating down the ridges of his stomach, luring her gaze downwards to the fine trail of fair hair that led down from the sensual dip of his navel to the waist of his black combats.
A need to follow each rivulet with her tongue and tease his golden skin had flooded her in that moment, driving her to cross the room to him, slam his back against the column closest to him, and obey that urge.
The irritating male had done it on purpose. His golden eyes had flashed with satisfaction when she had blushed. Egotistical and disgusting male. He had been playing her. That knowledge should have been enough to douse any desire she felt for him.
But his reaction to her when she had pinned him to the ground had felt real. As real as her reaction to him.
The feel of his hard body beneath hers, his heart hammering against her palm where it pressed into his chest, and his golden eyes locked with hers, flooded and dark with desire, had triggered an alarming response within her.
More than just a desire to taste his blood.
She had desired to let her feet slide from his broad chest, allowing them to land on either side of him, and settle herself against his body. She had hungered to feel his hands claiming her hips, drawing her down against the apex of his thighs.
She had burned with a need to kiss him.
Iolanthe spat out a black curse in her native tongue.
Perhaps he was a sorcerer.
She felt as if he had bewitched her and hijacked her body, bending it to his will and enslaving her.
She took a step back and then another. She would give him his victory tonight, but she would return tomorrow and hope that he had moved on. She didn't want to meet him again, but she had no choice but to risk it and return. She had to investigate the area where he had been.
Whether he knew it or not, he had chosen one of two spots that matched the riddle her demon contact had given her.
The fresco he had been admiring was of Minerva, Juno and Hercules. Minerva. The ancient Roman goddess of wisdom. She looked off to her right, towards the darkness that concealed Vesuvius.
Knowledge in the shadow of a volcano.
Perhaps she should have chosen to look in the most obvious spot first, but the one she had chosen to explore had been one she had recalled from her visits to this place before the city had been decimated. The room she had been digging in had another room beneath it. That chamber had once held a statue of Minerva on a small marble plinth.
She wanted to go back and finish digging, but just the thought of running into the male again had her backing away from the site. He was sinfully handsome and strong. She flushed as she recalled the feel of his hard muscles beneath her fingers and the way he had smiled at her, his sensual lips lopsided and a wicked twinkle in his eyes.
Iolanthe burned inside, aching to press her hands to his golden skin again and feel his heart pounding against them, speaking of his harnessed power.
She took another step back instead and shook her head. It had been too long since she had been with a man, but she wasn't about to sleep with the enemy.
She would return tomorrow night, when the ruins closed, and in the meantime she would build up her defences against the male and she would send a prayer to her gods.
A prayer that the male had moved on.
Giveaway (International) Ends 19 Jan
Win a eCopy of one of Eternal Mates book 1-3 (Winner's Choice)
Author Info
Felicity Heaton
Felicity Heaton is a New York Times and USA Today international best-selling author writing passionateparanormal romance books. In her books, she creates detailed worlds, twisting plots, mind-blowing action, intense emotion and heart-stopping romances with leading men that vary from dark deadly vampires to sexy shape-shifters andwicked werewolves, to sinful angels and hot demons! If you're a fan of paranormal romance authors Lara Adrian, J R Ward, Sherrilyn Kenyon, Gena Showalter and Christine Feehan then you will enjoy her books too.
If you love your angels a little dark and wicked, the best-selling Her Angel series is for you. If you like strong, powerful, and dark vampires then try the Vampires Realm series or any of her stand-alone vampire romance books. If you're looking for vampire romances that are sinful, passionate and erotic then try the best-selling Vampire Erotic Theatre series. Or if you prefer huge detailed worlds filled with hot-blooded alpha males in every species, from elves to demons to dragons to shifters and angels, then take a look at the new Eternal Mates series.
If you want to know more about Felicity, or want to get in touch, you can find her at the following places:
FelicityHeaton.co.uk | Facebook | Twitter | Pinterest | GoodReads | Amazon
Books in the Eternal Mates paranormal romance series:
You can read my review of it HERE .
Related Posts