ARC Review: Hunted by a Jaguar by Felicity Heaton
I received this book for free in exchange for an honest review. This does not affect my opinion of the book or the content of my review.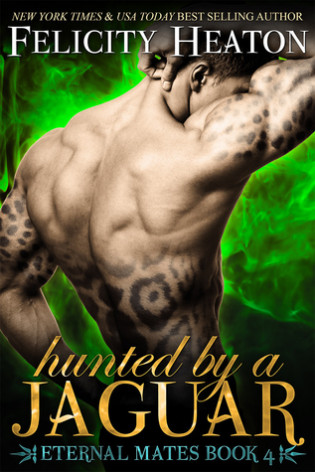 Hunted by a Jaguar
by
Felicity Heaton
Series:
Eternal Mates #4
on 6 Jan 2014
Genres:
Erotica
,
Fantasy
,
Paranormal
,
Romance
Pages:
302
Format:
eARC
Source:
the Author
Buy on Amazon US
, 
Buy on Amazon UK

A jaguar shifter with a dark secret, Kyter has spent his entire life running from his demons. When a tragedy takes him back to his pride's village, he is set on a path of vengeance that will see him collide with the terrible ghosts of his past and a beautiful vision of his future.
Iolanthe deals in finding artefacts for discerning clients, but this time her client is one of the deadliest men in Hell and her mission has the highest stakes imaginable. Failure is not an option when your life is on the line, but things take a dangerous turn when she crosses paths with a handsome and mysterious male on the hunt for the same artefact—a male who declares she is his eternal mate.
Can Iolanthe resist Kyter's wicked allure and find the artefact before he does? Can Kyter face his demons and win the heart of his fated female? Or will this deadly game of cat and mouse claim both of their lives?
Warning: Spoiler-y review ahead! 
Kyter is a half breed with a really strong jaguar side. He is the owner of the nightclub 'Underworld', first introduced in the Eternal Mates Book 1. His mother recent death has left him with just one motive to get revenge for her murder from the man responsible, who just happens to his demonic father. For which he needs the artifact.
He was an alpha in very way from the way he wants from his 'mine' behavior to the way he wants protect and fight for Iolanthe.  He was also quite amusing (at least to me).
Iolanthe is an elf. She is a mercenary, she finds various objects from different dimensions. She is also related to someone we love and would love to see in love View Spoiler »*cough blue cough*. I knew it from the moment she said she had a brother. « Hide Spoiler Now she has to find a special artifact for a powerful demon or lose her head.
Iolanthe was a strong, independent woman and a skilled warrior. She doesn't want a mate especially she after being on her own for thousand's of years.
Kyter and Iolanthe had great chemistry. I think they were good together. Their relationship starts off as adversaries as they are both looking for an artifact for reason which are equally important to them both which made for witty banter and slowly turns into more since the pushy cat doesn't leave her alone.
The book had a quite a few funny scenes (especially when Kyter finds out who Blue is to Iolanthe) , some sexy time, suspense and battles.  It also had cameo's from some of my favorite characters from Felicity's other series as well characters from the previous books in this series.
Quibbles: Lolanthe was not a young woman, she was more than 1000 years old and she can take care of herself so I didn't understand why in the second half she was treated like she didn't understand anything and become this well amateur at doing something, she had been doing for years. The warrior in her makes a comeback near the end of the book so that's something. I also didn't understand why knew she so less about other species such as jaguars and other times didn't understand some english words.
Overall, this was a great addition to the eternal mates series, I'm really enjoying it and cannot wait for the next book in the series. I also would really like to know what's the deal with that one particular vampire.He seems very interesting or maybe I just find psychos/blood thirsty interesting. Happy Reading!
Related Posts