Guest Post with Author Cynthia Sax + Giveaway
Sinful Rewards 7
by
Cynthia Sax
Series:
A Billionaires and Bikers Novella
Published by
Avon
on January 20th, 2015
Genres:
Contemporary
,
Erotica
,
Fiction
,
Romance
,
Urban
Bee Carter has been offered everything she has ever dreamed of—a caring, lasting relationship with a handsome, often charming billionaire; the permanent home she's never had but has always craved; and wealth to buy the designer fashions she loves, support her hard-working mother, and ensure her acceptance by Chicago's elite.
To obtain what she's desired for so long, she has to do only two things: Walk away from her best friend, a woman who is destined to betray her … and end her passionate nightly encounters with a certain tattooed biker, a former Marine who can never give her what she needs.
Her answer should be clear, but the heart has a way of complicating even the most straightforward decisions.
Author Info
Cynthia Sax lives in a world filled with magic and romance. Although her heroes may not always say, "I love you," they will do anything for the women they adore. They live passionately. They play hard. They love the same women forever. Cynthia has loved the same wonderful man forever. Her supportive hubby offers himself up to the joys and pains of research while they travel the world together, meeting fascinating people and finding inspiration in exotic places such as Istanbul, Bali, and Chicago.
Author Links:  Website | Facebook | Twitter| Goodreads
Biker Names
Do you have a nickname or a biker name or a military handle? I bet there's a story behind it, one that I'd love to hear. While our legal names are usually given at birth, our nicknames reflect our true personalities, who we are once our characters have been set.
One of my favorite nicknames is Broadzilla. I was given this by an ex-boyfriend, a man who is still a dear friend of mine. Both of us are Godzilla fans, the base for the name.
I was threatening him with death and dismemberment (in graphic detail as only a writer can) because he was being his usual lippy self. As I'm about half his size and about as threatening as a butterfly, my friend laughed, telling me and our group that I was a real Broadzilla. This nickname stuck.
In the future, when someone new called me Broadzilla, I knew they were connected to our group. It was as telling as a secret handshake.
Hawke, one of the heroes in Sinful Rewards, my sizzling hot contemporary erotic romance serial, leads a team of men who are both former military and current bikers. They all have biker names or military handles.
Mack, the big bald man Hawke puts in charge of protecting Bee in Sinful Rewards 7, gained his name because he's always seen with a knife (Mack The Knife – I'm singing that classic tune as I type this). When Dawg, Hawke's second in command, wants something, he's as tenacious as a dog with a bone. Demo, who we will meet in Sinful Rewards 8, likes to blow things up (demolition). Prick, Mack's good buddy, is ribbed about being not-so-nice. He's also short and constantly by Mack's side.
Bee, our heroine in Sinful Rewards, is aware that nicknames denote belonging, something that is very important to her. The members of Hawke's team have nicknames. She doesn't yet have one, her lack of a nickname signaling that she doesn't yet fit into the group. Will she ever be given one? Will she ever truly belong?
I know you have at least one nickname. What is it? How did you 'earn' this nickname? Do you like it or tolerate it?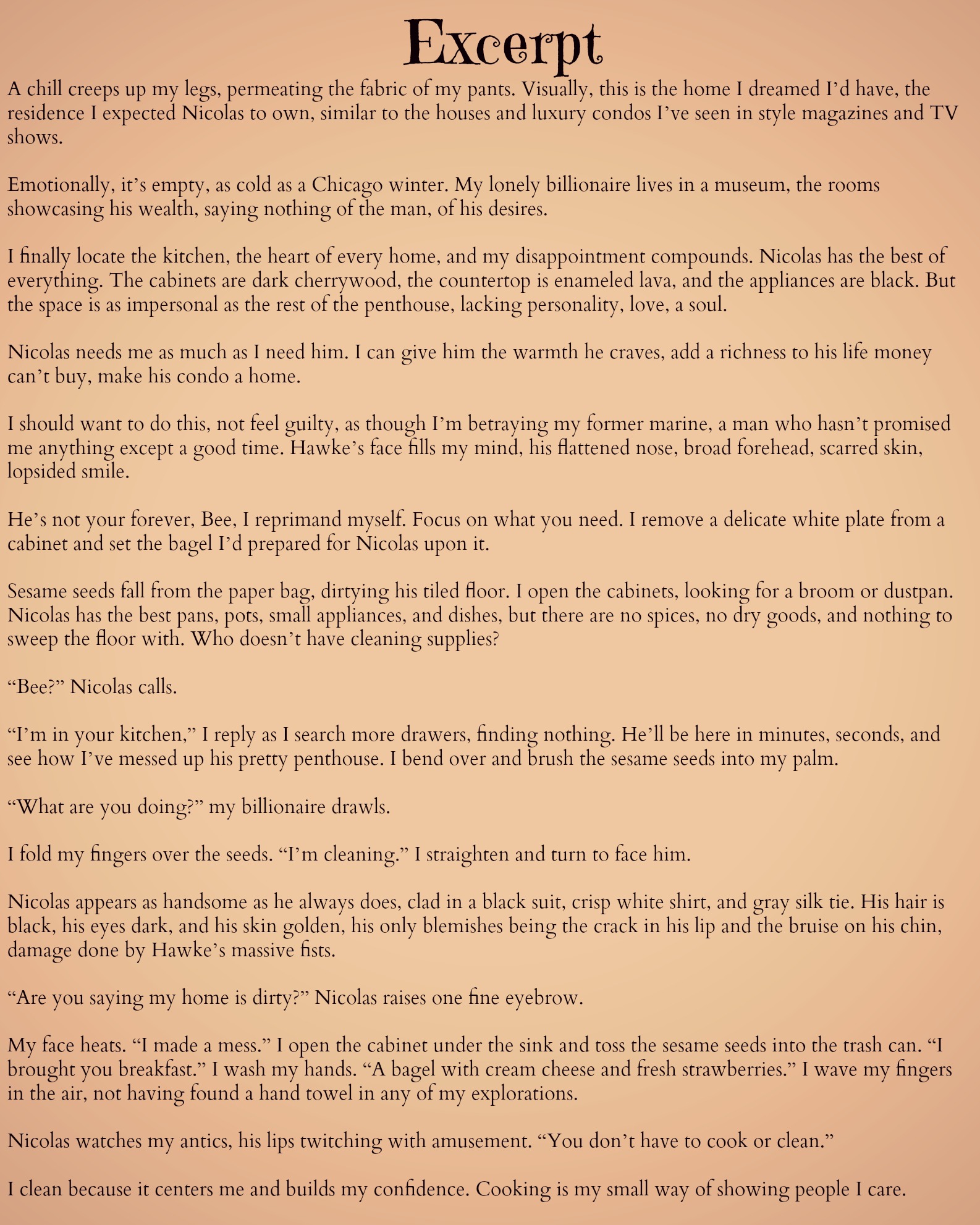 Rafflecopter Giveaway (Digital Bundle of SINFUL REWARDS Books 1-3)
a Rafflecopter giveaway
Sinful Rewards Series Buy Links
Sinful Rewards 1 Buy Links:  Amazon | Barnes | iTunes | ARe | Google
Sinful Rewards 2 Buy Links:  Amazon | Barnes | iTunes | ARe | Google 
Sinful Rewards 3 Buy Links:  Amazon | Barnes | iTunes | ARe | Google  
Sinful Rewards 4 Buy Links:  Amazon | Barnes | iTunes | ARe | Google  
Sinful Rewards 5 Buy Links:  Amazon | Barnes | iTunes | ARe 
Sinful Rewards 6 Buy Links:  Amazon | Barnes | iTunes
Related Posts