Review: Playing For Keeps by Jill Shalvis
I received this book for free in exchange for an honest review. This does not affect my opinion of the book or the content of my review.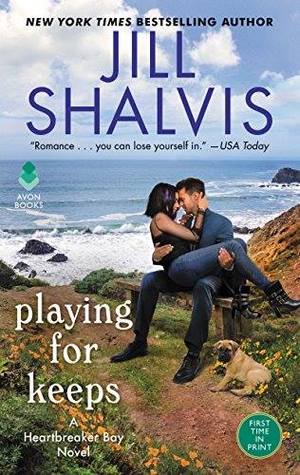 Playing for Keeps
by
Jill Shalvis
Series:
Heartbreaker Bay #7
Published by
Avon
on 22nd January 2019
Genres:
Contemporary Romance
Pages:
384
Format:
eARC
Source:
Edelweiss
Buy on Amazon US
, 
Buy on Amazon UK


If you're planning on falling in love…

When it comes to the confident, charismatic Caleb Parker, Sadie Lane feels the spark—the kind that comes from rubbing each other the wrong way. She's a tattoo artist, he's a straight-laced mogul. But after they accidentally co-rescue an abandoned dog from a storm, Sadie sees a vulnerable side to the seemingly invincible hottie.

you'd better be sure…

Caleb doesn't do emotions. Growing up the underdog, he's learned the hard way to build up an impenetrable wall. Perfect for business. Disastrous for relationships. He's never worried about it before—not until he finally gets behind Sadie's armor and begins to fall.

… someone is there to catch you.

Both guarded and vulnerable, Sadie and Caleb are complete opposites. Or are they? Shocked at their undeniable connection, can they ever admit to wanting more? That all depends on what they're each willing to risk.
Please bear with me, this is my first review after months of break from blogging so it might be all over the place and what the reviews used to be. 
It has been some times since I read a Jill shalvis book (in actuality probably just months but it felts like ages)…One thing is that I really adore Jill shalvis's writing and her characters and this is coming from someone who isn't a fan of contemporary romance ( I have loads in the past few years more than my preferred genre but its still just not of my favourites) so its says a lot about her that even from the start I have loved her writing. 
This is the story of Caleb and Sadie, we met a few books a go, we have seen their friendship with other characters and I really wanted to see what Jill Shalvis had in store for them and us. 
Sadie and Caleb have been aware of each other for some time now. Sadie is a tattoo and make up artist, she seems to be very tough and standoffish to people. Caleb on the other hand is the genius multimillionaire that may seem like that he has never had a bad day in his life which couldn't be further from the truth. 
A dog named lollipop brings Caleb and Sadie together, both are immediately taken with Lollipop and end up being doggy parents and sharing Lollipop. I really adored them with lollipop, also often dogs/children are used a plot point and then just sort of exist in the background….I liked that it wasn't the care here. I loved their interactions with Lollipop, they were just so sweet and in love with this three legged dog. 
We find out about both their childhoods, we see why they are so guarded and private and though they may seem like they couldn't be more opposite to each other…they do share similarities as well. It was lovely seeing their journey from the misconceptions they had of each other (mostly Sadie) and see each other for the person the other actual was. 
Onto romance, I loved them to together, it took some time and patience and we get to see them open to each other. Get each other to open up and let the other person love them. I adored them together, minor quibbles aside (one of them being Sadie's mother who I wanted to gbh to) I really enjoyed the characters, the book and their love and eventual HEA. This book is different from other books in the series, its deeper and deals with more complicated issues (as well as individuals), it does have humour and little light hearted moments from making it too serious which just adds more to their relationship and the book.
It was also really nice seeing the other couples from the series!
Related Posts