short review: Out of Bounds by Lauren Blakely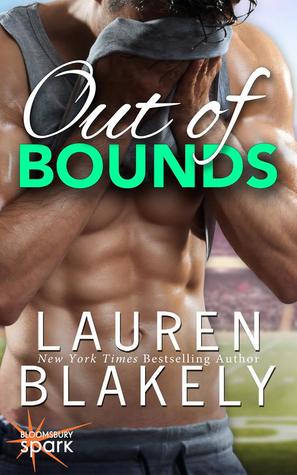 Out of Bounds
by
Lauren Blakely
Published by
Bloomsbury Publishing USA
on November 22nd 2016
Genres:
Fiction
,
Romance
,
New Adult
,
Contemporary
,
General
Pages:
150
Buy on Amazon US
, 
Buy on Amazon UK
, 
Buy on Kobo
, 
Buy on itunes
The first rule of football--don't screw with a streak.
My career is finally looking up, and I'm leading a new pro team down the field every Sunday. No way will I mess with that. But when I meet the most stunning and captivating woman I've ever seen, I tell myself one night will have to be enough.
But it's not. And now I can't get her out of my mind. Even when I'm playing. Even when I need to focus. Even when I'm on the hottest streak of my life.
And it turns out, she's not just some random woman I met. She works for the team. My team.
***
I only have one goal this season--do my part as the team's lawyer to keep them out of trouble. Help rebuild their reputation on and off the field. There's no room for error and certainly no room for a secret tryst with a player . . . even if he's the quarterback.
Right?
Rating~ 3.25 stars
Dani Paige is a corporate lawyer for the footabll team "Los Angeles Knights" and Drew Erickson is the new quaterback joining said football team. Dani and Drew meet on a beach where Dani doesn't tell Drew that she recognizes him as a football player. They spend an evening together, exchanging flirty banter and hot looks but the evening ends with Drew leaving when an urgent calls comes through. They meet again during a fundraiser party and sparks fly.
Their relationship was cute and sweet. As usual with Lauren Blakley, the couple had good chemistry, banter and some sweet moments'.  They were both interesting characters. It was also nice having a quarterback that didn't have a revolving door in his bedroom. Dani and Drew both want to be together but their work makes their relationship forbidden and while it's getting increasing difficult for both of them to resist their attraction and feelings; the question is, is it worth risking their careers for?
Quibbles: View Spoiler »I didn't quite understand why the relationship was forbidden because they are not actually both in the "team", she's wasn't his manager etc either so??? Also Drew's behaviour at the climax of the story was baffling, it was like his character did a 180 degree turn. « Hide Spoiler
Overall, I enjoyed it but I felt like something was missing from making it a great a read. 
Related Posts