On Tour: Dangerous by Patricia Rosemoor + Giveaway!
I received this book for free in exchange for an honest review. This does not affect my opinion of the book or the content of my review.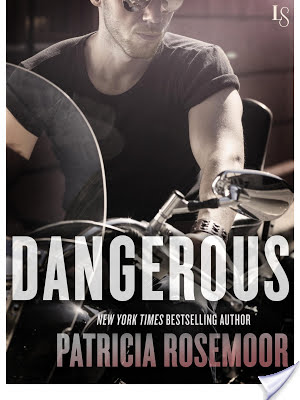 Dangerous
by
Patricia Rosemoor
Published by
Random House Publishing Group
on January 6th 2015
Genres:
Contemporary
,
Contemporary Women
,
Fiction
,
Romance
,
Suspense
Pages:
240
Format:
eARC
Source:
Netgalley
Fans of Linda Howard will love Dangerous, the story of a driven female cop who teams up with an irresistible ex-con to bring a killer to justice—and discovers that breaking the rules is hotter on the wrong side of the law.  
Chicago homicide detective Camille Martell will stop at nothing to track down "Angel," a sexual predator who has already butchered two young victims—even after her off-the-books investigation leads to her suspension. But when her relentless attempts to contact Angel online puts her teenage neighbor in mortal danger, Camille's worst fears are realized. Panicked and overwhelmed with guilt, Camille needs help—even if it comes from the one man she swore she'd do anything to forget.  
After serving time for a trumped-up charge, private investigator Drago Nance doesn't trust cops. Nothing will change that, not even the steamy weekend with Camille that burned itself into his memory. But with an innocent girl's life at stake, Drago can't ignore the need in Camille's eyes, or the heated promise in her touch. He agrees to help—if she's willing to play by his rules. He just never suspected that seducing his partner could be just as thrilling as chasing a madman.
Review
Camille Martel is first and foremost a cop. Her current case involves tracking down a sexual predator going with alias of 'Angel'. When the case turns difficult, Camille goes to her former mentor to help. 
Drago Nance ex-con turned PI is the brother of Camille's mentor. He doesn't trust cops but he does believe in justice which is why agrees to help Camille with the 'Angel's case'.
Camille and Drago have a history, they shared a weekend fling four years ago that ended badly. Camille and Drago are complete opposites from the way they look at things to how they see each other. While Camille sees things in right or wrong, Drago doesn't. Camille did think that maybe they had a shot together years ago but Drago's silence made her upset and angry. Now she doesn't know how to deal with the feelings that Drago invokes in her, they both think that it would never work out and they can't be together which is what they both really want.   
What I liked: I do like murder mysteries/romantic suspense book even those that don't have a lot of romance in it just cause the mystery is enough to keep me interested. So I enjoyed the 'Who is Angel?' aspect of the book.  
Quibbles: Camille I found her annoying at times, she was hypocritical at times and I didn't enjoy the POV in flashbacks.  
Overall, it ended up being a decent read with a good murder/suspense aspect. 
Rafflecopter Giveaway ($25.00 eGift Card to Choice Book Seller and Loveswept Mug & Tote)
a Rafflecopter giveaway
Author Info
With 90 novels and more than seven million books in print, Patricia Rosemoor is fascinated with "dangerous love" – combining romance with danger. She has written various forms of romantic and paranormal romantic thrillers, even romantic horror, bringing a different mix of thrills and chills to her stories.
Patricia has won a Golden Heart from Romance Writers of America and two Reviewers Choice and two Career Achievement Awards from RT BOOKreviews, and in her other life, she teaches Popular Fiction and Suspense-Thriller Writing, credit courses at Columbia College Chicago. Three of her Columbia grad students and two students from other venues are now published in novel-length fiction.