Review and Excerpt: Rifts and Refrains by Devney Perry
I received this book for free in exchange for an honest review. This does not affect my opinion of the book or the content of my review.
Rifts and Refrains
by
Devney Perry
Series:
Hush Note #2
Published by
Devney Perry LLC
on 29th September 2020
Pages:
288
Format:
eBook
Source:
the Author
Buy on Amazon US
, 
Buy on Amazon UK
, 
Buy on Kobo
, 
Buy on itunes
, 
Buy on B&N

From the moment Quinn Montgomery sat behind her first snare and cymbal set, she was destined for fame and glory. As Hush Note's infamous female drummer, she sets the rhythm for the band's chart-toppings hits. When people tap their feet to their music, it's to her pulse.
Quinn is content to live in a world away from her family and the cage of her youth. Her only regret is leaving Graham Hayes behind without a goodbye. No matter how many sold-out stadiums she plays, no matter how many crowds sing her songs, his voice haunts her when the music stops.
When a family tragedy forces her to return home to Montana, she plans to leave the second she's paid her respects. But seeing Graham again turns her life upside down. As a boy, he wasn't able to make her stay. As a man, he might be her future.
If they can mend their rifts and find solace in the refrains.
Almost 4 stars.
The second book in the Hush Note series brings us the the story of the drummer, Quinn Montgomery. She didn't leave a particularly good impression in the last book so I was interested to see what was the reasoning behind her behaviour.
18 years old Quinn left her small town life. She hasn't been back since, has had no contact with anyone from her family/town apart from her Nan. Sadly her Nan has now passed away and Quinn is there for her funeral. Coming back home, brings back memories and they aren't great. Of course the first person she meets from her previous life, just happens to be the boy she loved and left, Graham Hayes.
Quinn's family and familial relationship takes a lot of the plot in the story. Her family was conservative, her father being a pastor and all. She didn't fit and She left to pursue her dreams nine years ago. She comes across as her tough and bitchy but isn't like that at all.
Wasn't really a huge fan of Graham at the start. I also didn't really like her family, especially at the start and you really feel for Quinn. I hated seeing other people treat Quinn badly, we are told slowly of the reasoning behind her decisions.
Rifts and Refrains is a second chance small town romance with the added single father hero. There is a lot of hurt and pain on both sides. It also doesn't help that Graham is everywhere, he's part of her family. Whereas she hasn't been for so long. They have oodles of chemsitry, Graham's son Colin is adorable. It took some time for them to put their past hurts and open up to each other again. They never stopped loving each other but this just contributed to more hurtful feelings, stubbornness and yearning. We do go through some rollercoaster of emotions in this. But ultimately Graham and Quinn's romance is sweet, they were sweet together!
We also get cameo's from the other band members, seeing their found family/friends moments were adorable. can't wait to read Nixon's story!
Overall, Rifts and Refrains is slightly angsty, messy and enjoyable slow burn second chance romance.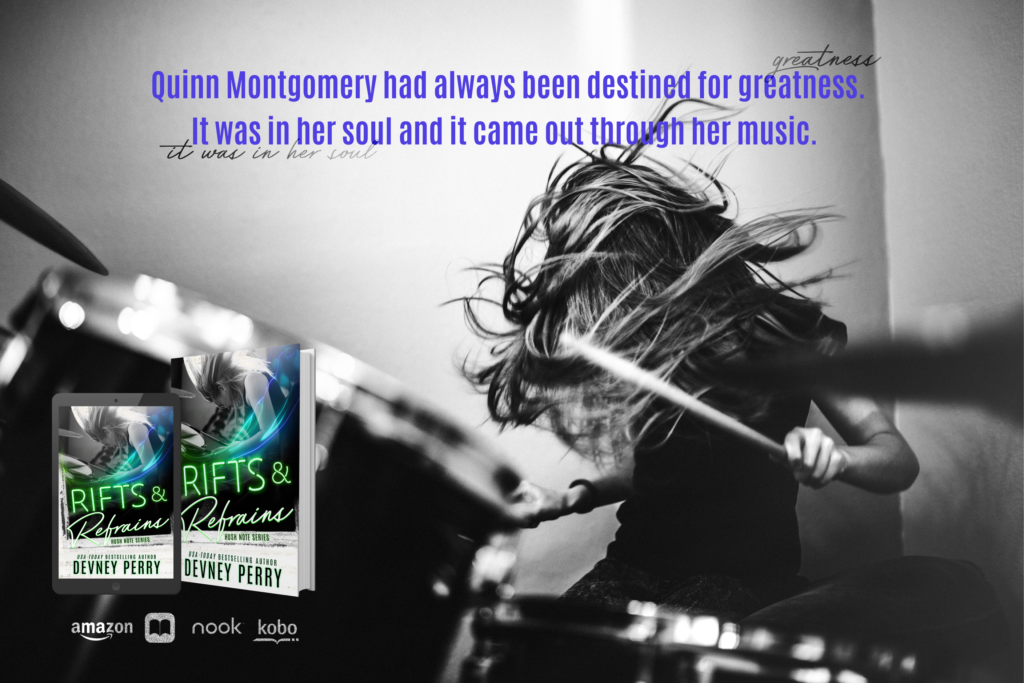 She took one step before stopping. A smile tugged at the corner of her mouth, the same corner I'd kissed earlier, and I fought the urge to stand and capture that mouth again. Her smile broadened, though there was pain in her eyes.
"Colin is a cool kid. You're a good dad, Graham. I always knew you would be."
She might as well have stabbed me in the chest.
"Thanks," I said, watching as she walked away.
Fuck me.
When had I never loved that woman?
Maybe that kiss had woken me up. Maybe it had made me realize how goddamn lonely I'd been without her. I had Colin, but there was a corner of my heart that would always belong to Quinn.
I should have followed her nine years ago.
Because now it was too late.
Related Posts