ARC Review: The Gypsy King by Devney Perry
I received this book for free in exchange for an honest review. This does not affect my opinion of the book or the content of my review.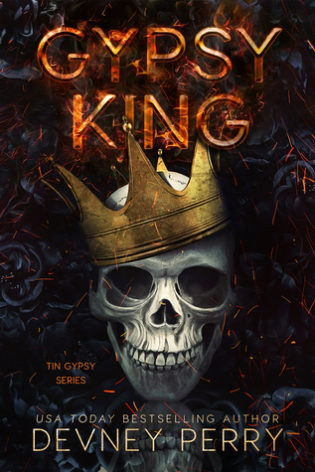 Gypsy King
by
Devney Perry
Series:
Tin Gypsy #1
Published by
Devney Perry LLC
on 29th October 2019
Genres:
Contemporary Romance
,
Romantic Suspense
Pages:
404
Format:
eARC
Source:
the Author
Buy on Amazon US
, 
Buy on Amazon UK
The former Tin Gypsy motorcycle club has everyone in Clifton Forge, Montana convinced they've locked their clubhouse doors and ripped off their patches. Everyone but Bryce Ryan. There's more happening at the club's garage than muscle car restorations and Harley rebuilds. Her instincts are screaming there's a story—one she's going to tell.
As the new owner of the small town's newspaper, Bryce is hungry for more than birth announcements and obituaries. When a woman is brutally killed and all signs point to the Tin Gypsies, Bryce is determined to expose the club and their leader, Kingston "Dash" Slater, as murderers.
Bryce bests Dash match after match, disappointed her rugged and handsome opponent turns out to be an underwhelming adversary. Secrets are exposed. Truths defeat lies. Bryce is poised to win this battle in a landslide.
Then Dash breaks all the rules and tips the scales.
One kiss, and she's fighting to save more than just her story. She's fighting to save her heart from the Gypsy King.
Rating: 3.5+ stars (Almost but not quite 4 stars)
Lets do this again, I already wrote a review for this but unfortunately I broke my laptop so I couldn't use it (its still broken so :///) which is why the reviews are late, I was hoping it would be fixed and I wouldn't have to rewrite them but 🙁 anyways, I'll update this review with the original one later on.
Whats its about: It's about Bryce Ryan, the reporter we've met in the outpost. She's smart, beautiful and strong. She left her tv anchor person job to come work with her father at their local newspaper. Bryce has always wanted to be a reporter, she longs to do investigative journalism and her curiosity and instincts are questioning the Tin gypsy motorcycle club's recent closing down. Which leads to Kingston "Dash" Slater, the former leader of the club and now just the owner of an auto shop. Dash has left behind the club and all its illegal dealing and he's much happier for it. This all changes of course when a murder charge against his father is bought up and Bryce is there to make things more complicated for him. Now the only way to get answer might be to work together.
What I liked: Bryce, I really liked her, I wanted her to get her own story when I read the outpost so I was very excited to read this and she didn't disappoint. Bryce along with her strong side, also really longs for a family and her wanting to change her life from the lonely woman, away from her family and not doing what she really desired took some guts. Dash, I liked him as well. He had decided to change the clubs ways and to go the more legal way. I liked the mystery aspect, its not as big or twisted as I generally read in my romantic suspense but it made the book more interesting. I liked the chemistry Bryce and Dash had, it was pretty great. I always enjoy a bit of reluctant feelings about by enemy stories.  I like the writing, the characters and the general plot line.
What I didn't like: Overall if you look at the amount of time Bryce and Dash actually have spend together in the months following their first meeting, its only a couple of days…nearly not long enough for them to fall in love when all they did was focus on finding the culprit or having sex so the conclusion of the feelings felt rushed. I was hoping for more development in their relationship. I didn't really understand why they didn't go to the police in the later bit in the book, it kinda just felt like it was done for dramas sake but it didn't make sense? Along with 1-2 more inconsistencies in the book, along with certain things not making sense and my feeling very confused after finishing it. I'm sure we will continue on in the next book but it just felt very baffling to not get a proper answer. The last few chapters just felt rushed and made the characters made some decisions that I felt they wouldn't have in the earlier ones.
Overall, I liked the book, its just not my favourite from Devney Perry. I generally really like the characters and the storylines and feel satisfaction after finishing Devney Perry's books which I suppose contributes to me rating this lower. I'm really looking forward to Isaiah and Genevieve's book which releases next year.
Related Posts