Review: Loverboy by Sarina Bowen
I received this book for free in exchange for an honest review. This does not affect my opinion of the book or the content of my review.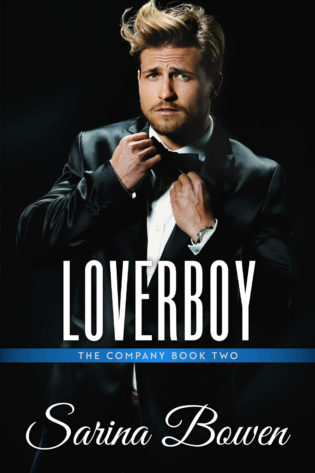 Loverboy
by
Sarina Bowen
Series:
The Company #2
Published by
Tuxbury Publishing LLC
on 2020-12
Genres:
Contemporary Romance
,
Romantic Suspense
Pages:
280
Format:
eARC
Source:
Author
Buy on Amazon US
, 
Buy on Amazon UK
, 
Buy on Audible

Secrets, desires, and exquisite pie. It's all in a day's work at The Company.
Growing up, I was the rough guy from the wrong neighborhood who couldn't catch a break. Posy was the pampered girl I tried to impress. But all she gave me was a single kiss before I had to skip town.
Now I'm back, and the tables are turned. Posy runs a struggling pie shop. I'm the VP of a secretive billion-dollar security company.
Not that I can tell her.
There's a murderer on the loose in New York, and he seems to spend a lot of time at Posy's shop. It's my job to identify him before he can harm a hair on her pretty head.
Going undercover as Posy's new barista wasn't my idea. I don't even drink coffee. But now I have to call her "boss," and do everything the curvy perfectionist asks of me. I'd forgotten how much we infuriate each other, and that she somehow fills me with both irritation and desire in the same breath.
There's nobody more skilled at stealth ops than me. I can bring this killer down. Right after I take a cold shower. And just as soon as I figure out how to make a skinny peppermint latte with milk poured in the shape of a kitten...
In the second book of the light romantic suspense book series, The Company, we get Gunner and Posy's story.
Gunnar is the VP of a private security company called 'the company' ?? If you've read the first book in the series, you might be familiar with the concept of the company but its revisited here for anyone who doesn't know. His current undercover assignment leads him back to NYC, which he hates but when he hears about his former crush/nemesis being in trouble and he agrees. Posy has recently opened a coffee/pie shop, ditched her husband and is in a dire need for a barista since her last two employees fell in love and decided to leave the city life. Enter one Gunnar, undercover barista who doesn't even drink coffee, kinda but not really hates Posy definitely feels betrayed by her though to investigate the cyber crime happening in Posy's shop.
I liked Gunnar from the get go, same with Posy. With their history and the inconvenient attraction, the work place romance of falling for your boss also added a fun element. There is suspense and intrigue especially the nifty gadgets but as said previously its pretty light and doesn't take the attention away from the romance. I liked Gunnar and Posy together, they were sweet, funny and adorable! Plus there is a bigger arc happening with the company that I'm looking forward to exploring in the next book and of course Max (the founder/boss of the company), I neeeed his book!
This is a second chance, with old misunderstandings, new secrets and opposite attracts romance book. Loverboy has, what I call traditional Sarina Bowen humour and her ability to make me love her characters and fall in love with their love. Anyone looking for a light suspense book with some delicious coffee and looking for some sweetness and banter in their romance will enjoy this one!
Related Posts