Review: Love on Beach Avenue by Jennifer Probst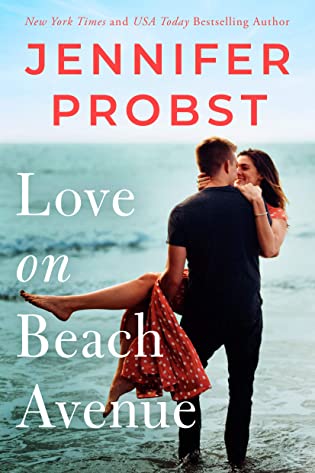 Love on Beach Avenue
by
Jennifer Probst
Published by
Montlake Romance
on 1st May 2020
Genres:
Contemporary Romance
,
Romantic Comedy
Pages:
315
Buy on Amazon
True love is in the details for the Jersey shore's premier wedding planner in this heart-swooning series about big dreams and happy endings from New York Times bestselling author Jennifer Probst.
Avery Sunshine might not have a soul mate of her own, but she still believes in happily ever after—for her clients. Making dreams come true is her business at Sunshine Bridal, which she runs with her two sisters. When her best friend announces her engagement, Avery is thrilled to take charge of the giddy bride-to-be's big day. Less thrilling? The arrogant and demanding man of honor.
Carter Ross's first instinct: call 911. He promised to always take care of his impulsive little sister, and he honors that vow. Even if it means taking over where he's sure Avery will fail. At best, she's unpredictable. At worst, if she's anything like the spitfire of a college girl he remembers, the main event could run wild.
With Avery and Carter wrestling for control, tempers heat up. So does the spark of attraction they're fighting with every kiss. As the wedding draws near, it's time to reconcile a rocky past and make a decision that could change everyone's lives. Because what they're rebelling against looks a lot like love.
I haven't written a review for a while yet or actually read a book on impulse in a while but I really enjoy Jennifer Probst's writing and her books so I had to give this a way.
Me throughout the book:
Avery fan no.1
President of the I hate Carter club
Premise: Avery, our heroine is a 1/3 of the owner of a wedding planner company that she runs with her 2 sisters. Her best friend Aly from University/college is getting married and needs her to do the wedding planning in 3 months and along with her brings her brother Carter, our hero to the town of Cape May. Who is there to get rid of Avery as the wedding planner support his sister but Avery and Carter have never gotten along.
Unfortunately, this one just didn't work for me. I'm glad Avery got her happy ending but I literally didn't care about Carter or his sister.
Carter starts of the book with disliking how Avery was with his sister when they were uni, they were best friends trynna have fun and hates her fun loving ways.
Cut to todays Avery, who is a workaholic and is very serious about her work.
What I liked:
-Avery
-The initial premise seemed so exciting, right up my alley. The blurb was calling to me honestly with the fact that it would be it would the reluctant giving in to passion and feelings and hate to love story.
Things I didn't like:
-Aly, Avery's bff and Carters sisters just asks Avery to plan her wedding (in a few months time at that). Since they are really close friends and stuff. APART from the fact Avery is not actually really part of the wedding, not as a brides maid, Carter is man of honour. She's not really even a guest, as we see later on during her actual wedding, its just job as usual for her…I really didn't understand them being bffs it made no difference to the book and nor did they seem close enough. She could have any client with an annoying brother ? Or any random not as close friend would have made as as sense but not made me feel annoyed at the secondary character
-Carter, sigh I truly don't understand. He starts off as this strict guy who wants to make everything go right with his sisters wedding cause in his mind Avery is still a college girl, and he's there to make sure nothing wild would have happen. Then suddenly, he's suggesting stuff that's more fun like going to clubs, gambling and stuff.
-Carter showing up Avery in everything she's doing as a part of her job. And his sister picks up everything he chooses, we later find out why (which made me even more bleh towards Aly) but the amount of frustration I felt because this random guy keeps showing up a woman whose done this job for years and her best friend who gave her wedding planner emails and messages of what she really wanted, all the while hiding what she really wanted ??
-It seemed from the moment that Carter came back, everything was just made to look Avery bad (and incompetent). Honestly felt my blood boiling, and it kept happening. It was just annoying and I should have just DNF'd then.
-Carter didn't really see Avery as someone good enough to plan her sisters wedding or think much of her really then cause she's good looking and all, he wants her…
I really didn't see a shift in his thinking where he actually thinks of her as an amazing woman she is.
-finally the lack of grovel, I wanted him to do something more. Just confessing his love isn't enough man, you were an ass to her almost the entire time, least you could do is some actual apologising, especially because he wanted her to try for long distance and then he was the one who was pulling away and made it seem like it was Avery's fault. Honestly would have been fine seeing them break up and seeing Avery with a different guy who deserved her in the epilogue.
—–
I'm sure other people will enjoy Love on Beach Avenue but it wasn't for me. Unsure if I will give her sister's books a try at the moment cause they also didn't leave a very good impression on me.
Related Posts