Review: Somehow, Some way by Jennifer Probst
I received this book for free in exchange for an honest review. This does not affect my opinion of the book or the content of my review.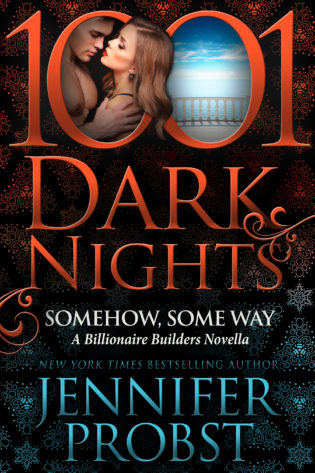 Somehow, Some Way
by
Jennifer Probst
Series:
Billionaire Builders #2.5
Published by
Evil Eye Concepts, Incorporated
on May 30, 2017
Genres:
Anthologies (multiple authors)
,
Contemporary
,
Romance
Pages:
120 pages
Format:
eARC
Source:
the publisher
Buy on Amazon US
, 
Buy on Amazon UK

Bolivar Randy Heart (aka Brady) knows exactly what he wants next in life: the perfect wife. Raised in a strict traditional family household, he seeks a woman who is sweet, conservative, and eager to settle down. With his well-known protective and dominant streak, he needs a woman to offer him balance in a world where he relishes control.
Too bad the newly hired, gorgeous, rehab addict is blasting through all his preconceptions and wrecking his ideals…one nail at a time…
Charlotte Flowers knows who she is and refuses to apologize. Growing up poor made her appreciate the simple things in life, and her new job at Pierce Brothers Construction is perfect to help her carve out a career in renovating houses. When an opportunity to transform a dilapidated house in a dangerous neighborhood pops up, she goes in full throttle. Unfortunately, she's forced to work with the firm's sexy architect who's driving her crazy with his archaic views on women.
Too bad he's beginning to tempt her to take a chance on more than just work…one stroke at a time…
Somehow, some way, they need to work together to renovate a house without killing each other…or surrendering to the white-hot chemistry knocking at the front door.
Who doesn't like enemies to lovers especially when it's about co-workers who can't stand each other?!
Charlotte Grayson loves her job, renovating and working for the Pierce Brothers Construction is simply put a dream come true for her and she also loves the people she works for all apart from the giant uptight architect, Brady.
Brady Heart likes things in order, he isn't as enamoured with Charlotte as the rest of the brothers are. He prefers structure and doing things a certain and his ideal wife happens to be a complete stepford wife. It's too bad that he a case major lust for someone completely wrong for him.
Spending more time with each other working on Charlie's new project, they find that they might have been incorrect about their judgements about each other. They become closer and becoming friends of sorts which of course gets made difficult when they decide to act on their attraction and later find out that their relationship is something very different and so is the partner from what they had in mind.
It's a very relationship based book (which I really like) and I really liked them together. Obviously with their sparking chemistry, banter and taunting behaviour I ended really enjoying the book as a whole. I also liked their dynamic with the jackson, the boy who helped with Charlie's project. It's a fun little read for anyone who enjoy enemies to lovers romance.
Related Posts