Teaser: SOMEHOW, SOME WAY by Jennifer Probst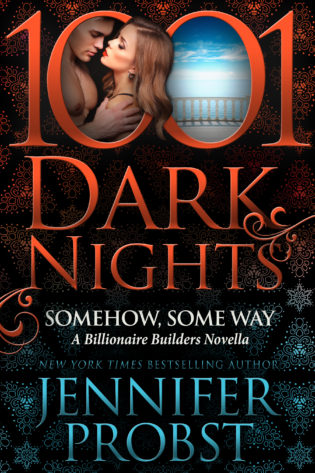 Somehow, Some Way (Billionaire Builders, #2.5)
by
Jennifer Probst
Series:
Billionaire Builders #2.5
on May 30th 2017
Buy on Amazon US
Bolivar Randy Heart (aka Brady) knows exactly what he wants next in life: the perfect wife. Raised in a strict traditional family household, he seeks a woman who is sweet, conservative, and eager to settle down. With his well-known protective and dominant streak, he needs a woman to offer him balance in a world where he relishes control.
Too bad the newly hired, gorgeous, rehab addict is blasting through all his preconceptions and wrecking his ideals…one nail at a time…
Charlotte Flowers knows who she is and refuses to apologize. Growing up poor made her appreciate the simple things in life, and her new job at Pierce Brothers Construction is perfect to help her carve out a career in renovating houses. When an opportunity to transform a dilapidated house in a dangerous neighborhood pops up, she goes in full throttle. Unfortunately, she's forced to work with the firm's sexy architect who's driving her crazy with his archaic views on women.
Too bad he's beginning to tempt her to take a chance on more than just work…one stroke at a time…
Somehow, some way, they need to work together to renovate a house without killing each other…or surrendering to the white-hot chemistry knocking at the front door.
Release Day: 30th May 2017

PRE-ORDER IT NOW
CLICK HERE to enter to win one of these incredible prize packs!
Related Posts