Review and Giveaway: Playing it Cool by Amy Andrews
I received this book for free in exchange for an honest review. This does not affect my opinion of the book or the content of my review.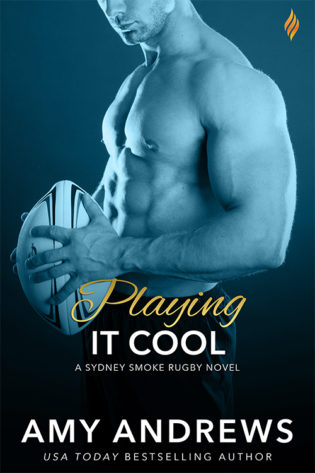 Playing It Cool
by
Amy Andrews
Published by
Macmillan
on September 12th 2016
Genres:
Fiction
,
Romance
,
Contemporary
,
General
Pages:
236
Format:
eARC
Source:
the publisher
Buy on Amazon US
, 
Buy on Amazon UK
, 
Buy on Kobo
, 
Buy on itunes
, 
Buy on B&N

Score one for the curvy girls.
Harper Nugent might have a little extra junk in her trunk, but her stepbrother calling her out on it is the last straw... When rugby hottie, Dexter Blake, witnesses the insult, he surprises Harper by asking her out. In front of her dumbass brother. Score! Of course, she knows it's not for reals, but Dex won't take no for an answer.
Dexter Blake's life revolves around rugby with one hard and fast rule: no women. Sure, his left hand is getting a workout, but he's focused on his career for now. Then he overhears an asshat reporter belittle the curvy chick he'd been secretly ogling. What's a guy to do but ask her out? It's just a little revenge against a poser, and then he'll get his head back in the game.
But the date is better than either expected. So is the next one. And the next. And the heat between them...sizzles their clothes right off.
Suddenly, this fake relationship is feeling all too real...
Rating~ 3.5-3.75 stars
I liked it a lot 
Dex is completely devoted to rugby, he sees everything including a relationship else as a distraction and something that he doesn't want, not till he's managed to achieve his goal. When he first sees Harper is extremely attracted to her but since he views women as distraction it wouldn't have gone anywhere if not for Harper's idiot brother
Harper is an artist, and she also does mural's for hospitals. She was an excellent heroine, loving and kind. She tolerated her step-family for the sake of her twin brother and sister. I loved the scenes with her and her siblings. 
I loved Harper, the woman has insecurities of course but she's also kick ass and loving person. I really disliked her step-mother and brother, they were responsible for Harper's insecurities, they constantly put her down. 
Unlike the last book in the series which was slow burn this one had a lot of steam and right of the start as well. 
I liked it this one a lot! I liked their relationship, they both were very different from each other but shared similar interest such as video games. I also liked that they were friends, of course they were together but they got to know and spend time with each other as friends. Their banter and their moments at the start of the book were a highlight of the book. 
I was having a great time. However about 70% my enjoyment went slightly down with the way Dex acted, not only once but twice. He was such a huge arse. So while I was sympathetic towards him because of his history, it wasn't enough for the way he behaved. I felt like he needed to grovel a hell more before Harper should have accepted him back, she deserved it. hence the whole ending felt extremely rushed to me because it made it seem like Dex hadn't completely thought of everything through. It felt like a complete 180 without any prior notice. 
Anyways it was still enjoyable and I'm looking forward to whoever is going to bring Linc down either Em or Valerie. 
Overall it was enjoyable read with funny and sweet moments! 
Giveaway:
Related Posts