Excerpt and Giveaway: Unthinkable by Nina Croft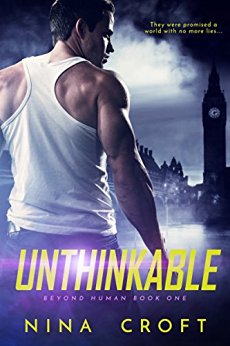 Unthinkable
by
Nina Croft
Published by
Macmillan
on September 5th 2016
Genres:
Fiction
,
Romance
,
Suspense
,
Contemporary
,
Paranormal
,
General
Pages:
375
Buy on Amazon US
, 
Buy on Amazon UK
, 
Buy on B&N
Jake Callahan, leader of the Tribe, has always believed he's one of the good guys. Now, hunted by the government he used to work for, he's taking a crash course in being bad. What he desperately needs is a bargaining tool, and that's unfortunate for Christa Winters, daughter of Jake's former boss.
Christa is a scientist, a total geek, and a good girl with a secret hankering for bad boys. Which turns out to be embarrassingly inconvenient when she's kidnapped by a stunningly gorgeous—but obviously bad-to-the-bone—man intent on using her against the father she loves. A man with a seemingly uncanny ability to know exactly when she's thinking about kissing him—which is most of the time.
But people are dying, and it becomes clear that the stakes are much higher than Jake ever imagined. Someone is out to obliterate the Tribe and everyone associated with it, including Christa. Only by working together to uncover the secrets behind the past, can they ever hope to have a future.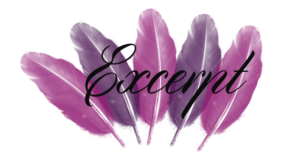 It was only a kiss. But nothing had ever felt this good. She never wanted it to end, and her own arms came up to grip the hardness of his broad shoulders, her nails digging into the skin. His hands left her face and slid down her back to cup her bottom. She could feel the moisture pooling between her thighs. She was hot and wet, and totally crazy.
He went still, and a growl sounded low down in his throat. His hands tightened, and he lifted her up without breaking the kiss. A little squeak escaped her as a flurry of panic invaded her chest. She was off her feet, and he was backing her up the few steps until the hard, cool wall pressed against her back.
His hands lowered to her thighs, and automatically her legs wrapped around his narrow hips, pressing her core snug against him.
Oh my God, is that his dick?
It was huge.
He went still and made a small sound against her lips. His tongue withdrew, and she wanted to scream "come back." Then he raised his head, and his expression was rueful.
"I suspect if this goes to its logical conclusion, you will regret it."
Oh, no, I won't. Luckily, the words stayed in her head, and she clamped her swollen lips together to stop any embarrassing comments falling out.
A smile flicked across his face and was gone. For a second his hands tightened on her, pressing her closer against that rock hard bulge. She couldn't resist a little wriggle and pleasure shot through her. He groaned, shook his head, and lifted her slightly away from him.
Oh no. He wasn't getting away that easily.
She gripped tightly onto him with her legs.
"Let go, Christa."
She let go—this was so humiliating—and he placed her on the floor in front of him.
What in the world…? Right or wrong, he'd wanted her as much as she wanted him. Hadn't he? So why did he have to be the sensible one?
She thought he kissed the top of head, but maybe that was more wishful thinking. And besides, she was preoccupied with staying upright. Her legs wobbled dangerously. Staring at the floor, she wrapped her lab coat tightly around her to give her hands something to do, and to cover up her nipples, which she was pretty sure were poking through the front of her T-shirt in an embarrassingly obvious manner. Jeez, could things get any more humiliating?
Get a grip.
Enter Nina's Giveaway: