Review: The One Real Thing by Samantha Young
I received this book for free in exchange for an honest review. This does not affect my opinion of the book or the content of my review.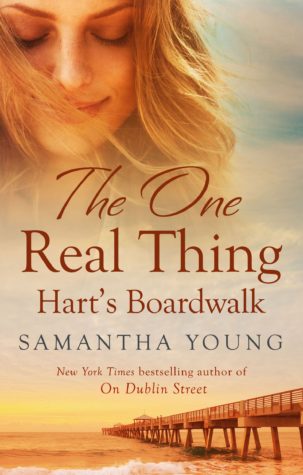 The One Real Thing
by
Samantha Young
Series:
Hart's Boardwalk #1
on September 6th 2016
Genres:
Fiction
,
Romance
,
Contemporary
,
Contemporary Women
,
Family Life
Pages:
384
Buy on Amazon US
, 
Buy on Amazon UK
, 
Buy on Kobo
, 
Buy on itunes
, 
Buy on B&N

The New York Times bestselling author of On Dublin Street is back with the first in a sexy new romance series set in a small town on the Delaware coastline. Welcome to Hartwell, a quiet seaside escape where uncovering old secrets could lead one woman to discover the meaning of a love that lasts… While Doctor Jessica Huntington engages with the inmates at the women's correctional facility where she works, she's always careful to avoid emotional attachments in her personal life. Loss and betrayal taught her that lesson long ago. But when she comes across a set of old love letters in the prison's library and visits the picturesque town of Hartwell to deliver them to their intended recipient, she finds herself unable to resist the town's charm—and her attraction to the sexy owner of a local bar proves equally hard to deny. Since his divorce from his unfaithful ex-wife, Cooper Lawson has focused on what really matters: his family and the boardwalk pub they've owned for generations. But the first time Jessica steps into his bar, Cooper is beyond tempted to risk his heart on her. Yet as their attraction grows hotter and Jessica remains stubbornly closed off, he begins to realize it will take more than just passion to convince her there's only one real thing in life worth fighting for….
Rating~ 3.5- 4 stars
"If you're destined for true love, you'll find it on the boardwalk…" ~Hartwell legend. 
Dr. Jessica Huntington while working on her shift as a prison doctor finds letters love letters addressed to the man of the writer's affections, she feels a connection to the writer. Her heartbreak and story bring out a flood of emotion in Jessica.With her upcoming vacation and her best friend unavailability, she decides to go to Hartwell the town which was once home to the writer of the letters.
Cooper Lawson, bar owner and according to some panty melter extraordinaire. After his divorce and the betrayal of two people he loved and thought he could always trust, Cooper has stayed far away from forming relationships. He is instead focusing on his bar and his family. All of this of course changes when he meets a tourist he finds completely fascinating.
Jessica was a very empathic and caring person not just because she was a doctor but it was more of a innate quality of hers. Jessica is used to keeping everyone from getting too close which has never been a problem before until she meets Cooper and the citizens of Hartwell. Jessica's vacation brings her not only peace but also makes her realise how empty her life had been until now. Cooper is extremely intrigued by not only Jessica's personality but her intelligence and her self confidence. I really enjoyed how he went around trying to convince Jessica to give them a shot.
The moment I met Cooper Lawson felt exactly like that hot shower after a very long, cold storm. ~ Jessica  
Jessica and Cooper were cute together. Attracted to each other from the first moment the met, their relationship progressed slowly. They felt a connection to each other from the moment they laid eyes on each other on a rainy evening. Their relationship was at times sweet and other times passionate. The only point of contention between the two was Jessica's inability to confide in Cooper about her family and her past. Drawn to Cooper as she is, Jessica has to decided whether or not to take a chance to open up to him, this guy who has effortlessly stolen her heart.
It felt like like fate had bought me there in the guise of Sarah's letters.
And I'd fallen in love on the boardwalk. ~Jessica.
Quibbles: I just thought jessica's past/her secret could have been better.
The writing was engaging as was the plot and the various threads coming together. I think it was a pretty good start to the new series and I'll definitely be coming back for more. 
I have a love/hate realtionship with the town and it's people in small town romances but Hartwell as with Jessica won me over. I loved the town, and to quote Jessica it was idyllic. I loved all the characters that we got introduced to, the secondary characters who I hope will get their own books had such great personalities. I really want Emery to get a book, she was one of the characters that intrigued me the most with her shyness and love for books. I can't wait to read Vaughan and Bailey's story which comes out next year. Anyone who likes small town romances and likes Jill Shalvis series's would really enjoy this one! 
Related Posts