Excerpt: Cuff Me by Lauren Layne + Giveaway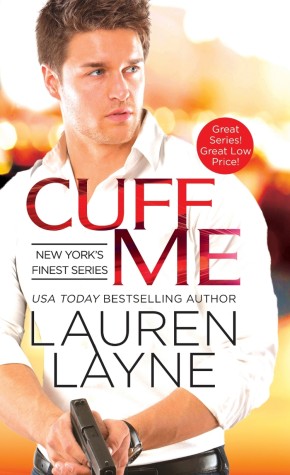 Cuff Me
by
Lauren Layne
Series:
New York's Finest #3
Published by
Forever
on March 29th 2016
Genres:
Contemporary
,
Romantic Comedy
Pages:
384
Buy on Amazon US
, 
Buy on Amazon UK
, 
Buy on Kobo
, 
Buy on itunes
, 
Buy on B&N
Meet New York's Finest-three hot brothers sworn to protect and serve the city they love . . . and the women who've stolen their hearts.
ARRESTED BY LOVE
Vincent Moretti is one of the NYPD's top homicide detectives-and one of the most eligible bachelors in town. His family, however, thinks he should date his longtime partner, Jill-a sassy, sexy, smart-mouthed blonde who drives him absolutely crazy.
Behind the quiet authority, tough-guy demeanor, and dark aviator glasses lies a man with a big soul-and a hard body that can soften any girl's heart. After years as his coworker, Jill Henley has given up hope that anything could happen between her and Vin. Besides, loving him would break all the rules. But seeing Jill with someone else triggers feelings in Vincent he never knew he had. Now he'll have to stop playing good cop/bad cop-and find a way to convince her to be his partner for life. . .

There's something wrong with a man that grins like that at a crime scene."
Detective Vincent Moretti glanced up from where he'd been studying the gunshot wound of the vic and glared at the officer who'd been shadowing him for the past three months.
"I wasn't grinning."
Detective Tyler Dansen never paused in scribbling in the black notebook he carried everywhere. "You were definitely grinning."
"Nope."
Dansen glanced up. "Fine. Maybe not grinning. But I'm one hundred percent sure I saw you smile."
"How about you be one hundred percent sure about who shot this guy instead?" Vincent said irritably.
Dansen returned his attention to his damn notebook, but he didn't look particularly chagrined by Vin's reprimand.
Oh, what Vin wouldn't give to go back to those early days when all he'd had to do was look at Dansen, and the kid practically dropped into a deferential bow.
Three months of spending every workday in each other's company had the newly minted detective acting nearly as impudent as Vincent's actual partner.
Nearly being an important distinction, because Vincent didn't think they made 'em sassier, more stubborn, or more annoying than Detective Jill Henley.
And he would know. They'd been partners for six long years, and their pairing up as partners was proof of God's sense of humor.
Jill Henley was Vincent's opposite in every way.
Jill was chipper, charming, and smiley.
Vincent was… none of those things.
Especially not the last one. Although, if he was being really honest with himself, Dansen may have been right about Vincent cracking a smile earlier.
It's not that Vin was immune to death. There was absolutely nothing humorous about a man lying cold in his own blood and guts, dead from a gunshot wound to the stomach.
But after six years as a homicide DT for the NYPD, one learned to compartmentalize. To let the brain occasionally go somewhere else other than death even as you were staring straight at it.
It was the only way to survive. Otherwise it was nothing but puking and nightmares.
And speaking of puking…
Vincent stood and gave Detective Dansen a once-over.
"If you're gonna barf, do it outside," he said, just to needle the younger man.
Dansen threw his arms up in exasperation. "That was one time. One time! And I hear it happens to everyone on their first day."
"Didn't happen to me."
"That's because you're a machine," Dansen muttered under his breath.
Vincent didn't respond to this. It was nothing he hadn't heard before. Robot. Machine. Automaton.
He just didn't know what people expected him to do about it.
In the movies, there was always some reason for the semi-mechanical, unfeeling action hero.
Either a dead wife, an abusive past, or some other sort of jacked-up emotional history. But Vincent had always sort of figured he'd been born this way. Quiet. Reserved. Broody.
It's not that he didn't feel. Of course he did. He just didn't feel out loud. He wasn't sure that he really knew how to, and wasn't sure he wanted to learn.
Rafflecopter Giveaway (A Custom Mug, $25.00 Amazon Gift Card and Print Set of FRISK ME/STEAL ME)
a Rafflecopter giveaway

Related Posts