Guest Post with Author Lauren Layne: Playlist for Frisk Me by Lauren Layne.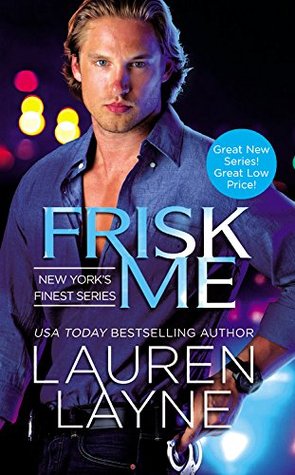 Frisk Me
by
Lauren Layne
Series:
New York's Finest
,
#1
Published by
Forever
on July 28th 2015
Pages:
384
Buy on Amazon US
, 
Buy on Amazon UK
, 
Buy on Kobo
, 
Buy on itunes
, 
Buy on B&N
Officer Luc Moretti had no idea that his dive into the East River would have him drowning in a media frenzy. No matter how many times he tells reporters he was just doing his job, they're determined to make him into NYC's newest hero. Coming from a long line of NYPD's finest, Luc knows that being a cop has nothing to do with headlines and viral videos, and he's more than ready to get back to life away from the cameras—until he meets the gorgeous but jaded journalist assigned to film a TV special on him.
Ava Sims may be the only woman in NYC who isn't in love with Officer Moretti. That's why she's going after the real story—to find out about the man behind the badge. Ava's determined to keep things strictly professional, but the more time she spends around Luc, even she has to admit there's something about a man in uniform . . . and she can't wait to get him out of his.
FRISK ME // The Playlist by Lauren Layne
I know so many authors that like to write in complete silence. I also know so many writers who thrive on the hustle and bustle and "people noise" of working at Starbucks.
Me? I'm neither of these. When I'm working on a story, it's all about the music. If I'm stuck on a scene, almost always the problem is that I don't have the write song!
For some reason, this reliance on the right music was never so important as with writing FRISK ME. I'd be completely paralyzed until I had my theme song for the day!! So know that the list below wasn't hastily thrown together. No no. This list took me HOURS of careful deliberation. Even now, I'll hear one of these songs and not only do I immediately think of the scene, I can recall exactly where I was sitting when I wrote the scene?! Fact: The power of music is CREEPY. Also, awesome.
The songs start off pretty upbeat and intense, and then mellow out as the romance develops and gets sexy.
Also, there's a lot of Glee cast songs on here. Not even sorry.
For you Spotify users, you can listen to the playlist yourself with one handy click!
https://open.spotify.com/user/laurenlayne/playlist/4721VIu98G04AZDY8DojcD
FRISK ME'S AWESOME PLAYLIST
Empire State of Mind (Jay Z)
Timber (Pitbull)
Firework (Katy Perry)
Hate on Me (Jill Scott)
Blow Me (P!nk)
Every Other Time (LFO)
Wanna Be (Spice Girls)
I feel Pretty/Unpretty (Glee Cast)
Hollywood (Michael Bublé)
Shake it Out (Florence and the Machine)
What the Fox Say (Brothers Norge)
New York State of Mind (Glee Cast)
Everybody Talks (Glee Cast)
Holding Out for a Hero (Glee Cast)
Girl on Fire (Alicia Keys)
Anything Could Happen (Ellie Goulding)
Jar of Heats (Christina Perri)
Superman (Five for Fighting)
Waiting for Superman (Chris Daughtry)
Starships (Nicki Minaj)
Whistle (Flo Rida)
Cold Hearted (Glee Cast)
My Dark Side (Glee Cast)
Stay the Night (Zedd, Haley Williams …)
Paparazzi (Lady Gaga)
Man in the Mirror (Michael Jackson)
True Colors (Jules Larson)
Let Me Love You (Ne-Yo)
Water Under Bridges (Gregory Porter)
Before it Breaks (Brandi Carlisle)
So What (P!nk)
Take a Bow (Glee Cast)
Misery (Glee Cast)
Get it Right (Glee Cast)
The Scientist (Glee Cast)
Rafflecopter Giveaway ($50.00 Amazon eGift Card)
a Rafflecopter giveaway

Related Posts