Book Tour and Giveaway: Want It by Jennifer Chance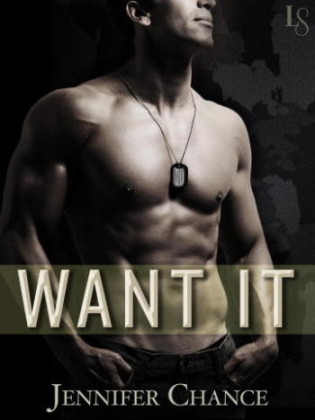 Want It
by
Jennifer Chance
Series:
Rule Breakers #3
Published by
Random House Publishing Group
on December 9th 2014
Genres:
Contemporary
,
Contemporary Women
,
Fiction
,
Military
,
New Adult
,
Romance
Pages:
224
In the latest tantalizing Rule Breakers novel from Jennifer Chance, an irresistible alpha male follows his ex into a deadly standoff—and reignites a heated affair.
For Erin Connelly, being a good girl isn't such a bad thing. She's working her dream job at a Boston art gallery and staying out of trouble, which is more than she can say for her deadbeat mom. Unfortunately, her mother's latest misadventure lands her in the clutches of a Mexican drug lord. Now the only person who can save her is the one man Erin has no business asking for help: the sexy-as-sin army ranger who just so happens to be her former high school sweetheart.
Zander James is no gentleman—and no officer, either, thanks to Erin. Four years ago, she made a call that terminated his highest aspirations . . . and their relationship. He's never forgiven her, but when he learns that Erin's embarking on a half-baked rescue mission, he sure as hell can't let her go alone. Now, with a treacherous enemy lying in wait, the electrifying tension between them may just be Zander's undoing. Because while he may be able to keep Erin alive, he can't promise to keep his hands off her.
Buy Links: Amazon | Barnes | iTunes | Kobo
Excerpt 
 Whatever, though. Because after all of that was done and his leave was finished, he'd be back aboard another bird, officially re-upping for his next tour of duty. Ironic that the timing of his dad's death had taken him out of the mix just when he had that process to complete, but it didn't change anything. His CO knew where his head was, had even encouraged him to take the time to reconnect with his family, his old friends. From the way he'd said it, Zander'd gotten the idea that where they were sending him next wouldn't be anywhere he'd be coming back from soon.
Worked for him.
He certainly didn't need to see Erin Connelly again after today. She hadn't been back in his airspace for more than twenty minutes, and already she was making him crazy. Those big eyes always so filled with worry, that full mouth, those perfect, sweet curves made just right for—Zander felt his body shift at the vivid images his memory was serving up. He gritted his teeth and fought to keep other parts of his anatomy from tightening, too. Jesus, now was not the—
Zander's hand was suddenly gripped hard in a clasp so like his father's that he snapped to attention, all thoughts of Erin evaporating. His gaze connected with an older man he didn't recognize. The man was not in uniform but looked like he should be, the rigid, military set to his jaw marking his first profession as clearly as an insignia on his shoulder.
"Glenn Jackson, Zander. Your father and I were great friends. I'm sorry to see him leave the fight. He would have wanted to be here to welcome you home."
"Thank you, sir," Zander said, according the man the respect he'd doubtless earned at some point, even if he was no longer an officer. Because, of course, he would have been an officer once. Otherwise, he and Zander's father wouldn't have been friends.
"Call me Glenn." Pause. "I don't want to take your time now, but perhaps we can talk for a few minutes later today." Grim smile, but a purposeful one. "I apologize for interrupting your time with your family, but I understand you'll only be home for a few weeks."
Zander raised his brows, but didn't pursue the point. "I'll be available later this afternoon at the house. I can speak with you then."
"Excellent." With a short nod, Glenn Jackson turned and strode off into the bright sun, leaving Zander to receive the next person in line. What could this man want with him that required a discussion at his own father's funeral? He looked forward to finding out. Nothing likethe anticipation of a challenge to get him rolling, after all.
Author Info
Jennifer Chance is the award-winning author of the new adult Rule Breakers series. A lover of books, romance, and happily-ever-afters, she lives and writes in Ohio.
Author Links: Website | Facebook | Twitter | Goodreads
Rafflecopter Giveaway ($25.00 eGift Card to Choice Book Seller and Loveswept Mug/Tote)
a Rafflecopter giveaway

Related Posts