Book Tour and Giveaway: Soul Enslaved by Keri Lake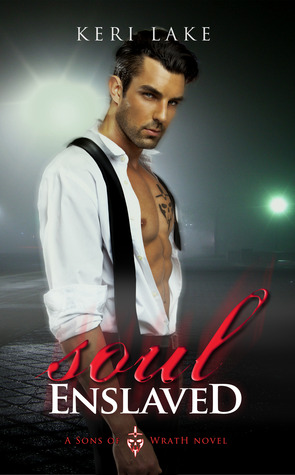 SOUL ENSLAVED
by
Keri Lake
Series:
Sons of Wrath
,
on December 5, 2014
Genres:
Paranormal
,
Urban
Format:
eBook
Buy on Amazon US
Imprisonment in Obsidius. Enslavement to a soul-sucking succubus. A reproductive cycle that'd send a sex fiend running into the arms of celibacy.
Given the choice, most demons would opt for death.
Gavin, eldest son of Wrath, has been sentenced to all three.
When the succubus decides its time to collect, though, he fears his nightmares have only just begun.
And Sabelle's timing couldn't be worse.
With a bad case of uncontrollable lust, thanks to his Savidon, the last thing Gavin wants is a vengeful succubus stoking his darkest desires, but debts must be paid—he just didn't bank on enjoying his punishment so much.
Because the swinging bachelor may have found his perfect mate in the sexy seductress.
However, just as things seem to be looking up, past sins resurface, plunging the two into a deadly game of power and deception. As their worst fears merge into one unexpected threat, Gavin is determined to protect Sabelle and win her freedom.
At any cost.
ISBN: 978-0-9848517-7-5
Gavin Has Arrived!
The third installment of Keri Lake's edgy paranormal romance series is here! Check out the book then enter the Rafflecopter for some awesome prizes! You can also vote for your favorite dream cast in the Sons of Wrath Casting Contest (below) for MORE prizes!
As a special thank you to her readers, the author is releasing SOUL ENSLAVED for a very limited time at just 99 cents!
A percent of sales will be donated to two organizations that keep kids off the streets in Detroit .
***BONUS***BONUS***BONUS***
The first two books in the series are ALSO 99 cents for
4 DAYS ONLY!
GRAB A COPY of Soul Enslaved and support a great cause.
If you have already read the first two books, you can gift the entire series – the perfect holiday treat for the booklovers on your list!
TEASERS FROM 
SOUL ENSLAVED (Sons of Wrath, #3)
By: Keri Lake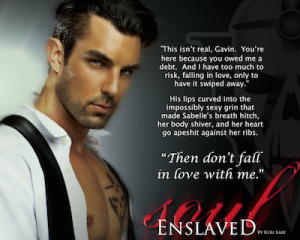 *~*~*~*~*~*~*~*~*~*~*~*~*~*~*~*~*~*~*~*~*~*~*~*~*~*~*~*~*~*~*~*~*~*~*~*
One-Click The Series!
*~*~*~*~*~*~*~*~*~*~*~*~*~*~*~*~*~*~*~*~*~*~*~*~*~*~*~*~*~*~*~*~*~*~*~*
Enter the Rafflecopter!
VOTE FOR THE SONS OF WRATH DREAM CAST!
The SOUL ENSLAVED Swag Pack #2 is up for grabs! Check out the hotties and VOTE for your favorite!
*~*~*~*~*~*~*~*~*~*~*~*~*~*~*~*~*~*~*~*~*~*~*~*~*~*~*~*~*~*~*~*~*~*~*~*
About the Author
Keri Lake is a married mother of two living in Michigan. She writes paranormal romance, urban fantasy and loves a good, tragic love story. Though novels tend to be her focus, she also writes short stories and flash fiction on the many occasions when distraction sucks her in to the Land of Shiny Things.
Website | Twitter | Facebook | Pinterest | Goodreads | Newsletter
Related Posts