Review: Fish & chips by Abigail Roux and Madeline Urban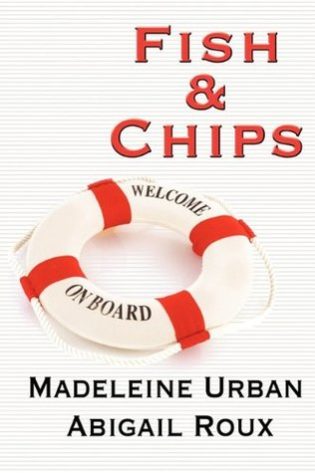 Fish & Chips
by
Abigail Roux
,
Madeleine Urban
Series:
Cut & Run #3
Published by
Dreamspinner Press
on 6th December 2010
Genres:
Contemporary Romance
,
Mystery & Detective
Pages:
280
Special Agents Ty Grady and Zane Garrett are back on the job, settled into a personal and professional relationship built on fierce protectiveness and blistering passion. Now they're assigned to impersonate two members of an international smuggling ring-an out-and-proud married couple-on a Christmas cruise in the Caribbean. As their boss says, surely they'd rather kiss each other than be shot at, and he has no idea how right he is. Portraying the wealthy criminals requires a particular change in attitude from Ty and Zane while dealing with the frustrating waiting game of their assignment. As it begins to affect how they treat each other in private, Ty and Zane realize there's more to being partners than watching each other's backs, and when the case takes an unexpected turn and threatens Ty's life, Ty and Zane will have to navigate seas of white lies and stormy secrets, including some of their own.
Its beens 900+ pages of Ty and Zane now that I've read and its still frustrating to see that after everything they have been through, they have issues with communication and being actually honest and vulnerable around each other. Even though they might not have admitted their love to each other in last book, they both aware of it themselves but this behaviour of avoidance or teasing when one of them is being serious is just tiring now. We get at least a confession at the end of this one, so that's something. 
Anyways Fish and Chips is about Ty and Zane being undercover as a gay married couple on a cruise ship. There is a lot of romance tropes in this one. Also it allows them to open in public and show affection they otherwise wouldn't have been able too. 
It is slightly more put together than the other books in the series, however Ty and Zane are just really not good at their jobs, neither are the other FBI people actually. This book just gives the whole agency a bad look. The suspense part of the book is also super weak and not very interesting to be honest. Ty and Zane and their shenanigans undercover are much more interesting even though they make literally no progress in their relationship till the very end. I did like the bits where they more couple-y together under the guise of being other people. 
Why not a higher rating?
I hated the pool scene :/ I was finding it difficult to process that sometimes they just beat the shit out of each other. I get it, its practice or whatever but they way they go completely out on each other but this scene was just upsetting.  I understand what followed up to wasn't okay either but the when ty throws him in the pool and then is literally dunking him a water, a drunk person no else. I felt very horrified. He's trying to sober him up but he's also punishing him. And there literally no remorse from Ty's end and Zane's is just taking it like yeah I'm a bad partner and person.
Ty doesn't understand Zane's addictions that's being pretty obvious from the start. 
Its also exceeding frustrating that while Ty 'knows' that he's in love with Zane, his behaviour suggests otherwise while Zane has trouble coming in terms with the feelings he has for Ty now because of how Ty acts, (even though he definitely admitted being in love in Cut and Run to the murderer) but his behaviour definitely shows his love. 
The overuse of snort/sniffing in this series is a bit annoying, perhaps I wouldn't have been annoyed as much, had I not read these back to back but dear lord never heard so many grown adults snort and sniff. 
I think I'm gonna stop here, and come back later to this series later. Because as of this book they aren't getting any better at their jobs. The cases aren't really all that interesting and Ty and Zane are still mostly stuck in the same place. I think I might like them more, once they 'more' together, there relationship more solidified, and they are sure of each other's commitment etc. I guess we'll see…
Related Posts