ARC Review: Take A Hint, Dani Brown by Talia Hibbert
I received this book for free in exchange for an honest review. This does not affect my opinion of the book or the content of my review.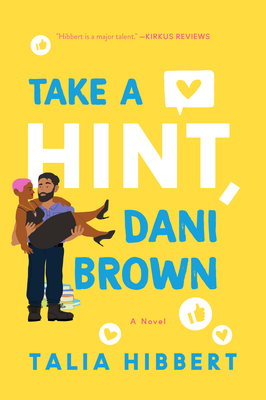 Take a Hint, Dani Brown
by
Talia Hibbert
Series:
The Brown Sisters #2
Published by
Avon
on 23rd June 2020
Genres:
Contemporary Romance
Pages:
320
Format:
eARC
Source:
the publisher
Buy on Amazon US
, 
Buy on Amazon UK
, 
Buy on Kobo
, 
Buy on itunes
, 
Buy on Amazon
, 
Buy on Audible

Talia Hibbert returns with another charming romantic comedy about a young woman who agrees to fake date her friend after a video of him "rescuing" her from their office building goes viral...
Danika Brown knows what she wants: professional success, academic renown, and an occasional roll in the hay to relieve all that career-driven tension. But romance? Been there, done that, burned the T-shirt. Romantic partners, whatever their gender, are a distraction at best and a drain at worst. So Dani asks the universe for the perfect friend-with-benefits—someone who knows the score and knows their way around the bedroom.
When brooding security guard Zafir Ansari rescues Dani from a workplace fire drill gone wrong, it's an obvious sign: PhD student Dani and ex-rugby player Zaf are destined to sleep together. But before she can explain that fact, a video of the heroic rescue goes viral. Now half the internet is shipping #DrRugbae—and Zaf is begging Dani to play along. Turns out, his sports charity for kids could really use the publicity. Lying to help children? Who on earth would refuse?
Dani's plan is simple: fake a relationship in public, seduce Zaf behind the scenes. The trouble is, grumpy Zaf's secretly a hopeless romantic—and he's determined to corrupt Dani's stone-cold realism. Before long, he's tackling her fears into the dirt. But the former sports star has issues of his own, and the walls around his heart are as thick as his... um, thighs.
Suddenly, the easy lay Dani dreamed of is more complex than her thesis. Has her wish backfired? Is her focus being tested? Or is the universe just waiting for her to take a hint?
Loveeed it!!
This was my first time reading Talia Hibbert's books and I adored the writing, the characters. Ugh everything worked really well. As always when I love the book, I find it very difficult to write review, so bear with me.
#DrRugbae for life!!
Danika Brown, bisexual PhD student, teaching english lit at university. 'Queen of one-time things', lover of green tea, giant nerd, and avid fan of one Prof. Inez Holly.
Zafir Ansari, former rugby player, current security guard and founder of a charity foundation for. All around good guy, lover of romance books and 'a grumpy fucker'.
Dani and Zaf have become friends over the course of six months that Dani has moved into a different building for teaching her classes. They were adorable, both have different personalities but they complimented each other. They were both very lovable characters, (Dani would probably beg to differ) they were both good friends, good family members etc. They had their issues to deal with but they were aware of who they were. I genuinely enjoyed their characters.
"One extra-hot, extra-black, extra-bitter coffee for our resident prince of darkness." "Cheers, Princess…"
Dani was a wonderful character, honestly it's understandable why you would pull away and make academia and friends your priority over love and relationships not only when you've been hurt but also how it affected your outlook of yourself.
Zaf is truly one of a kind hero. I really loved his characterisation. Also on that please normalise men reading romance novels and not cause they want to make fun of them.
See, what Zaf really wanted was to be happy, and he'd read enough romance novels to know how to make that happen… ~Zaf Ansari, internal monologue.
I really enjoyed them together. Not only because Take A Hint, Dani Brown has one my favourite trope of fake dating but also because theres nothing really fake about it?!! Dani and Zaf really do care about each other, respect each other and have oodles oodles of chemistry together. It's pretty obvious from the start that they have a thing for each other and the whole rescue going viral helps them spend more time together and helps their relationship develop more and their 'like' turn into deeper feelings.
"He knew, once and for all, that he loved her. So hard and so hopelessly that he couldn't deny it, couldn't fight it, couldn't hide from it for another fucking second. He loved her intelligence and her ambition, her crystals and her sticky notes, her charming smiles and her dreamy ones."~ Zaf Ansari, internal monologue.
This is why I read romance, I loved emotions this book made me feel! It has humour, friends to lovers book with a mature relationship with chemistry and fondness. Plus family and friends shenanigans added more depth.
Joy was Zaf. ~Dani Brown, internal monologue.
I liked the bits about anxiety, as someone who suffers from it its nice to read a book where its dealt more realistically. It's there, it gonna be a part of you, has been for years but its something you have to work through. It isn't gonna disappear etc.
Honestly, this review isn't doing justice to the book, it has such a great blend of humour, romance, touching on different issues, chemistry and wonderful characters that you want to get their HEA.
"This love business is absolutely nonsensical"~Dani Brown
Overall, a fantastic read, gonna go read Dani's sister Chloe's book  now and cant wait for Eves book. Anyone looking for a funny, romantic, low on angst contemporary would enjoy Take A Hint, Dani Brown.