Audiobook Review: Never Have I Ever by Lauren Blakely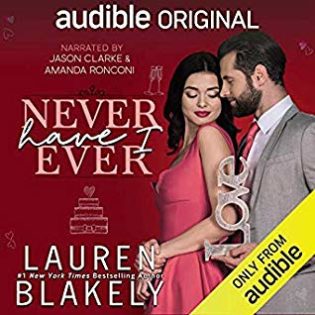 Never Have I Ever
by
Lauren Blakely
Published by
Audible Studios
Narrator:
Amanda Ronconi
,
Jason Clarke
Length:
8 hrs and 20 mins
on 30th July 2019
Format:
Audiobook
Buy on Amazon US
, 
Buy on Amazon UK

What happens when two frenemies can't stop pushing each other's buttons? Find out in this tender, laugh-out-loud funny romance from number-one New York Times best-selling author Lauren Blakely, available in audio first!
Never Have I Ever been so infuriated by a man I wanted to kiss.
They say opposites attract, but I beg to differ. Combust is more like it. Because every single time I talk to Zach Nolan, I see red.
The too-good-looking, too-smart, too-effortlessly-charming single dad who works down the hall from me has turned getting under my skin into a sport. Call it the battle of wits between the wedding planner and the divorce attorney. Trouble is, when we're forced into closer quarters, planning an engagement party for our best friends, I start to see his other sides.
And I fear I'm falling for the enemy.
***
I'm not out to make friends. My goals are simple -- fight till the end for my clients, and my family. The last thing I need is a vibrant, outgoing, snarky, and surprisingly big-hearted wedding planner to spend my precious free time with…except, watching Piper bond with my daughter just might break down the cinder block walls I've built around my heart these last few years. Second chances don't come around for guys like me…or do they?
This is my first ever audiobook review! Last time I tired an audiobook was when it was just starting out and I didn't really enjoy it and I stopped after hearing a few mins so I decided to give it another go and what do you know, I had a lot of fun. I will definitely be trying more audiobooks in the future. I think it was a safe bet to choose an authors books I enjoy and Lauren Blakely and the enemies to lovers trope was good choice to begin with. Onto the review…
Zach Nolan is widowed single dad of two amazing kids and a total 'shark' (his words) of a divorce attorney and Piper is a wedding planner slash whatever else you need on your big day girl. They met each other back in university, they have the same circle of friends so however much they wish they didn't have to see each other, they do and then they started sharing a building which meant more interactions.
I loved Zach and Piper together; from their enemies, your existence annoys me relationship to sharing a work building to their budding romance to them falling in love, all aspects of their developing relationship were so much to fun to listen to. I think the narrators really did a great job at expressing the emotions in the voices and you know making them sound 'real'. Also Amanda's voice reminded me so much of Dianna Agron's voice it was slightly ?? Honestly Zach and Piper were adorable together, even when they were bantering when they didn't get along in the beginning. They made me smile.
Zach was a great dad, he's trying his best. Even though he is a divorce attorney, he isn't a guy that hates the institution of marriage or doesn't believe in love, on the contrary he really loved his late wife. Piper on the other hand, has attended her fair share of marriages even before she become a wedding planner and while she doesn't think she'd ever find someone or get married herself, she believes in the marriages she plans for. I liked how they had great friends and familial relationships. They weren't isolated, even though they were both complete workaholics. I also really adored Zach's kids, they were great, Lucy was a precious child. I loved seeing Zach and Piper interact with her. They had a lot of love to give, and were you know just good people, that you think deserve the best.
Overall, this was such a fun book to listen to, the protagonists, them as couple and their circle of friends made it all a worthwhile read. There is just the right amount of drama, angst, humour, romance and chemistry in Never Have I Ever and the narrators Amanda Ronconi and Jason Clarke did a great job at bringing Piper and Zach to life and the narration/voices they did for the other characters were distinct which was really nice as well. It entirely based onto the narrators that I would call this a very successful start of my audiobooks/audible journey. 
Quibbles: Obviously this was my first audibook so I didn't really know what to expect and how things in general go, so I'm a complete novice at this and so my quibbles will probably won't mean anything to you but I just want to share my opinions on certain things; I didn't like hearing them having sex, it creeped me out (thank fully the book doesn't have that many), I didn't understand why they had the actual male/female narrator use their use when they texted each other but not when they were talking to each other ? Is that normal ? It just felt weird, for them to use it for one thing but not the other. And it takes a long time to finish a book (which I guess can be a positive since I tend to gobble books up at times) but thats about it.
Related Posts