Review: The Friend Zone by Abby Jimenez
I received this book for free in exchange for an honest review. This does not affect my opinion of the book or the content of my review.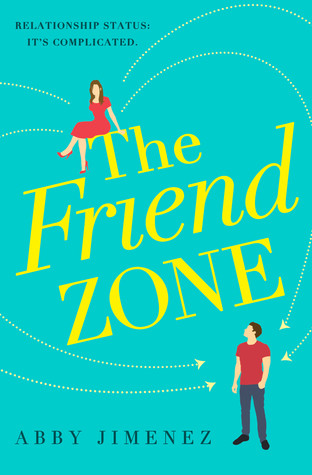 The Friend Zone
by
Abby Jimenez
Published by
Piatkus
on 11th June 2019
Genres:
Contemporary Romance
,
Contemporary Women
Format:
eARC
Source:
the publisher
Buy on Amazon US
, 
Buy on Amazon UK

Kristen Petersen doesn't do drama, will fight to the death for her friends, and has no room in her life for guys who just don't get her. She's also keeping a big secret: facing a medically necessary procedure that will make it impossible for her to have children.
Planning her best friend's wedding is bittersweet for Kristen - especially when she meets the best man, Josh Copeland. He's funny, sexy, never offended by her mile-wide streak of sarcasm, and always one chicken enchilada ahead of her hangry. Even her dog, Stuntman Mike, adores him. The only catch: Josh wants a big family someday. Kristen knows he'd be better off with someone else, but as their attraction grows, it's harder and harder to keep him at arm's length.
The Friend Zone will have you laughing one moment and grabbing for tissues the next as it tackles the realities of infertility and loss with wit, heart, and a lot of sass.
I guess this is another case of me having high expectations because I saw high rating/people really hyping this up (should have stuck to my guns about not reading hyped books when they get released but reading them in my own time), unfortunately maybe because of that, along with the issues I'll mention below this ended up being more on okay read than a great read that I was hoping for.
The good bits: I did enjoy the authors writing, her sense of humour and her characters are quite complex and she knows how to work a plot. I did like Josh and Kristin (for most part). I also liked their banter and chemistry…
The meh bits: I just didn't like Josh's behaviour, the way he knew that Kristin was in a relationship and he loved that the fact she was loyal/wouldn't cheat but at the same time was hoping that she'd dump the guy for him, all the while he's her 'FRIEND' and I also didn't like Kristin just not being straight up with Tyler, he reenlists and she's like okay lets have sex Josh. :/ like right after…and later in the book she's talking to him about being alone while he's on tour ? and its ??? you knew this what is was going to be like, it just felt it just all about her wants in that relationship. Her just constantly thinking about being with Josh while she is with Tyler was also blegh to me. There is also her not telling Josh about her fibroids and infertility issues, which understandable at the start just got more and more frustrating as the book went on, I think she doesn't tell like till almost 70% of the book. Also this is, I get it, its fiction and you want things to be perfect/happy for the couple and most often I would agree but if you're actually spending the whole book about this issue and make the heroine struggle through this and of her being not defined by her infinity issues and her ability to bare children to then just go and ahead and give the couple a child. (also when this came when I was already pissed that modern media had killed two women who had fertility issues, spoilers for Avengers endgame: Black widow and GOT: Daenerys, like is already an annoying thing that you kill them as shock value or give them a magic sperm…??? which contributed to me feeling pretty frustrated with the ending) I'm happy for them of course but it doesn't fit the book as an ending. The could easily adopted or used a surrogate…and the whole set up with the next book is already making me :///
I would give this author another try in the future but probably would wait a bit…