Review: Devil In Spring by Lisa Kleypas
Devil in Spring
by
Lisa Kleypas
Series:
The Ravenels #3
Published by
Avon
on February 21st 2017
Pages:
370
Buy on Amazon US
, 
Buy on Amazon UK

An eccentric wallflower…
Most debutantes dream of finding a husband. Lady Pandora Ravenel has different plans. The ambitious young beauty would much rather stay at home and plot out her new board game business than take part in the London Season. But one night at a glittering society ball, she's ensnared in a scandal with a wickedly handsome stranger.
A cynical rake…
After years of evading marital traps with ease, Gabriel, Lord St. Vincent, has finally been caught-by a rebellious girl who couldn't be less suitable. In fact, she wants nothing to do with him. But Gabriel finds the high-spirited Pandora irresistible. He'll do whatever it takes to possess her, even if their marriage of convenience turns out to be the devil's own bargain.
A perilous plot…
After succumbing to Gabriel's skilled and sensuous persuasion, Pandora agrees to become his bride. But soon she discovers that her entrepreneurial endeavors have accidentally involved her in a dangerous conspiracy—and only her husband can keep her safe. As Gabriel protects her from their unknown adversaries, they realize their devil's bargain may just turn out to be a match made in heaven...
HUGE five stars!!
So Devil in Winter has been an all time fav historicals of my mine (and why the paperback i have looks really ugly now). So the moment this book landed on my kindle I was all over it…and didn't even move the 4-5 hours it took me to read it
Lady Pandora Ravenal, my sweet kind and very much ADHD suffering heroine. She's was such a mixture of compassion, love, a penchant for trouble and intelligent that you couldn't help fall in love with her.
Lord Gabriel St. Vincent, the heir to the dukedom and a very responsible and conservative man. He was also as Pandora called him silver tongued devil and obviously smitten with Pandora since their first meeting. He was an awesome hero, loving with his family, arrogant and charming and fiercely protective of Pandora.
Their romance was just so darn adorable, beautiful and amazingggg! They had such a gentle and then sparking chemistry, along with how their relationship developed they got to know the real each other and I loved how their was honestly between them from the start. Their (witty) banter and interactions were all done so well, we go through of them both not wanting to be married to dear god I really can't live without you! and it's just done in such a natural/wonderful way. Gahhh loveeedd it! They were wonderful together so was the writing and the plot and I shall a remain a forever fan of Lisa Kleypas's historicals.
I loved how slightly horrified he was at the that his life was no longer going to be the clam and content future he had hoped for but would have hurricane of a woman as his wife.  I LOVVVEEED how Gabriel did not at all try to change anything about Pandora he just loved her like she was, he was so gently and loving towards her *dreamy sigh* he could also be very charming and teasing but he really understood Pandora and made it so she was happy with something she never wanted to do to begin with.
Pandora was equally wonderful, she had no plans of ever really marrying let alone falling in love but being with Gabriel seeing who he really was, she couldn't help but fall in love with him.
I also loved seeing Evie and Sebastian again them being the great parents and grandparents and still in love and lust with each other after all these years *Swoon* They had a beautiful family and I was sad to hear about their daughter.
All in all my favourite in the series. This book made me ridiculously happy and lived up to the expectations I had!
We also get to see who I believe is going to be the hero and heroine of the next book and I approve, the more I get to know Garrett Gibson the more I like her. She is so fascinating. And now I have to wait another year till I get my hands on the next book.
Final Verdict: The book had this enchanting quality that I adored, it's swoon worthy, unique and a refreshing historical romance.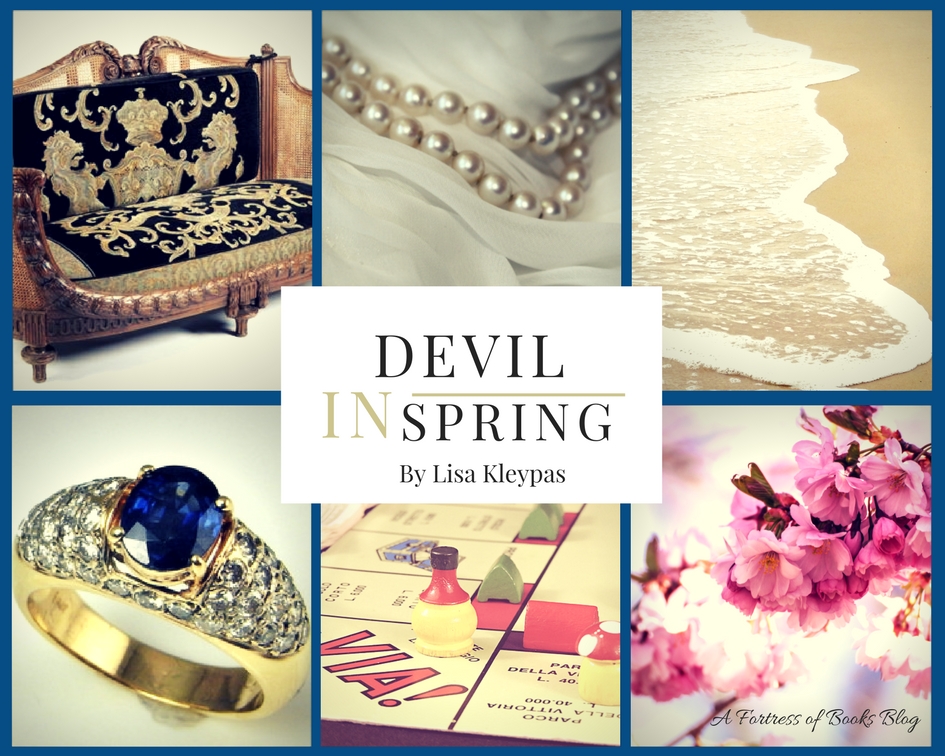 UPDATE: So I wrote this review when the book released I just never got around posting it because I couldn't find the right images for the mood board ‍♀️ and  anyhoo I've re-read this book for the second time since it's release and I still love it so much, definitely a favourite of 2017!
Related Posts