Series Review: Luna (New Moon and Wolf Moon) by Ian McDonald
I received this book for free in exchange for an honest review. This does not affect my opinion of the book or the content of my review.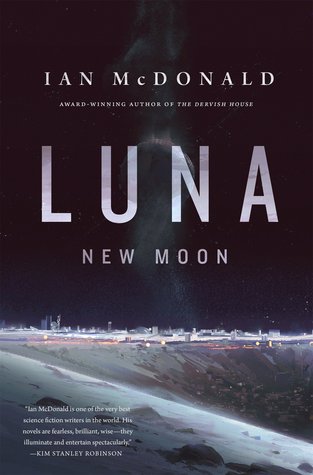 New Moon
by
Ian McDonald
Series:
Luna #1
Published by
gollancz
on September 22nd 2015
Genres:
Fiction
,
Science Fiction
Pages:
398
Format:
ARC
,
Paperback
Source:
the publisher
The Moon wants to kill you.
Maybe it will kill you when the per diem for your allotted food, water, and air runs out, just before you hit paydirt. Maybe it will kill you when you are trapped between the reigning corporations-the Five Dragons-in a foolish gamble against a futuristic feudal society. On the Moon, you must fight for every inch you want to gain. And that is just what Adriana Corta did.
As the leader of the Moon's newest "dragon," Adriana has wrested control of the Moon's Helium-3 industry from the Mackenzie Metal corporation and fought to earn her family's new status. Now, in the twilight of her life, Adriana finds her corporation-Corta Helio-confronted by the many enemies she made during her meteoric rise. If the Corta family is to survive, Adriana's five children must defend their mother's empire from her many enemies... and each other.
I received this book for free in exchange for an honest review. This does not affect my opinion of the book or the content of my review.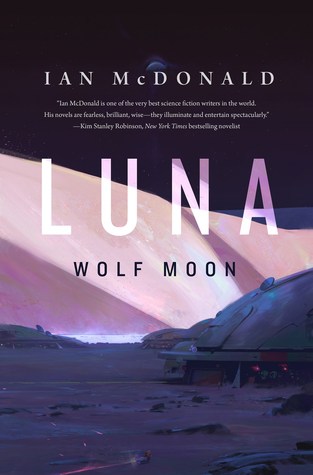 Wolf Moon
by
Ian McDonald
Series:
Luna #2
Published by
gollancz
on March 23rd 2017
Pages:
400
Corta Helio, one of the five family corporations that rule the Moon, has fallen. Its riches are divided up among its many enemies, its survivors scattered. Eighteen months have passed. The remaining Helio children, Lucasinho and Luna, are under the protection of the powerful Asamoahs, while Robson, still reeling from witnessing his parent's violent deaths, is now a ward - virtually a hostage - of Mackenzie Metals. And the last appointed heir, Lucas, has vanished from the surface of the moon. Only Lady Sun, dowager of Taiyang, suspects that Lucas Corta is not dead, and - more to the point - that he is still a major player in the game. After all, Lucas always was a schemer, and even in death, he would go to any lengths to take back everything and build a new Corta Helio, more powerful than before. But Corta Helio needs allies, and to find them, the fleeing son undertakes an audacious, impossible journey - to Earth. In an unstable lunar environment, the shifting loyalties and political machinations of each family reach the zenith of their most fertile plots as outright war between the families erupts.
3.5 stars Avg. 
Luna New moon introduces us to a new family empire *dragon* on the Moon (Luna) which makes a total of 5 dragons on Luna. Think of it all a turf wars between different gangs except this is on the Moon and they are dealing with power and resources on it. The new dragon is the Corta-Helio family with different family members having different positions in the empire.
The world building of these books is excellent and so are the characters. The family and the different *dragon* dynamics is also done well.
We get quite a lot of different POVs from the members of the Corta family as well other characters to show different aspects of the life on Luna and the struggles they faced.
I quite enjoyed Adrianna Corta and Marina Calzaghe because they were strong and compelling characters.
Quibbles: I'm not a huge of multiple POVs in books, 3-4 is my limit (unless it's an established series and I already know almost all the characters from their books but I digress) . I feel like the more characters being introduced the more time to need to get to know them because otherwise they sort blend in together which leaves me sort of ??? I read romance so I'm used to sex scenes but I guess I'm not used to them being so much in my Sci-fi reads. I also felt like it dragged on a bit in some places.
The tension that builds up from the ending of the New moon doesn't let up at all in the second book Wolf moon which of course as the case with series ends in a cliffhanger. Overall, I did enjoy it most probably due to the writing and complexities presented in this the luna world and I'm hopeful that the next book in the series will provide an satisfying conclusion to the series.