Review: A War Like Ours by Saffron A. Kent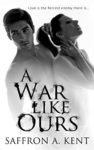 A War Like Ours
by
Saffron A. Kent
Genres:
Abuse
,
Adult
,
Contemporary Romance
,
Dark
,
Erotica
,
Romance
Format:
eARC
Buy on Amazon US
, 
Buy on Amazon UK
, 
Buy on Kobo
, 
Buy on B&N
A liar...
Three weeks ago, James Maxwell's wife died in a car accident, but he hasn't been able to tell his five-year old daughter the heartbreaking truth behind her mother's death. Instead, he packs them up and leaves for a summer resort in upstate New York to spend a few peaceful weeks and to gradually break the news. But a spirited and outspoken maid at the resort has figured out his secret.
A hater...
After witnessing her mother's violent death at the hands of her stepfather, Madison Smith has turned aimless and bitter toward the world--men, in particular. Her dead-end job at the local resort and her convenient girlfriend are barely keep Madison from falling apart. When she meets James, however, she's driven to protect his child from the darkness she sees inside him.
A forbidden kiss...
But Madison doesn't expect to find that very darkness irresistible. Drowning in guilt and memories, James doesn't expect to be drawn to the sharp-witted woman who has made his life miserable. When their tempers flare, a brutal kiss triggers a need that blurs the lines of hate and desire. As their lust spins out of control, they must decide if their attraction is worth fighting for or if love is the real enemy.
This book contains graphic language and violence.
Warning: This book is dark.
There are a lot of topics in this book that are extremely sensitive including non-consensual sex and self-harm. To read this book you have to be extremely open minded.
Even with the warning, I loved this book. I was blown away by the story, the history of the characters and the characters themselves. This book is about a widower who just lost his wife. I mean just. James Maxwell is a disturbed man… I mean honest to God there is no other way to put it. There is so much guilt eating him from the inside out, so he took his five-year-old daughter to a resort to try and reboot his life. There is just so much depth to his character. It's painful to read but it will keep you turning each and every single page. I literally tore this book apart… with my eyes…
"…You are human. Flawed and broken. People think it's the monsters who do bad things, but it's not. It's people like us. All the monsters ever do is live in storybooks. Or in closets. It's humans who destroy things. Life isn't black and white, James. It's all fucking gray."
So, working at this resort is Madison Smith. She is also a disturbed member of society. She is filled with a lot of hate and bitterness. But from the beginning you know she is open to love. She has been alone for four years trying to survive after seeing the worst things a teenage girl could see. If you can handle the warning read this goddamn mess of a book. She immediately connects to James's five-year-old daughter Katie and in turn meets her father, and sees the monster in him.
"She kept pushing, and I kept straddling the precarious line of control and chaos." 
Together they go through this battle. Literally the title says it all. James is fighting his immense guilt and Madison is fighting men in general. They both need love. They are just two extremely scarred souls fighting a battle that they both lose to be honest. And it is fantastic. The story. The feelings. There is so much to this book.
"…no matter how much I tried, his words still echoed in my ears. He just wouldn't go away. He'd said this couldn't happen again. Well, it could and it would. He'd said whatever we had was a game. It wasn't. It was a war, and I'd do anything to win." 
If you are a fan of the dark, depraved and the devastating, this book is for you. If not… you're in the wrong place
4.5 liar and hater at war stars!!