Review: The Wingman by Natasha Anders
The Wingman
by
Natasha Anders
Published by
Montlake Romance
on March 7th 2017
Genres:
Contemporary Romance
,
Family Life
,
Humorous
,
Romance
,
Romantic Comedy
Pages:
316
Format:
ARC
Source:
Netgalley
Buy on Amazon US
, 
Buy on Amazon UK
, 
Buy on B&N
She was supposed to be his one-night distraction. But their attraction is undeniable.
Introverted Daisy McGregor is used to being a wallflower, but what she lacks in style, she makes up for with an acerbic wit, a passion for life, and a deep devotion to her family. So she'll suffer through her sister Dahlia's bachelorette party and accept the cloud of pity for going stag to the wedding.
Out at the pub, sexy bad boy Mason Carlisle is a reluctant wingman tasked with entertaining Daisy while his brother flirts with her oldest sister, Daffodil. When the plan fails and Mason's true intent is revealed, he feels intense guilt—and a sensual spark of desire for the unlikeliest of women.
Daisy decides to use this unfortunate encounter to her advantage: to make it up to her, Mason will be another kind of wingman, playing the role of her boyfriend and wedding date. Will their ruse unravel completely—or will Mason and Daisy's undeniable attraction ignite a scorching love affair that knows no rules?
This book was so much fun to read. The banter, the confusion, the mixed signals. It was all so messy, but so enjoyable. I loved every second of it. The Wingman covers topics like self-worth and bullying in society, topics which are so relevant these days.
The Wingman is about Daisy McGregor, a third of the McGregor sister trio.  She is the one no one knows about. She is the one who people forget exists. And she has preferred her life to be that way so long because when she is in the spotlight, she only gets hurt and criticised. She isn't seen as ugly per say, she is just seen as plain…the third of the McGregor sisters that is no fun. Which we see from the beginning hating her sister's bachelorette party wanting to leave the second she gets there.
"No misunderstandings. You're the wingman. I'm the ugly girl."
 I think that many readers may be able to find her personality at the beginning to be very relatable. I could see myself in her during parts, where she would lack faith in herself where others like her family knew she stood out. It was nice to know that she is special to people, it makes you hope you are too.
She wasn't born with the lack of appreciation for herself. A lot of it came from the people around her. Her sister's b*tchy friends were the worst. They were out to get her from the beginning. It is still hard to understand why even now finishing the book. The girls don't explain, but Shar and Zinzi are the worst. They are so condescending and speak down on Daisy from the very beginning. It is not fair. The world is full with cruel people like this who fuel their own ego by bringing people down. So it turns out, Daisy doesn't have lot of faith in herself for a very long time. Not until Mason Carlisle.
Mason Carlisle. He is sort of a douche. At the beginning he talks to Daisy acting as a wingman for his brother who wants another McGregor sister. And Daisy ends up finding out and she is hurt. So hurt. But slowly Mason brings her out of her shell and shows her that after their first talk, the rest of the friendship has been all true. It takes a long time because of Daisy's insecurities. But Mason shows her she is really special. He can be rude, and seemingly selfish at times, but he really cares for her and wants her. Other people may not see her, but he does. And that is something really special in itself. I really loved that throughout the whole book.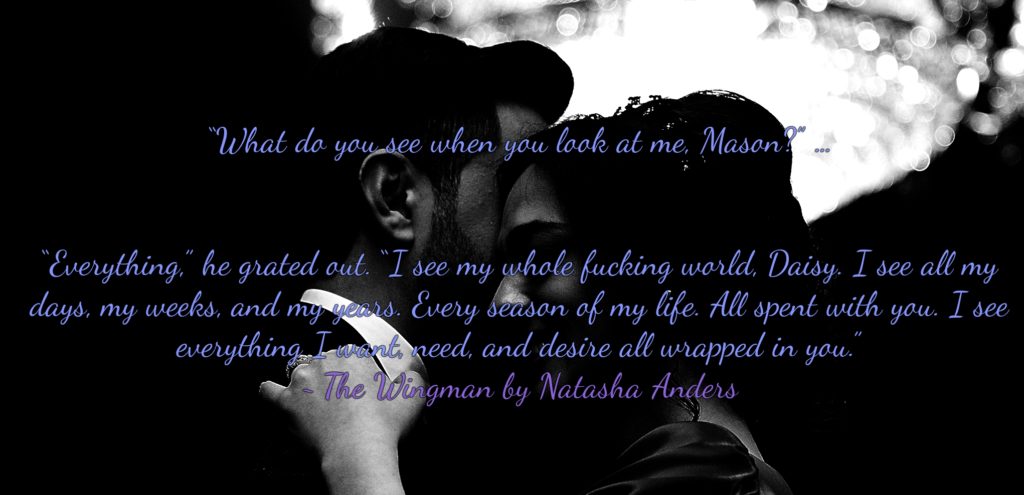 Their love is so special. I think it is because it took so much work to get there. Both Mason and Daisy saw the worst characteristics of each other before finding the good. And I think that is how you find true love. You can see their love is strong and true as they have met their match, trait for trait.
"I've always been shy. For years I've remained happily curled up in my shell in public, in private, with family or friends. I don't think anybody ever really saw me. I don't think even I saw the real me. But something weird happened around you. Even on that very first night when you were being a good little wingman… I opened my mouth and I spoke and I laughed and I engaged. You looked at me and saw Daisy. You helped me find myself, and I liked the person I found hiding in that shell. Even after I learned you were just talking to me as a favour to Spencer, there was just no going back the meek little wallflower Daisy. How can I not love you for that?"
Arghh!! I would really love to have a love like this. It is one where both the hero and the heroine grew to be much better people around each other. Daisy was able to lose a lot of her insecurities and Mason found a love he could trust inexplicably.
Their story was so special and relatable. I loved it so much!!!
Take a read and enjoy a little slice of frustratingly-good heaven with Mason and Daisy.
4.5 Stars!!!