Review: Troublemaker by Linda Howard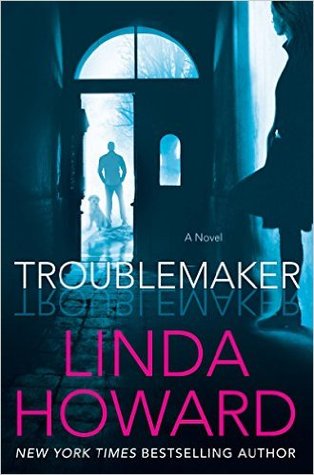 Troublemaker
by
Linda Howard
on 10th May 2016
Genres:
Fiction
,
Romance
,
Suspense
,
Contemporary
,
Thrillers
Pages:
400
Buy on Amazon US
, 
Buy on Amazon UK
, 
Buy on Kobo
, 
Buy on itunes

A thrilling, fast-paced novel of romantic suspense from sensational New York Times and USA Today bestselling author Linda Howard.
For Morgan Yancy, an operative and team leader in a paramilitary group, nothing comes before his job. But when he's ambushed and almost killed, his supervisor is determined to find out who's after the members of his elite squad—and why. Due to worries that this unknown enemy will strike again, Morgan is sent to a remote location and told to lay low and stay vigilant. But between a tempting housemate he's determined to protect and a deadly threat waiting in the shadows, keeping under the radar is proving to be his most dangerous mission yet.
The part-time police chief of a small West Virginian mountain town, Isabeau "Bo" Maran finally has her life figured out. She's got friends, a dog, and a little money in the bank. Then Morgan Yancy shows up on her doorstep. Bo doesn't need a mysterious man in her life—especially a troublemaker as enticing and secretive as Morgan.
The harder they fight the intense heat between them, the closer Morgan and Bo become, even though she knows he's hiding from something. But discovering the truth could cost Bo more than she's willing to give. And when Morgan's cover is blown, it might just cost her life.
Rating~ 3.75 stars
Morgan Yancy is relocated to a secure-ish location by his boss after the attempted murder on his life near his home. As a team leader in a paramilitary group, this makes everything worse since Morgan has no idea who found out about his identity let alone his home. Morgan was seriously injured during the altercation and been in a hospital bed after days has left him feeling even weaker.
Isabeau "Bo" Maran is a part-time police chief in a small town. She has good friends, a dog called Tricks she adores (who can be a diva most of the time) and a house she never wanted but now is hers. Bo comes home to find a stranger waiting at her house telling her he was sent there by her step-brother.
Bo and Morgan are both loners in nature, apart from Tricks who Bo adores. They are both wary of living with each other even if it's for short of time till Morgan gets well. It doesn't help that they both feel attracted to each other yet can't really trust each other. Bo doesn't know the plan behind Morgan's move to the small town in Virginia and it could be potentially disastrous to Bo and Morgan's budding relationship.
As one expects with Linda Howard's book, a couple who have great chemistry and connection. With had this here as well with the added bonus of they both got to know each other a lot better before they decided to take the next step. Though suspense was quite on the low side and the killer wasn't exactly a creepy or twisted as Linda Howard's books usually have, it was still interesting. The book does have a slower pace which I think worked well with Morgan and Bo's relationship. Most of the book is about Morgan and Bo's relationship, romance and the life around the small town.
Overall, I quite liked this one. Kind of reminded me of older Linda Howard books which to this day I adore.
Related Posts