Review: Dark Surrender by Rachel Van Dyken
I received this book for free in exchange for an honest review. This does not affect my opinion of the book or the content of my review.
Dark Surrender
by
Rachel Van Dyken
Series:
The Dark Ones Saga #3
Published by
Self Published
on 10 December 2016
Genres:
Fantasy
,
Paranormal
,
Romance
Pages:
239
Format:
eARC
Source:
the Author
Buy on Amazon US
, 
Buy on Amazon UK
, 
Buy on Kobo
, 
Buy on itunes
, 
Buy on B&N
Never met a male siren before? You're about to....
I grew up as a prince... And lead the life of a King. There isn't anyone or anything that doesn't want me, that isn't attracted to me. They can't help it. And I sure as hell don't want them to. I live for their lust, I crave touch like an addiction, I make them beg on their knees for one, simple, caress. As a male siren it's my job to feed off emotion. And I was happy to do it. I am happy to do it. What I'm not happy about? Being told I have to mate with some withering human and stay loyal to that one person for the next few centuries. There's a war coming and being the idiot I am--I offered to take one for the team in order to help a friend. Now my sexual appetite is taking a freaking kick in the nuts. And I'm left wondering if it's worth it. If she's worth it, with messy hair and dirty human hands. But I have a world to save. A job to do. Now, if only, she would just let me do it rather than fighting me at every turn. I've lived lifetimes as the most irresistible being on the planet. Only to meet my match. With one. Measly. Human. They say hells hot. They're wrong. Because Hope, my little human, is way hotter. And before this is over--she may just singe me alive.
I was quite looking forward to this release because Alex, I mean the guy is a male siren and he decides to volunteer so that his friend doesn't have to because he wasn't ready yet. Alex has been a very intriguing character from book 1 in the series so I really wanted to know about him and his past and who he ends up with.
Alexander is a male siren, a very powerful one at that. He needs to have sex to keep himself alive. Now that Cassius has declared that Alex and Mason have to take mates, Alex has reluctantly stepped up to delay the inevitable for his friend. Alex isn't happy about mating especially not a weak human that all of course changes the instant Alex sees Hope. Alex has a quite a few issues, the main one being believing that no one can lover him for himself.
Hope is a gardener at the house of the dark ones, she's led to believe that she's getting a promotion instead finds out that she's be chosen as a mate to a siren. A siren that is all too compelling to her senses.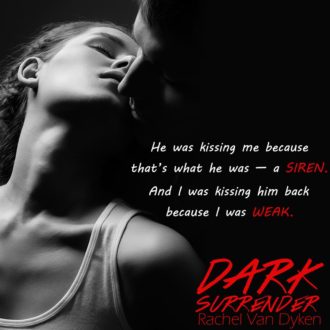 Why not 5 stars: The story itself is quite short, I'd have liked more pages where we could see Alex and Hope interact, maybe more of their past interactions because the page limit and the pacing of the story made it a bit difficult to fully comprehend their love for each other. Also there was this particular scene of the couple with Mason that made me really uncomfortable especially when we later find out more of Hope's past.
Regardless of this, I absolutely love the world and all the characters that the Dark One Saga has, Rachel van Dyken has done great job of creating a unique and fascinating storyline/over arching plot for the saga with different fractions of supernatural creatures and the history of the characters. It was nice seeing the other couples of series particularly Stephanie and Cassius who is of course still Cassius manipulating events and people but with a more understanding of the modern world (which was funny!). I'm looking forward to Mason and Timber book especially Mason's because he lost his mate and hasn't been the same since and since we get a glimpse of his mate who is a vampire, I'm very intrigued. I did like Alex and Hope I just wished we had gotten to know them more, especially Hope.
Overall while it wasn't as great as I expected it to be I still like the saga, the characters and I'm looking forward to how it will all come together.
Related Posts