Short Review: Her Darkest Nightmare by Brenda Novak
I received this book for free in exchange for an honest review. This does not affect my opinion of the book or the content of my review.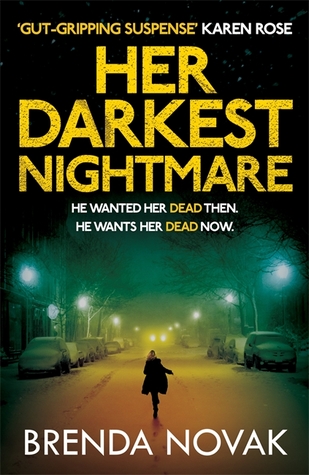 Her Darkest Nightmare
by
Brenda Novak
Series:
The Evelyn Talbot Chronicles #1
Published by
Headline Book Publishing
on August 25th 2016
Genres:
Fiction
,
Romance
,
Romantic Suspense
Pages:
359
Format:
ARC
,
Paperback
Source:
the publisher
Buy on Amazon US
, 
Buy on Amazon UK
DR EVELYN TALBOT HAS LEARNT TO LIVE WITH FEAR.
As a teenager she was targeted by her killer boyfriend, Jasper Moore, and survived days of torture. She escaped with her life, but Jasper disappeared before he could be caught.
NOW SHE LIVES IN A WORLD OF PSYCHOPATHS
As the pioneering head of Hanover House, Alaska's first mental health facility for psychopaths, Evelyn engages daily with killers who have no conscience, no remorse and an ever-increasing desire to murder her, in an effort to try and work out how to stop those that remain free.
But then a mutilated body is found in her sleepy Alaskan town and Evelyn is forced to question everything. Her work, her life and whether her darkest nightmare has come back to haunt her...
An enjoyable light suspense/thriller read with a great protagonist Evelyn. The romance between her and Amaroke was done well and I really liked them together. Though the constant age difference talk in the later half got a bit on my nerves. I hadn't read the prequel of the book (didn't realise there was one when I started) but it didn't effect my enjoyment of the book though I do it, it would have made this read a better one had I read the prequel. Looking forward to the next book in the series!
Related Posts